Carlo Paalam's training coach Elmer Pamisa thinks the Cagayan de Oro pride's hard-nosed preparation would be enough to ward off the odds against a hometown bet
The controversial defeat of Filipina Nesthy Petecio in her fight for gold against home favorite Sena Irie won't affect Carlo Paalam as he enters the ring on Thursday afternoon, August 5, against another Japanese bet in the men's semifinals of the Tokyo Olympics, the training coach of the flyweight boxer from Northern Mindanao said.
After the 23-year-old pride of Cagayan de Oro eliminated top-seeded world champion Shakhobidin Zoirov of Uzbekistan to secure at least a bronze, Paalam's camp does not doubt his ability to hurdle the challenge of Ryomei Tanaka, 27, winner over Colombian Yuberjen Herney Martinez Rivas, also in a controversial manner.
"Tanaka got away with an intriguing win over the Colombian but he cannot escape our very own Carlo. And we do not doubt it. Salig lang (Just trust us)," Paalam's training coach Elmer Pamisa told Rappler.
Paalam and the hard-pounding Eumir Marcial of Zamboanga are the only ones left to carry the Philippines' goal of winning its first-ever boxing gold in the country's 97-year campaign in the Summer Games.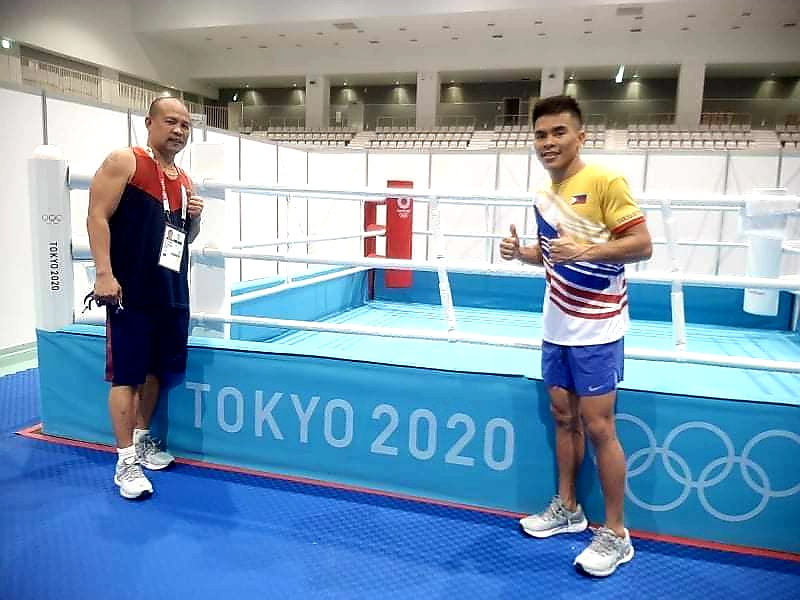 Paalam clashes with the dangerous Tanaka at 1:30 pm, followed by Marcial's duke-out with Ukrainian world champion Oleksandr Khyzhniak at 2:03 pm at the Kokugikan Arena in Tokyo, Japan.
Marcial punched his ticket to the semis round after a sensational first-round knockout of fellow pro fighter Arman Darchinyan of Armenia.
"We didn't train this hard and stayed away from our families for nothing. Carlo Paalam will bring home the bacon," said Pamisa, exuding the same confidence when his prized ward from Talakag, Bukidnon, gunned for the podium's top honor during the 30th Southeast Asian Games in Manila last year.
Concerns grew over the winning chances of the Filipino visitors when paired against homegrown talents especially after Petecio's much talked about unanimous decision loss to the 20-year-old Japanese Sena Irie, who appeared to have landed more hugs than punches in a three-rounder that turned into a wrestling match.
But coach Pamisa said Paalam's hard-nosed preparation would be enough to ward off the odds surrounding the long-debated mysterious circumstances in boxing that denied Filipino Mansueto "Onyok" Velasco Jr. a gold during the Atlanta Olympics in 1996.
The Philippine boxing delegates started training in Calamba, Laguna, before flying to Thailand early this year to boost the Filipinos' preparations.
It was in Thailand that Paalam accidentally injured his Thai sparring partner Thitisan Panmod, himself a strong prospect for an Olympic medal in the flyweight division, who awkwardly fell on his left knee after absorbing a strong body shot from the former garbage picker from Cagayan de Oro.
The accident made the hapless Thai miss the Tokyo Olympics.
Cagayan de Oro sports coordinator Jaymar Rivera told Rappler that Paalam's powerful punches, as shown in the injury he unwittingly inflicted on the Thai, made them optimistic that Cagayan de Oro's adopted son would bring home the gold.
"Zoirov once suffered a loss at the hands of the Thai contender that got injured by Paalam," Rivera noted.
Now, he has seen a hole in the Japanese fighter's armor.
"Naay paksi sa iyang kilay (He has a cut just above his right eye inflicted by the Colombian), and that's enough for Carlo. He should be able to take advantage of that," Rivera said. "We have no problem at all with Tanaka. We're confident Carlo can handle him well."
Rivera is to the Paalam camp what Buboy Fernandez is to the team of Filipino boxing icon Manny Pacquiao. Because of his sharp foresight in boxing, he is among those trusted by Cagayan de Oro Mayor Oscar Moreno to streamline Cagayan de Oro's sports program. The program was what started Paalam's boxing career.
Meanwhile, the impressive Marcial, whose Kagay-anon fiancee is from the prominent Galarpe boxing family, will have his hands full opposite the Ukrainian Khyzhniak who defeated him two years ago in a tournament in Bulgaria.
In that encounter, Marcial was forced to withdraw before the start of the third round due to a hand injury.
It's Marcial's time to redeem himself against his former tormentor who made it to the semis after defeating Euri Cedeno Martinez of the Dominican Republic. – Rappler.com