Nonito Donaire claims the camp of Johnriel Casimero disrespected his wife and manager Rachel Donaire by directing obscene remarks toward her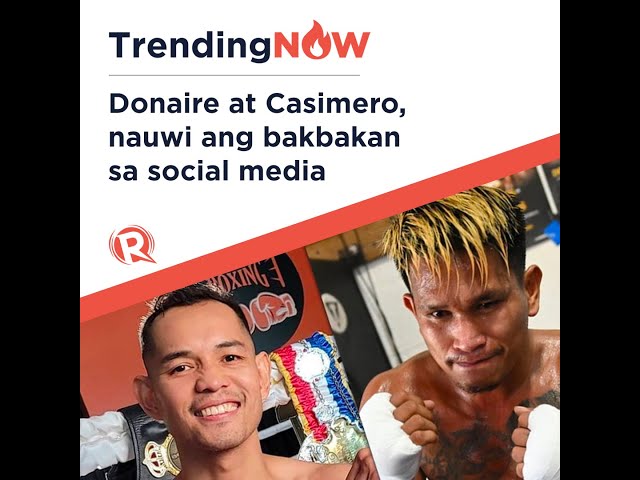 Nonito Donaire said he has called off his all-Filipino bantamweight unification clash against Johnriel Casimero, citing drug testing issues and "unprofessional behavior" involving his future foe.
Donaire, the World Boxing Council champion, and Casimero, the World Boxing Organization king, were slated to face off in August, with the winner likely to be pitted against World Boxing Association and International Boxing Federation titlist Naoya Inoue in a fight that will unify all four major 118-pound belts.
But Donaire on Wednesday, June 30, bared he has canceled the much-awaited bout, claiming the camp of Casimero disrespected his wife and manager Rachel Donaire.
"I stand against bullying in any form. I stand against the disrespect and abuse of women and children physically, mentally, and emotionally. I stand against misogynistic culture," Donaire wrote on Facebook.
Donaire alleged Casimero and his team directed obscene remarks toward Rachel, who earlier demanded for Casimero to be enrolled in the Voluntary Anti-Doping Association (VADA).
The association on Sunday, June 27, announced both Donaire and Casimero have both enrolled in VADA.
"You're telling my wife to suck some f**king d**k? You're disrespecting me when I did not say anything about you," Donaire said in a mix of Filipino and English on an Instagram live with Mark Lontayao, a member of the Casimero camp.
"The only reason that I came in is it is going to be Filipino versus Filipino and I thought you guys would appreciate that."
Online feud
The online feud between the two camps started when Casimero alleged Donaire did not want to speak to him in Tagalog and did not want to spar with him during a meeting at a gym.
Rachel refuted the claims.
Donaire said boxers have to hold themselves to a high standard and "veer away from unacceptable behavior" to change the boxing culture.
"We cannot ignore this unprofessional behavior. We cannot excuse the disgusting trolling memes created of my wife as 'just for entertainment.' I don't want other pro athletes to cross this line and think this type of behavior is acceptable," Donaire wrote.
"We have to maintain a respectable character, especially online, for the future generations to emulate and not promote ignorance and foul behavior."
Although VADA said Casimero has already enrolled in its program, Donaire insisted it came only after his team announced the cancellation of the unification duel.
"We have proof that the opposing side was neither honest nor forthcoming in providing the proper information to begin VADA drug testing," Donaire said. "After we canceled the fight, then and only then did the paperwork suddenly appear. I do what I say."
Donaire added he will not give Casimero the platform to earn big from their fight.
"[A]s much as I want to knock him out, I'm going to take the high road and instead of highlighting his misbehaviors, I'm not going to give his example the stage or the payday that comes with it." – Rappler.com