'I definitely have the ability to finish him, but for me, it's about winning the fight,' says unbeaten American champion Errol Spence Jr.
Errol Spence Jr. won't press for a knockout against Manny Pacquiao. All the unbeaten American champion wants now is a clear victory over the legendary Filipino icon.
"I definitely have the ability to finish him, but for me, it's about winning the fight," Spence said during the formal announcement of his pay-per-view megabuck bout on Sunday, July 11, at Fox Studios in Los Angeles.
"It's to stay focused and win the fight. When you go out there and rush it and try to go for the knockout, I feel like from my experience, even in the amateurs, you look sloppy and something goes wrong. You look like you're trying too hard. For me it's to go have my fight at my pace.
"If the knockout comes, go for it. If not, go for the victory."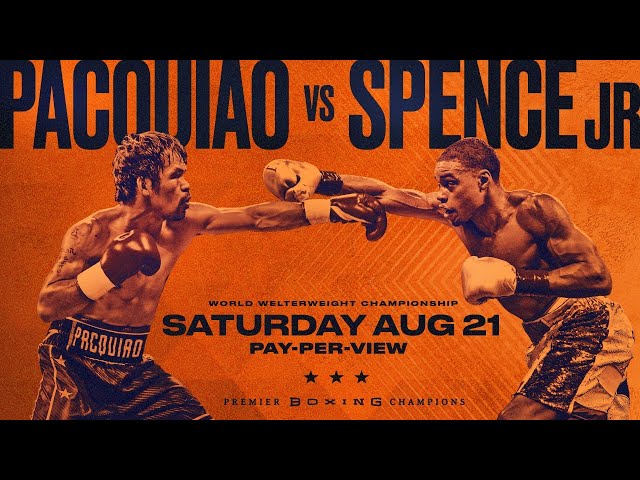 It was a deviation from Spence's previous statement that he is going to knock Pacquiao out and end the 42-year-old eight-division world champion's ring career spanning four decades.
"I'm preparing my body to get into training camp mode and do the best that I can, to get into the best shape that I can, and be as strong as I can, to knock out Manny Pacquiao and send him off into retirement," the 31-year-old Spence earlier told Barbershop Conversations.
Spence did not elaborate on what prompted him to take a more guarded stance for his three-belt bout with Pacquiao on August 21 (August 22, Manila time) at the T-Mobile Arena in Las Vegas, Nevada.
Still, Spence (27-0, with 21 knockouts) remains to be the favorite to beat Pacquiao (62-7-2, 39 knockouts) because of the big discrepancy in age (11 years) and size.
Listed at 5-foot-9 1/2, Spence is 4 inches taller and with a 6-foot wingspan is 5 inches longer in reach.
Aside from the visible differences in their first face-off, bettors were also swayed to Spence's side by the fact that Pacquiao last fought in July 2019 when he bested the then-unbeaten Keith Thurman for the World Boxing Association super welterweight belt.
Despite the odds stacked against him, Pacquiao chose Spence, holder of the World Boxing Council and International Boxing Federation crowns, in what could be his final fight.
"There was a lot of opportunity to pick a – not easy fight, but a much easier fight compared to Errol Spence," Pacquiao said. "But I decided to pick Errol Spence because I want to give a good fight to the fans, I want a real fight. I'm a fighter and boxing is my passion."
And despite Spence's reputation as one of the best pound-for-pound fighters, Pacquiao doesn't even flinch.
"It's one of the biggest challenges in my career," said Pacquiao. "I cannot say the biggest challenge because I have been fighting the best fighters in the world – Keith Thurman, [Oscar] de la Hoya, Miguel Cotto, a lot of those fighters. But one of the best, I can rate [Spence]." – Rappler.com