While many residents rooted for Manny Pacquiao in his bout with Yordenis Ugas, the excitement when the Filipino icon climbed up the ring was no longer as intense as before
A hero's welcome was something Manny Pacquiao wasn't expected to get in his hometown even if he won against Cuban Yordenis Ugas.
"Wala na kana karon; pandemic, bawal tapok (There's a pandemic; gatherings are prohibited)," remarked eatery owner Fred Orbantes.
Some neighborhood carinderias still showed the fight to lure customers, but the crowds were noticeably less.
Unlike the euphoria in the senator's home city that came with Pacquiao's past fights, the oohs and aahs of those who watched him lose to the unheralded replacement of Errol Spence Jr. were more of pity and and a feeling of letdown, observed car dealer Marc Alemania.
Avid boxing fan Christian Jay Bentayo said the loss of the Filipino boxing icon brought disappointment all the more to many residents who followed his colorful career.
While many residents rooted for Pacquiao in his bout with Ugas, the excitement when the Filipino boxing icon climbed up the ring was no longer as intense as before.
The signs were there – the pandemic restrictions prevented open betting among boxing fans who, in the past, jam-packed bars and restaurants that offered pay-per-view seats with beer and meals.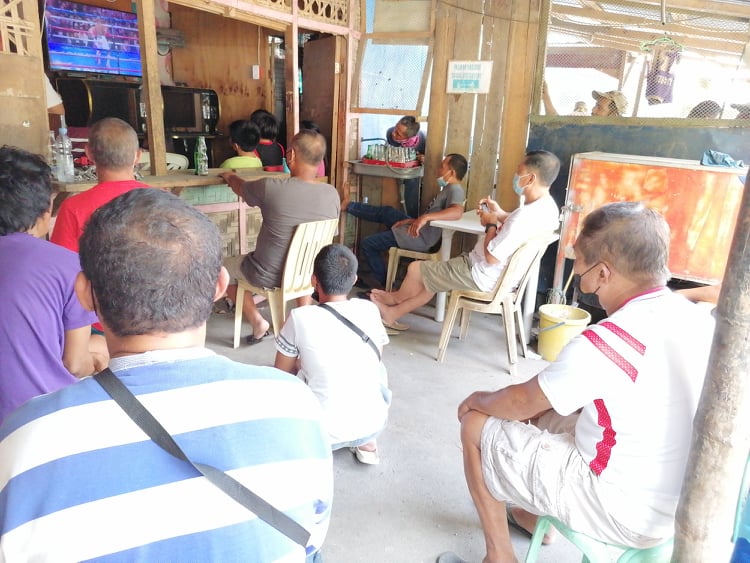 The signages and tarpaulins that heralded the Pambansang Kamao were nowhere in sight, and people watched the fight in the comforts of their homes sans the loud party atmosphere.
Before, talks about a hero's welcome usually started the moment Pacquiao left the country for his prefight training. Noticeably this time, there was none of that in General Santos.
A local boxing analyst, John Manangquil, said a Pacquiao-Spence faceoff would have been more thrilling but since it was still a Pacquaio fight, many still watched.
Photographer Genesis Fernandez said he had his LCD TV repaired so he could watch the Pacquiao-Ugas fight at home. Still unable to access a channel, he said he settled on watching it using a device via the internet.
Bentayo said Pacquiao, at 42, no longer moved on the ring the way he did.
"Pigado si Manny sa punch statistics. Wala na pud kaayo ga move si Manny (Manny was outpunched. He wasn't moving like in his past fights)," he said.
"Credit it to Ugas. He had a plan. He stuck to it. Full circle. What goes up must come down," said Edwin Espejo, a boxing enthusiast and a senior citizen commissioner from General Santos. "There is no arguing Manny Pacquiao will call it a day and slip into retirement with the comfort that his legacy is already cemented." – Rappler.com
Rommel Rebollido is a Mindanao-based journalist and an awardee of the Aries Rufo Journalism Fellowship.