1
Now healthy, Rain or Shine hopes to get the job done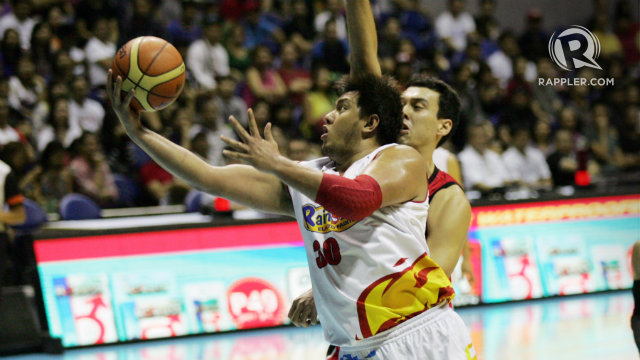 MANILA, Philippines – The Rain or Shine Elasto Painters have been the bridesmaids of the PBA over the past three seasons.
They're certainly one of the league's models of consistency, having made the finals in five of the last nine conferences, the semifinals in eight of the last 10 conferences, and always being in the discussion for championship contention.
But in their last four finals appearances, only once has Coach Yeng Guiao and his team hoist up a PBA title while the confetti descends from the heavens of the arena.
| | |
| --- | --- |
| Last 5 Finals | Result |
| 2012 Governors' Cup | Won against B-Meg (now Purefoods), 4-3 |
| 2013 Philippine Cup | Lost to Talk 'N Text, 4-0 |
| 2014 Philippine Cup | Lost to San Mig Coffee (now Purefoods), 4-2 |
| 2014 Governors' Cup | Lost to San Mig Coffee (now Purefoods), 3-2 |
| 2015 Commissioner's Cup | vs Talk 'N Text, result TBD |
"You make the finals but before you get there it's so physically taxing. It's just tiring physically and mentally. By the end of the finals you have some injuries and you can't just pull it through," Guiao said during the press conference for this season's Commissioner's Cup finals against Talk 'N Text on Monday, April 13.
On Wednesday, April 15, the Elasto Painters will begin their best-of-seven series against the Tropang Texters. Both teams have been the best in the league this conference. They both have solid imports, a Best Player of the Conference candidate, depth, shooting, defense, and the other essentials to make title contenders.
What Rain or Shine has this finals, that they didn't in their prior appearances, is health.
"This is the most healthy we are, the most healthy in all the five finals that we made," said Guiao, who's looking for his seventh PBA title.
"Yung sinasabi saami ni Coach Yeng ngayon, healthy yung grupo namin compared nung nakaraan na finals appearances namin," added team enforcer Beau Belga.
(Coach Yeng is telling us that we're now healthy compared to our other finals appearances.)
"Healthy lahat halos sa buong team."
(Nearly the entire team is healthy.)
Outside of Jeff Chan's minor leg injury - he's expected to play in game one - Rain or Shine is fully operational entering their battle against Talk 'N Text. And because of that, "Ito yung best chance namin na mag-champion, ito yung pinaka best chance," says Paul Lee, their superstar point guard.
(This is our best chance to become champions. This is the best chance.)
The Elasto Painters' talent and skill were on full display in their semifinals against the Meralco Bolts, whom they swept 3-0. In game two, Rain or Shine hit 19 3-pointers, just three shy of a franchise record. Their defense was superb, limiting the Bolts to 86, 82, and 98 points in each contest. They accomplished all of these even with their import Wayne Chism not at his best.
"But we've been lucky because we were able to sweep Meralco and get a few more extra days of rest. We have Jeff probably playing on Wednesday and the rest of the team is healthy, so that's the biggest change," says Guiao.
"But Talk 'N Text is still a strong team. Whether it was Talk 'N Text or Purefoods that we'd face in the finals, we'd still be the underdogs."
The role of underdogs, which Rain or Shine didn't have against Meralco, is how they'll be perceived against Talk 'N Text despite the similarities in their statistics, because the Tropang Texters' pedigree of success dates back to the past decade.
"And that's really our niche," said Guiao. "We like to be underdogs. We're comfortable being the underdogs. We were uncomfortable in our series with Meralco because we were the favorites. But we're back to our usual role now. We're the underdogs again."
But underdogs or not, Rain or Shine is expecting to win. They're tired of coming up second, and shredding their role as bridesmaids starts on Wednesday.
"Nagsasawa na kami na runner-up lagi," said Belga.
(We're tired of just being runner-ups.)
– Rappler.com