'Being in this tournament is the best thing that happened to me,' says Filipina MMA star Denice Zamboanga as she sees action in ONE Championship's all-female fight card
Fiery Filipina atomweight Denice "Lycan Queen" Zamboanga is brimming with confidence ahead of her much-awaited return to action.
The 24-year-old mixed martial arts star is coming into her next bout as the top-ranked atomweight contender, taking on an experienced veteran who is making her ONE Championship debut.
Zamboanga faces South Korean sensation "Arale Chan" Seo Hee Ham in the first round of the highly anticipated ONE Women's Atomweight World Grand Prix at  ONE: Empower on Friday night, September 3, at the Singapore Indoor Stadium.
ONE: Empower is ONE Championship's historic fight card featuring only women – the first for a major global martial arts organization.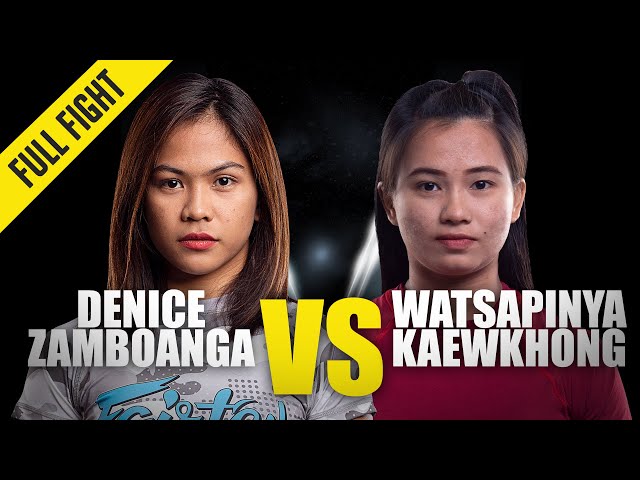 Ham comes in with a solid reputation as one of the most dangerous atomweight fighters in the world, but "Lycan Queen" isn't the least bit fazed.
"Every time I fight, for most of my fights, I am always given very experienced fighters," said Zamboanga. "I think this one is a great challenge for me."
There's a lot of hype surrounding Ham currently, and understandably so. Ham's resume speaks for itself, having battled with some of the best fighters in the UFC and Road FC.
These facts are not lost on Zamboanga, and the Filipina recognizes the threat Ham poses to her title ambitions.
"She is very strong, probably the strongest on the card. In fact, she is the strongest opponent that I will be facing in my career [so far]. I believe that this will be a hard fight for both of us," Zamboanga said of the South Korean, who's coming into the bout ranked No. 5 at atomweight.
"She doesn't know what will happen on September 3. It is a surprise, but she needs to be careful with everything. Can't really say anything [about it] before the fight. I think fans will need to see what will happen in the Circle on Friday."
If Zamboanga can get past Ham, she will need two more victories in the tournament to secure her position as the No. 1 contender for the atomweight throne.
Zamboanga knows exactly what's at stake and aims to showcase her best in the tournament.
"Being in this tournament is the best thing that happened to me. I'm going to fight some of the best fighters in the world. All the female fighters are fighting to get the atomweight title. So I think I will need to win this Grand Prix to fight Angela Lee," Zamboanga said.
First supporter
While Zamboanga will certainly empower more women to follow in her footsteps, the question is, who empowered her?
"It has to be our mom. She's the one who's supported me ever since," Zamboanga said while sharing how her mom, Angelita, became her first supporter.
"Back then when I was still working my day job in the Philippines, I was torn between pursuing this and staying at my job. When I finally decided to pursue MMA, my mother backed me all the way."
The conversation between her and mother actually didn't last very long. Zamboanga decided to pursue her passion and her mom didn't really need much convincing. 
In fact, even when she went to Thailand to fully focus on becoming a professional fighter, her mom was on her heels, reminding her every day to make the most out of her training sessions.
"When I told her that I was pursuing it, she was actually excited. Sure she was a bit nervous, but I could still sense her excitement. Other mothers would've probably said, 'Don't do it, because you're a lady,' but she just told me to pursue whatever makes me happy," Zamboanga said.
"Even when I went to Thailand, she always backed me up. She'd call me every day and ask me how my training was, if I'm training properly, and all that. So for me, it's really my mom who empowered me to do what I do and to be a better athlete every day."
For the unbeaten Filipina, she wouldn't have reached this kind of success if she didn't have an excellent support system led by her mother.
Now the best way to repay her is by continuing to excel at what she does, starting with her big match against Ham.
"Having that kind of support is a big thing. I couldn't ask for more. It's hard to see a mother go out of her way and support you, especially in this kind of career," she said.
"So I'm really thankful to the Lord that she's my mother and that she's been so supportive where I am." – Rappler.com
Catch ONE: Empower live on One Sports or One Sports+ beginning with the lead card at 7:30 pm Philippine Standard Time (PHT) on Friday, September 3. It will also air simultaneously on the ONE Super App.
Read more from ONE Championship: