This is AI generated summarization, which may have errors. For context, always refer to the full article.
Former Azkals goalkeeper Neil Etheridge will hold a goalkeeping camp in Manila in May and says his problems with Coach Dooley are 'water under the bridge'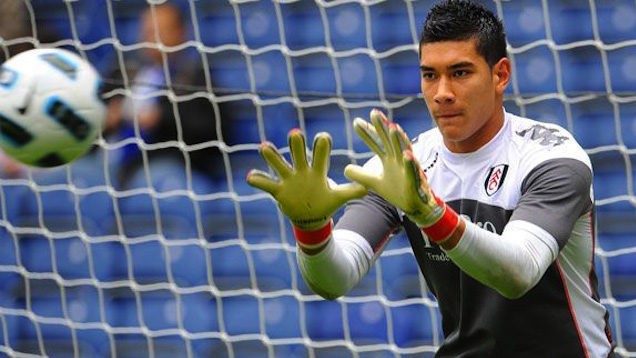 MANILA, Philippines – Former national football team first-choice goalkeeper Neil Etheridge will be holding a goalkeeping camp here in Manila from May 18 to 30.
Etheridge announced on Thursday evening through his Twitter account that he will be coming back to Manila, but this time for a different reason. 
"I feel that it's something that the country could benefit from because at the moment as much as football is progressing, goalkeeping is a very specific area of the field that hasn't been touched," the Fil-English goalie told Rappler in an interview.
"It is of course also something very close to my heart and I want to give back to those that have followed me and wants to join local clubs and the Azkals in the future."
He stressed that although he want to do more events like that here in the Philippines, his arduous schedule with his career in the England will only allow him to do such during the off-season.
"As people know my schedule, playing in England is very busy and my time off is very limited. Even though I am doing this in my off-season, I feel passionate about so I hope I can make this a more regular occurrence."
Etheridge, on the other hand, revealed that his goalkeeping school will not just be open for kids, but to all age groups as well. 
"It is open to everyone at all ages that want to learn and benefit from my experience being a goalkeeper at one of the highest levels in the world and of course, my international experience. I have planned it out that I can spend as much time with the people involved as I can."
The 25-year old shot stopper, who recently signed with Charlton Athletic FC until the end of the football season, has been away from the country since the outbreak of the issue that involved the departure of Azkals teammate Stephan Schrock.
"I have spoken to coach and it's all water under the bridge." Etheridge admitted.
"I have moved forward in my career playing in the Championship which the coach wanted me to do and I still believe I have a lot to give to the national team when selected." 
The former U16 English International also confessed that he is still open to play for the Azkals, should he be selected again to the team.
"Whenever I am selected for the national team as you can see I wear my heart on my sleeve and I give everything I have. With big games coming up in the summer I will be keeping myself fit and waiting for a call up. I still have a lot to give for the team and the country and I know that Coach recognizes that." – Rappler.com