Gilas Pilipinas member Jared Dillinger expresses his support for Chot Reyes as well as the national team program, urging everyone not to jump to conclusions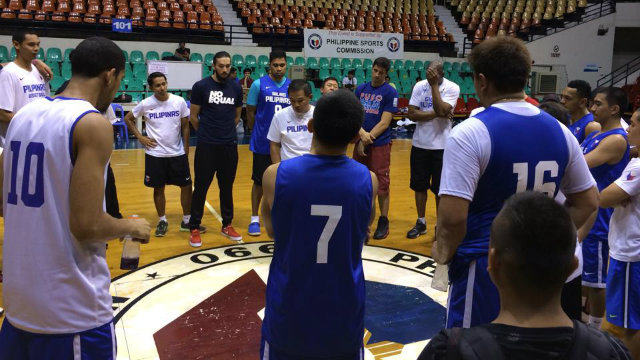 MANILA, Philippines – Gilas Pilipinas player Jared Dilinger expressed his support and faith in former national team head coach Chot Reyes, who was relieved of his duties by the Samahang Basketbol ng Pilipinas (SBP) after handling the team since 2012.
"We're behind coach all the way. We have his support."
The athletic forward from the PBA's Meralco Bolts, who suited up for the nationals throughout its campaigns in the FIBA Asia Cup, FIBA World Cup, and the Asian Games this year, urged everyone not to jump to conclusions just yet.
"Coach Chot, I know he's gonna be there. He's not going anywhere. I think everyone needs to calm down a little bit and not jump to conclusions that he's released or fired or anything like that. Just wait until the real reports come out," he explained on Friday, October 31 following the Bolts' blowout loss to Alaska.
"But I think it got spun a little bit out of control," he added.
His remarks come after Gilas Pilipinas became engulfed in controversy on Thursday, October 30 when it was announced the entire program is about to undergo a re-evaluation as it prepares for the 2015 FIBA Asia Championship, which will serve as qualifier for the 2016 Rio Olympics. (RELATED: Chot Reyes issues statement on Gilas future)
Reports say the SBP is setting up a selection committee which will deliberate and decide on the new team from the coach down to the roster. 
Gilas team manager Butch Antonio said Reyes is not discounted completely as he is still a candidate for the coaching job and he could still wind up back with Gilas.
"I think if we just give it a little bit more time for the dust to settle, I know it's not what everyone is making it out to be," Dillinger explained. "I don't even know myself for sure what's going on, all I know is that the committee is just re-evaluating, if anything, at this point."
Gilas sharp-shooter Gary David kept mum on the issue but commended Reyes for his work with the nationals, which yielded a gold medal for the Philippines at the 2012 Jones Cup in Taiwan, a silver at the 2013 FIBA Asia Championship in Manila, a bronze at the 2014 FIBA Asia Cup in China, and the country's first win in 4 decades at the FIBA World Cup in Spain.
The Philippines' world ranking also improved from 34th to 31st. 
(RELATED: Chot Reyes 'not happy' with PH's new FIBA ranking) 
"Para sa akin si coach Chot is a good coach. Yung sistema talaga niya is bagay sa national team," he said Friday. "Pero sila (management) na magde-decide." (For me coach Chot is a good coach. His system is fit for the national team. But they will be the ones to decide.)
Under Reyes' watch, however, Gilas also suffered some setbacks.
The most glaring being the 7th place finish at this year's Asian Games in Incheon, South Korea, which was the country's worst ever performance in the tournament. 
That campaign – which seemed doomed from the beginning with injuries to key players and with naturalized big man Andray Blatche ruled ineligible – was highlighted by naturalized center Marcus Douthit – whom Reyes previously called out for his locker room behavior – scoring an own-goal against Kazakhstan, as instructed by Reyes, to force overtime and try to win the game by 11 points so they could advance. 
In the World Cup, Gilas came out as the surprising team, nearly upsetting powerhouse teams such as the world's number 3 Argentina, Croatia, and Puerto Rico. This led many to believe more can be expected from the nationals.
Many pointed fingers at Reyes for Gilas' recurring endgame waterloo which haunted the team from Spain all the way to South Korea as they lost what were perceived to be winnable games, such as the one against Qatar, whom Gilas defeated at the Asian Championship last year. 
Asked whether or not the re-evaluation of the Gilas program is a step back or a step forward, Dillinger stressed it was important to understand where mistakes were made and learn from it. 
"It's always good to learn from mistakes and try to get better. That's all that's going on right now," explained Dillinger, who added he is more than willing to play for Gilas again if called upon.
"They're our bosses, they make the decisions for us and we just play. We're trying to learn from what we did. We won one game in the World Cup, so now the goal is want to win one game or 3 games. I think that's how they're looking at it. It's just, how can we get better from before?" – Rappler.com