Chot Reyes absolves Scottie Thompson from blame after missing a pair of crucial free throws in Gilas Pilipinas' loss to Jordan
BULACAN, Philippines – Gilas Pilipinas head coach Chot Reyes trusts Scottie Thompson will not make the same mistake down the road.
Reyes absolved Thompson from blame after the all-around guard missed a pair of crucial free throws as the Philippines suffered a 91-90 loss to Jordan in the FIBA World Cup Asian Qualifiers on Monday, February 27.
Fouled after hauling down an offensive rebound with 30 seconds left and the Filipinos trailing by a whisker, Thompson blew the chance to either tie the game or take the lead by muffing both of his foul shots.
"I told Scottie not to get down on himself," said Reyes.
"He wouldn't have gotten to the free throw line if he didn't rebound it anyway," he added. "So you know, those things happen and Scottie is going to be a much better player from that."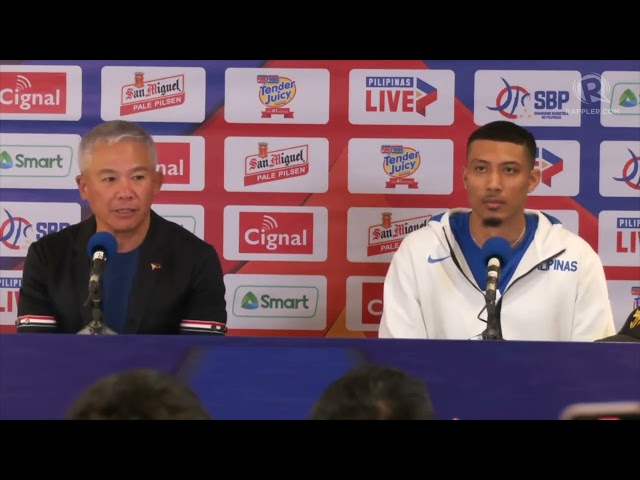 A dejected Thompson shouldered the responsibility for the defeat, saying he let a lot of Filipinos down for his endgame blunder.
But Reyes feels Thompson will benefit from the bitter experience, especially if he makes the roster for the World Cup, where the stakes are significantly higher.
"When it matters, I don't think Scottie will miss again," said Reyes.
Reyes also lauded the entire team for staying the course and giving Jordanians a run for their money as the Filipinos stormed back from a 25-point deficit in the second half.
"We got tested, and despite the result, I'm still very pleased with the way we played."
Up next for Reyes and the national team is the Southeast Asian Games in Cambodia in May as Gilas Pilipinas looks to reclaim its throne after a shocking loss in Vietnam last year. – Rappler.com