This is AI generated summarization, which may have errors. For context, always refer to the full article.
Jordan Clarkson fouls out in a crucial stretch and sees Gilas Pilipinas absorb a heartbreaking six-point loss at the hands of Dominican Republic to start their FIBA World Cup campaign
BULACAN, Philippines – Jordan Clarkson said calls did not go Gilas Pilipinas' way as he helplessly watched his team let its winning chance slip away against Dominican Republic.
Clarkson fouled out in a crucial stretch and saw the Filipinos absorb a heartbreaking 87-81 loss at the hands of the visiting Dominicans to start their FIBA World Cup campaign at the Philippine Arena on Friday, August 25.
Putting up 28 points, 7 rebounds, 7 assists, and 2 steals, the Utah Jazz star picked up his fifth and final foul with 3:30 minutes remaining, leaving the Philippines without its best player.
"We played well. We gave ourselves a chance to win. Some calls didn't go our way, but that's part of the game," said Clarkson. "We just can't leave it in the refs' hands to make those plays in the end."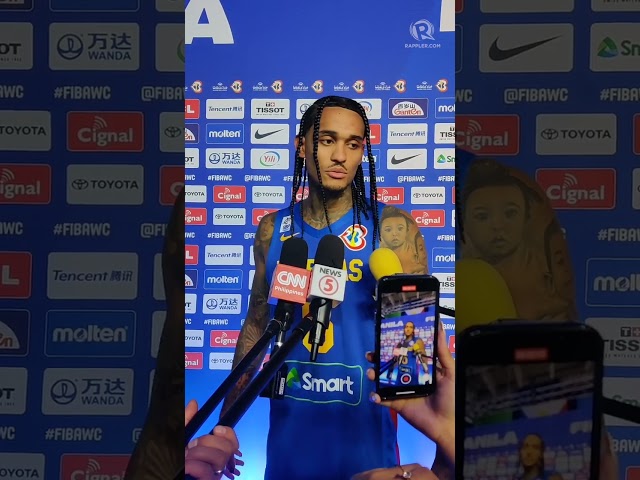 Clarkson committed two fouls on the offensive end, the last coming against Victor Liz as he tried to create separation for a shot.
On the defensive end, the Filipinos were called for 28 fouls, which resulted in 34 free throws – 12 in the fourth quarter – for the Dominicans.
The result proved to be a disappointment as a World Cup record crowd of 38,115 that included President Ferdinand Marcos Jr. missed out on witnessing Gilas Pilipinas clinch its first win in the global hoops showpiece since 2014.
"It was amazing. I'm glad everybody came out to support. Just kind of upset we didn't come out with a win. Some things didn't go our way towards the end but we fought hard," Clarkson said.
As painful as the loss may be, though, Clarkson already has his sights set on their next opponent: Angola on Sunday, August 27, at the Araneta Coliseum.
"Just keep competing like we did now. We fought hard. Some things didn't go our way towards the end, we just got to finish well and get the next one," he said.
The Filipinos face a must-win situation against the Angolans as they bid to become the highest-placed Asian team in the World Cup, a feat that guarantees a berth in the Paris Olympics next year. – Rappler.com