Justin Brownlee and Carmelo Anthony cross paths a decade after almost becoming teammates for the New York Knicks in the NBA
MANILA, Philippines – Justin Brownlee made sure to show out in front of the man he considers his idol.
Brownlee enjoyed a stellar Gilas Pilipinas debut and powered a rout of Lebanon in the FIBA World Cup Asian Qualifiers on Friday, February 24, before a massive crowd at the Philippine Arena that included NBA star Carmelo Anthony.
"It's great, seeing an NBA legend like Carmelo. I grew up watching him and LeBron (James) and the rest of his class, facing each other in games, Christmas games," said Brownlee.
Anthony is in town after being named an ambassador for the World Cup, which the country will co-host with Japan and Indonesia in August.
With the 10-time NBA All-Star in the stands, Brownlee put on a show and finished with 17 points, 5 assists, 4 rebounds, and 2 steals in the 107-96 victory.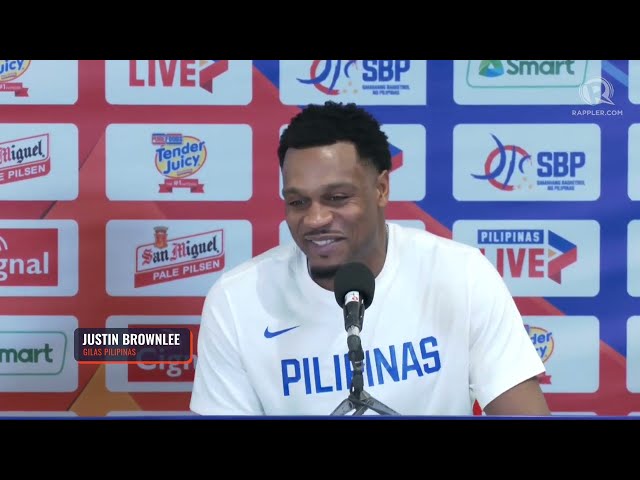 "It just seems like everything just came back, a lot of memories of watching him at home, being younger," said Brownlee.
The two almost became teammates when Brownlee signed a training camp deal with the New York Knicks in 2013.
His stint with the Knicks, though, proved short-lived as the team – then still featuring Anthony as its star – eventually waived Brownlee.
A decade later, Brownlee and Anthony crossed paths. (READ: 'Unlimited joy': Brownlee in cloud nine after Gilas Pilipinas debut)
"I said, 'What's up, Melo? Nice to meet you.' And he said, 'Congrats, champ. Keep doing your thing.' I appreciate the words from Melo," said Brownlee.
"That's a legend. I really look up to him. That's an idol." – Rappler.com