Kai Sotto misses Gilas Pilipinas' last two games in the FIBA World Cup Asian Qualifiers as he is set to resume his professional career in the Japan B. League
MANILA, Philippines – No Gilas Pilipinas player is guaranteed a roster spot for the FIBA World Cup, not even Kai Sotto.
Head coach Chot Reyes said the national team is open to the possibility of getting another big man for a naturalized player after the 7-foot-3 Sotto missed the sixth and final window of the FIBA World Cup Asian Qualifiers.
Without Sotto, the Philippines split its two-game home stand, cruising to a 107-96 win over Lebanon on Friday, February 24, and absorbing a 91-90 loss to Jordan on Monday, February 27.
"There are no shoo-ins in the team. There's no one with a lock and that goes for everyone. So, right now, there are no shoo-ins. That goes for all the local players and even the naturalized players," said Reyes.
"We have another naturalized player, right? We have Ange Kouame and we're not ruling out the possibility of even going out and looking for another 6-10, 6-11 guy."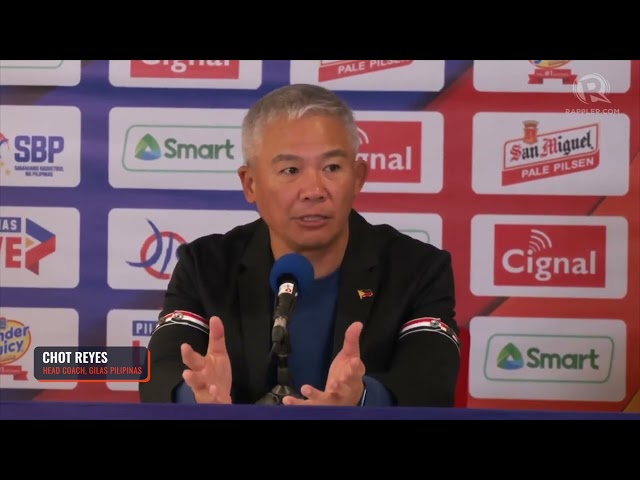 Sotto has long been seen as one of the cornerstones for the World Cup team.
In four Asian Qualifiers games, the 20-year-old showed vast improvement in his game after playing for the Adelaide 36ers in the National Basketball League (NBL) in Australia averaging 13 points, 9.3 rebounds, and 3.3 blocks.
Sotto, though, skipped the sixth window despite what Reyes said a "very good offer" presented by the Samahang Basketbol ng Pilipinas for him to suit up in the pair of home games against the Cedars and the Falcons.
After a two-season stint in the NBL, Sotto is now in Japan as he is set to play for the Hiroshima Dragonflies in the B. League.
"With all the uncertainty surrounding the Kai Sotto situation, if he's not going to make himself available, then I think we have to think about that as well," said Reyes, about naturalizing another big man.
"That's just part of all of the planning that's on our plate right now."
Reyes said players who want to crack the lineup need to commit themselves for a considerable amount of time to be with the team in the run-up to the World Cup, which the country will co-host with Japan and Indonesia in August.
"You can't just come and show up and be on the team, right? Doesn't matter who you are. You have to be able to be part of the preparation," said Reyes.
"It's not just being available two weeks before and all that. It's not going to happen." – Rappler.com