A hero's welcome greets Olympic medalists Hidilyn Diaz and Eumir Marcial as they return home to Zamboanga
Olympic medalists Hidilyn Diaz and Eumir Marcial returned to their home city on Wednesday, September 1, and were greeted with a hero's welcome, subdued because of public health protocols.
Zamboanga and military officials greeted the two Zamboanguenos as they stepped down from an Air Force plane at the Edwin Andrews Air Base (EAAB).
Weightlifting star Diaz, the Philippines' first Olympic gold medalist from Barangay Mampang, is a staff sergeant while boxing bronze winner Marcial of Barangay Lunzuran holds the rank of sergeant in the Air Force.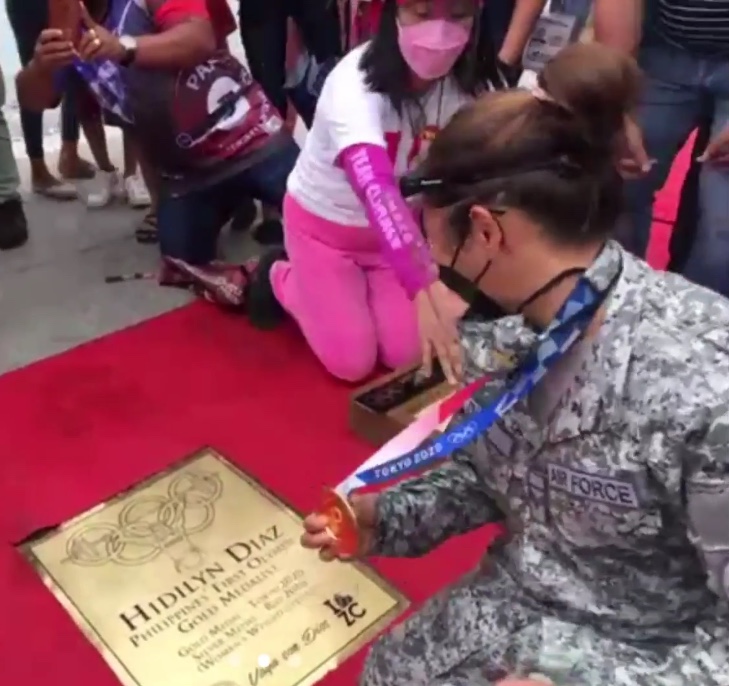 At city hall, Diaz and Marcial, with their parents, were honored by Mayor Maria Isabelle Climaco, Representative Cesar Cimenez Jr., and other local officials.
They were rained with confetti there and given their rewards – P2.5 million for Diaz and P1.2 million for Marcial – for their historic win in the recent Tokyo Olympics.
Before city hall, they stood on a floral float with a barbell and a boxing glove adorning the center and its sides, waving at well-wishers during a motorcade.
The Inter-Agency Task Force approved the motorcade on the condition there would be no crowding in the streets, and only a maximum of 40 people could be their audience.
Police said crowd control became a challenge because many wanted to see the two sports heroes, but they managed. – Rappler.com 
Frencie Carreon is a Mindanao-based journalist and an awardee of the Aries Rufo Journalism Fellowship.