This is AI generated summarization, which may have errors. For context, always refer to the full article.
Jhanlo Mark Sangiao proves yet again he's the next man up for a Team Lakay side that has been embattled by departures and criticisms
MANILA, Philippines – When Jhanlo Mark "The Machine" Sangiao heard the news that he was going to receive another US$50,000 (P2.7 million) performance bonus from ONE chairman and CEO Chatri Sityodtong, he was over the moon.
"Thank you, sir Chatri. Thank you, ONE Championship. You're building my future," he told Mitch Chilson following his 58-second kneebar victory over Matias Farinelli in their catchweight MMA fight at ONE Fight Night 9 in Lumpinee Boxing Stadium last Saturday, April 22.
While Sangiao was grateful to be recognized for his excellence in the ring, Chilson quickly reminded him that he's the one doing the fighting.
"No sir, you are building your future," Chilson responded.
Truer words have never been spoken, as Sangiao, the 20-year-old son of Team Lakay head coach Mark Sangiao, has played his part to perfection. Now, he could be the next man up for the squad that's been embattled by departures and criticisms.
It was Sangiao's third straight win in ONE, and none of his fights have gone past the two-minute mark of the first round. In fact, Sangiao has won all six of his career fights in the first round, with five coming from submissions.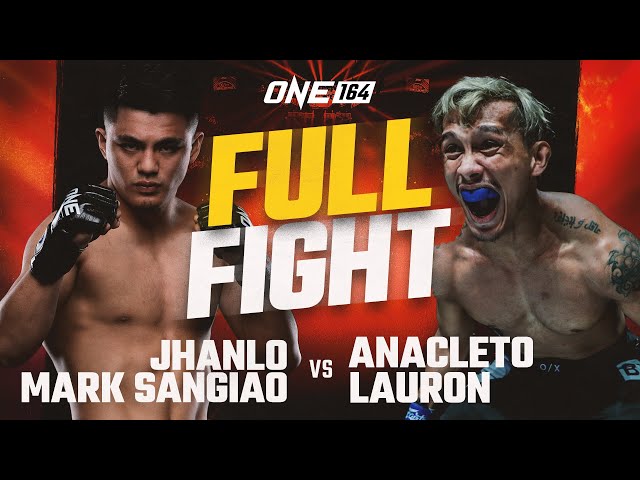 Those submission wins are certainly a testament to the direction of the squad that has been branded as one dimensional by critics. Some feel the team has nothing more to offer other than their exciting, top-level wushu sanda striking.
But Sangiao is different and, according to him, so are his younger peers inside the Team Lakay gym.
It was on full display against Farinelli – a BJJ brown belter who submitted all five of his opponents before meeting Sangiao – as the Filipino adjusted on the fly right when the Argentinian tried to change gears.
As Sangiao was lighting him up on the feet, Farinelli decided to change levels and go for the takedown, something that the Filipino quickly noticed.
Like clockwork, "The Machine" defended and hunted for Farinelli's ankles just when "El Rasta" tried to escape. Once he figured he wasn't going to get the ankles, Sangiao attacked the knee and got the tap.
"That wasn't in the game plan. I was supposed to strike with him, but he got my back, I rolled, [and] I got his foot. I was trying to get his ankle, but I got his leg instead and I pulled it and it popped," he said.
That quick thinking is what makes Sangiao a special case and one of the reasons why Filipino fans are excited with what's in store for him in the future.
For the Baguio City native, the future can't come soon enough.
"I just want to keep on playing, keep on [competing]. I just want to thank sir Chatri as well, he put me in the ring again, and it's so nice to fight," he said.
"Also it's an honor to fight in a [historic] stadium like this, in Lumpinee Boxing Stadium. It's an honor." – Rappler
Read more from ONE Championship: