The Bucks felt like they had no answer for everything the Suns tried to do on offense, even as they played decent-to-good defense all night long 
Nothing encapsulates the torture the Phoenix Suns inflicted upon the Milwaukee Bucks defense in Game 2 of the NBA Finals – a 118-108 win for the Western Conference champions – more than this sequence of events, each similar and nearly identical in nature but all equally effective in punishing a defense at its wits' end.
All of these look the same, as if the Suns were spamming the same play over and over again like it was a video game: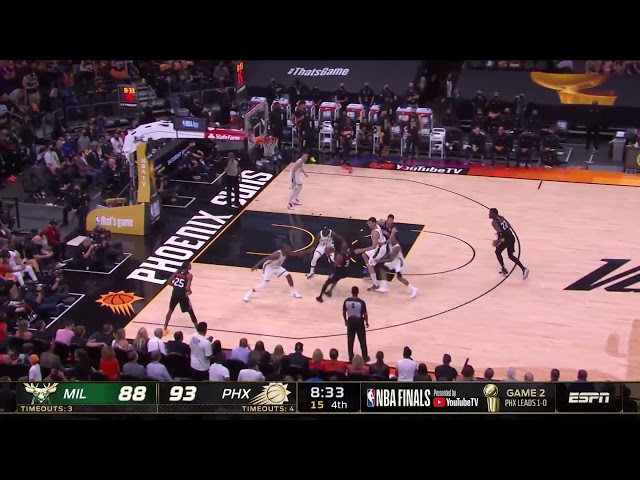 All of these were variations of the Suns' bread-and-butter "Stack/Spain" pick-and-roll, a unique spin on the traditional high ball screen that involves a third party: a guard/wing who sets a back screen on the roll-man defender. The Suns repeatedly went to this play late in the fourth quarter. 
It is said that insanity is doing the same thing over and over and expecting different results. That saying still holds true – if insanity in this instance meant that the Suns were insanely brilliant.
The Bucks, on the other hand, felt like they had no answer for everything the Suns tried to do on offense.
From an overall big-picture perspective, the Bucks played decent-to-good defense all night long. They weren't particularly burned to the depths of proverbial basketball hell. They displayed good concepts, stuck to schemes, and survived on some possessions.
Brook Lopez, in particular, was excellent as the Bucks' defensive anchor. In lieu of having him heavily switch onto perimeter creators like in Game 1, the Bucks opted to mix up their coverages on screens, including switching everything that involved anyone besides Lopez. If Lopez was brought into the ball screen action, he would drop and contain the ball-handler, while also keeping tabs on a potential drop pass or lob to the roll man.
Lopez excelled in those spurts and gave the Suns something to think about when it came to attacking him: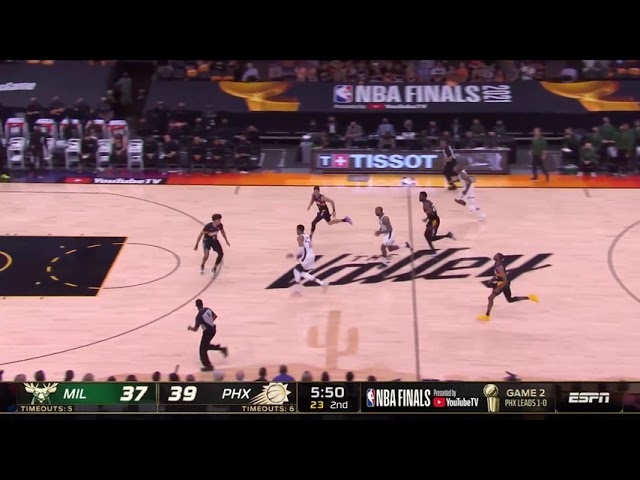 But while the Bucks tried their absolute hardest at staying true to concepts and schemes, the Suns took advantage of that natural basketball instinct to help on penetration and forays into the paint.
The sight of Devin Booker coming off a screen is enough to attract multiple defenders: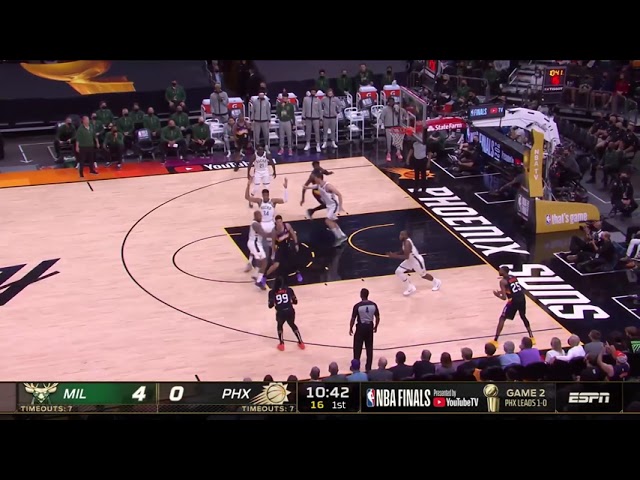 Help in the form of stunts at the "nail" – the area situated at or around the free-throw line – opens up opportunities on the perimeter. In the instance above, the Bucks have Lopez drop against Booker, while Ayton quickly slips and rolls, which forces help from Giannis Antetokounmpo, who stunts at the nail to slow Booker down.
But it comes at a cost: opening the pass to Jae Crowder on the slot, who subsequently drills the three.
The Suns are a highly intelligent basketball team, who are aware of looks defenses may throw at them. They have multiple counters in their arsenal to punish a multitude of coverages. It is a defender's job to be fully alert – even a split-second of being lax and unaware can and will be punished.
A Crowder screen for Chris Paul is expected to be a full-on switch, but Crowder's intelligence is on full display below, while also taking advantage of Antetokounmpo being a tad slow in getting involved in the action: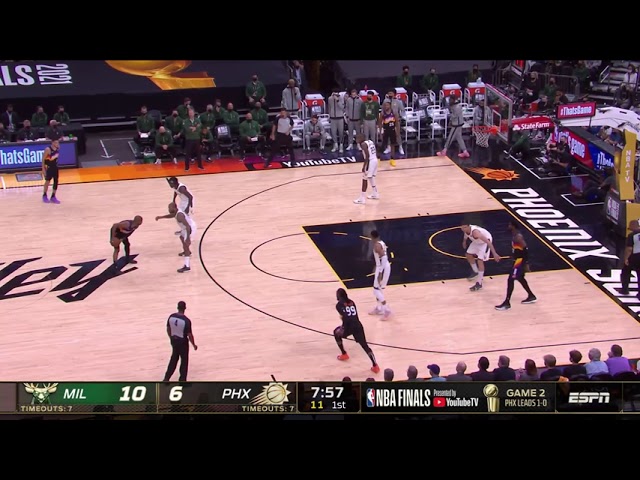 Instead of setting a solid pick, Crowder "ghosts" the screen and slips inside, drawing help off the left corner. That triggers the kick-out to Mikal Bridges for the corner three.
It was one of several corner threes the Suns were able to knock down against the Bucks, a high-quality shot that Milwaukee had a hard time trying to stop, both in the half court and in transition. It was an area the Suns were intent on targeting – after all, the Bucks were the worst team in terms of opponent corner three-point percentage (44.3%) during the regular season, per Cleaning the Glass.
The Suns' 10-of-17 clip on corner threes comprised half of their 20 made threes on 40 attempts. It tied the record for second-most threes made in a Finals game that was set by the Golden State Warriors in Game 5 of the 2019 Finals.
"[Chris] Paul and [Devin] Booker attract a lot of attention, and particularly in the first half, they made us pay a little bit for that extra attention on them," Bucks head coach Mike Budenholzer said after the game. "Bridges hit some shots. Crowder hit some shots. They made 20 threes tonight. And then they made some tough ones too.
"But I think their ability to attract a little bit of attention and then make the pass and guys make shots, hopefully that's an area where we can improve."
Offensive relentlessness was the name of the game for the Suns. Whenever the Bucks gave them low-hanging fruit, the Suns didn't hesitate to grab it.
Such low-hanging fruit not only came in the form of forcing help off the corners and the wings, but also through targeting mismatches against the weakest defensive links, such as Bryn Forbes: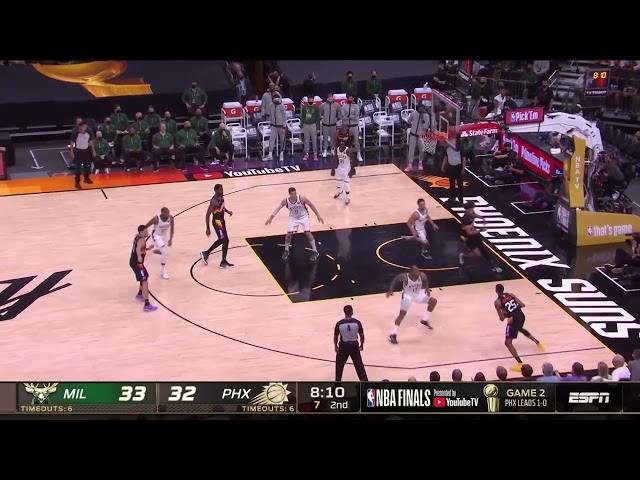 And Jeff Teague: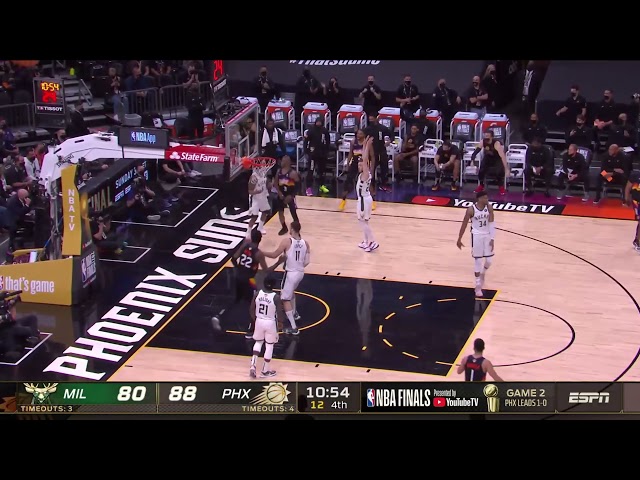 The Bucks' inability to string together stops forced them to take more offensive possessions in the half court, an area where they have mightily struggled in. In Game 1, they finished with a half-court offensive rating of 92.9. In Game 2 – 89.4.
There is plenty of blame to go around when it comes to the Bucks' abysmal offense, but none of it should go to Antetokounmpo, who finished with 42 points, 14 rebounds, and 4 assists, on a shooting split of 68/20/61 and 70.2% true shooting, all in 40 minutes of time on the floor.
Had Antetokounmpo not suffered a hyperextended left knee that kept him out of a couple of games – and perhaps still continues to limit him to a certain extent – those 40 minutes would've unquestionably been much higher, given the fact that his presence on the floor clearly gave the Bucks a much-needed boon on both ends.
With Antetokounmpo on the floor, the Bucks outscored the Suns by 3 points in a game that ended up being a 10-point loss. In the 8 minutes that Antetokounmpo was on the bench, the Bucks were outscored by 13.
As usual, Antetokounmpo is extremely difficult to defend in single coverage. Deandre Ayton is the Suns' best option, but even his size and physicality occasionally wilt in the face of an upfront assault: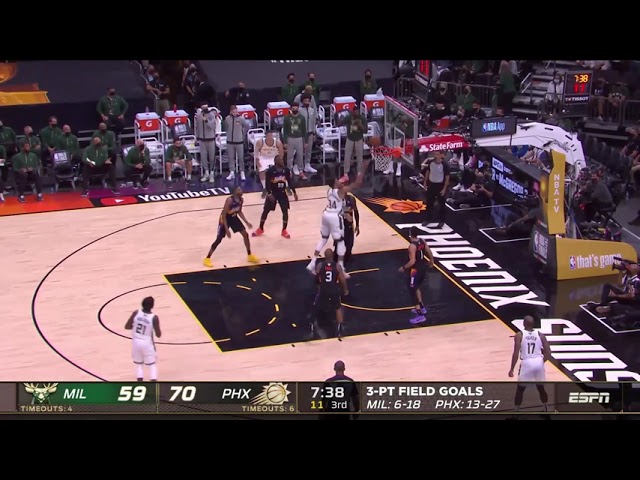 But there was a glaring lack of purposeful actions in the half court. Antetokounmpo is more than capable of getting points on his own, but execution and flow mustn't be sacrificed in the process.
This possession below – an after-time-out (ATO) play that placed Antetokounmpo as the roller in an empty-corner screen-and-roll – was a step in the right direction, considering that he scores 1.23 points per possession (PPP) on such plays during the playoffs, per Synergy: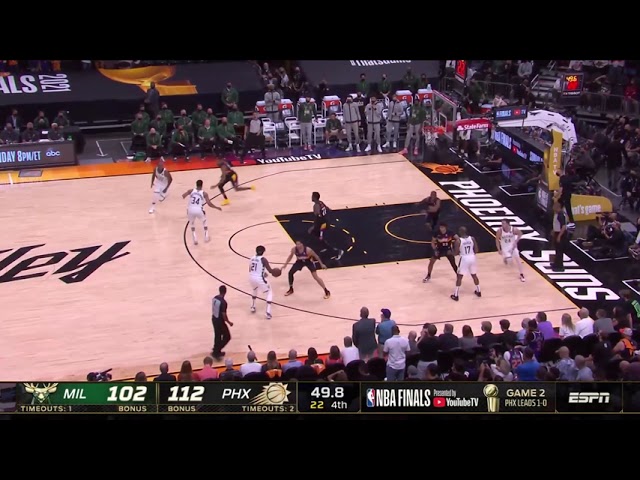 But other elements of the offense must be present. It may sound highly reductive to conclude that certain players must play better, but the fact of the matter is that they do need to do much, much better.
A highly inefficient 17-point performance – one that came on a 7-of-21 shooting clip – isn't going to cut it from Jrue Holiday, who was aggressive and sought out his shots but found it difficult to finish around the rim.
Only 11 points on 5-of-16 shooting from Khris Middleton is unacceptable. His occasional indecisiveness – and his questionable decision making overall – reared its ugly head in Game 2. You just cannot put up shots like this one…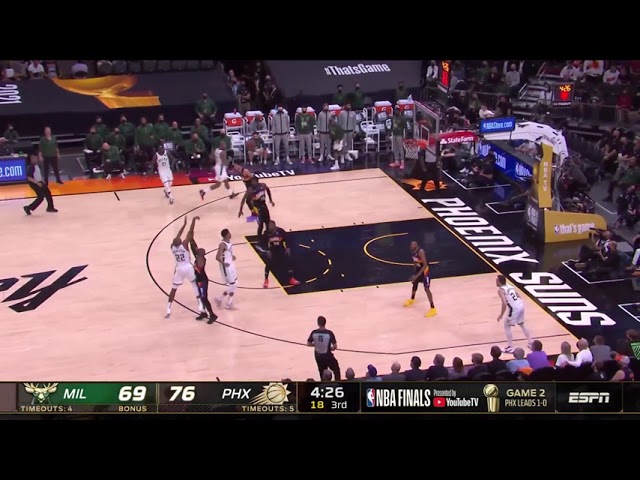 …and expect to win basketball games.
Down 0-2 and heading back home to a more comfortable setting, there is little respite to be had for the Bucks. Their backs are clearly up against the wall, and while there were flashes of promise in their two games in Phoenix – the willingness to mix up coverages and Antetokounmpo refusing to relent in the face of adversity – there is a monumental mountain to climb, with a gargantuan obstacle that has impeded their progress toward the peak.
Schematic and tactical changes aside, the Bucks simply need more than just Antetokounmpo – that is, for them to be greater than the sum of its parts – to have a chance against a team who espouses such a philosophy. – Rappler.com