Here's a crash course on the NBA Top Shot plus an exclusive interview with the creators of the digital collectibles
(Writer's note: All information from this article is for reporting purposes and should not be considered financial advice.)
A new age of NBA collectibles has unfurled with the rapid rise of NBA Top Shot, a virtual platform where collectors can hold, buy, sell, and gift digital assets comprised of highlight plays from the world's premier basketball league.
Created by Dapper Labs – a Canada-based blockchain tech company – in partnership with the National Basketball Association, Top Shot takes the longstanding and financially lucrative culture of card collecting and presents it in the 21st century style of digital manifestation with the promise of enticing possibilities still to come.
Rather than actual physical cards, users can trade or collect "moments," which is a collective term for highlight dunks, handles, shots, passes, blocks, or steals with serial numbers from the likes of LeBron James, Steph Curry, Jimmy Butler, Luka Doncic, and other globally-recognized basketball stars. These plays can be viewed on the Top Shot website through various gadgets.
These moments – showcased differently depending on scarcity, design, badges, and series – are presented as cubes that are also recognized as non-fungible tokens (NFTs), backed by blockchain technology (FLOW) in the cryptocurrency world. Anyone who owns a moment on Top Shot also owns its "digital asset."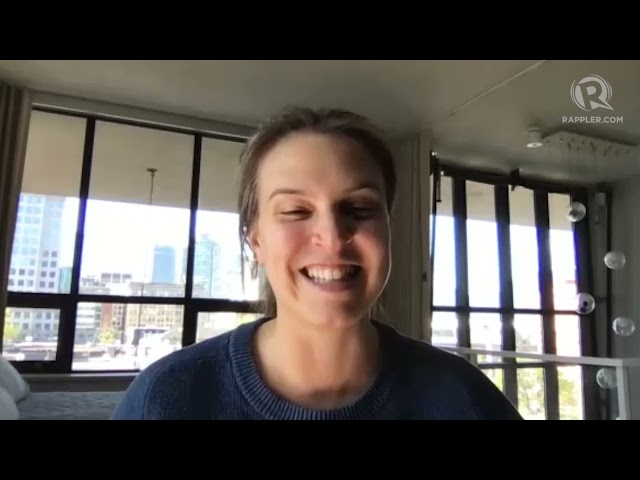 Top Shot's open beta started on October 1, 2020 and in just half a year surpassed expectation by breaching 800,000 users and more than half a billion dollars in sales. Those numbers accumulated despite Dapper not yet going full-force on marketing the product.
While there are moments that sell for as low as $5-10, prices for others can reach up to 4-6 figures. A LeBron dunk from 2020 that honors the late Kobe Bryant, for example, currently has a lowest price listing of $250,000, with only 59 total pieces – aka, "mints" – of this moment in circulation.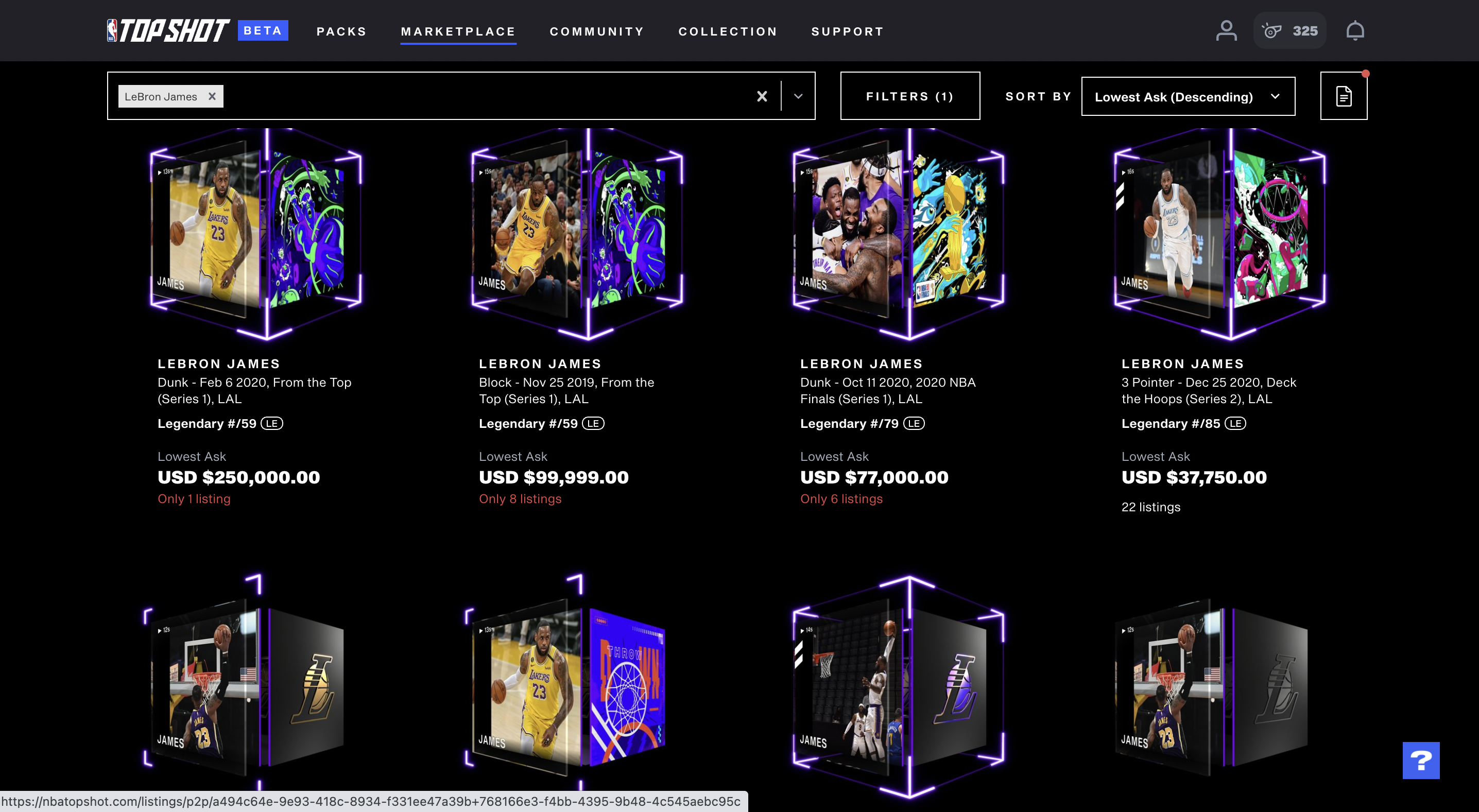 Plenty of third-party media outlets have been established to cover Top Shot, some of which take a deep dive into the data analysis. There are websites, articles, podcasts, vlogs, and social media posts. Some accounts hold giveaways of moments in exchange for clout and a voice within communities.
In the Philippines, the community grows furiously every day. The NBA Top Shot Philippines group on Facebook is at 3,000 members. Multiple group chats are active as dedicated users share tactics, opinions, and news about a platform which even NBA players themselves have grown infatuated with.
Top-tier NBA talents like Paul George and CJ McCollum have invested and are bullish on the Top Shot marketplace, as well as upper management personnel like Dallas Mavericks owner Mark Cuban and Philadelphia 76ers general manager Daryl Morey. Even Meralco Bolts swingman Chris Newsome and Philippine basketball team veteran Gabe Norwood are allured.
"The community and the mystery of it all makes the platform fun for any collector," Norwood told Rappler.
In an effort to learn more about Top Shot, Rappler reached out to Caty Tedman, who is the head of marketing and partnerships at Dapper Labs.
Why join Top Shot?
Tedman: NBA Top Shot is a really fun way to collect some of the best moments in NBA basketball. You know, join a community of now almost a million people who are doing this as well and you know, have a lot of fun with your knowledge of a sport that you already love.
The most efficient way for users to compile moments is through Top Shot's "pack drops." Once or twice a week, users queue on the website for virtual packs that are priced according to the quantity (3-6) and quality of the moments inside them: common ($9-14), rare ($99), and legendary ($999).
But unlike its early stages when packs were easily available, the sudden increase in Top Shot users has decreased an individual's likelihood of scoring packs. It's become a game of luck, as there are times when nearly 300,000 users line up for only 60,000 packs. Each user's queue number is randomized once they join the drops.
Who decides what moments go inside the packs?
Tedman: We have a team that works really closely with the team at the NBA, and we have a conversation every morning, the teams meet and they talk about what is the great stuff that happened [the previous] night? How does it relate to other plays that happened throughout history? What makes a great pack, and it needs variety, right?
So if it was all dunks then dunks would be less special. So lots of, you know, assists and handles and all sorts of other aspects of the game that really showcase how great it is. And so our teams just get together and talk about what the greatest stuff is – how do we get it into packs?
When the packs come together, they're fully randomized and so that's part of the fun as well where sometimes you open it up and you get something you are so excited about. And sometimes you open up and you're like, "I'm less excited about that, but if I go and liquidate some of this on the marketplace, I can make some opportunity for me to go and find the thing that I really love."
Is the incredible growth of users surprising?
Tedman: Yeah. We always thought that we would, you know, hit a rapid growth phase. It happened faster than we thought and one of the outcomes of that is that we needed to spend a lot of time on site stability and making sure that the system would work itself. We never had contemplated doing queues and then we made the decision that we have to make this a fairer environment for fans and for people who come in to collect. But I think that the content team is working towards creating an environment where it is easier to get to some packs.
One of Top Shot's recent improvements is the stability of its marketplace; the website now has less periods of inactivity due to site maintenance compared to only weeks ago.
For Asian users, however, the timing of pack drops remains a challenge. Usually scheduled in the afternoons Pacific Daylight Time (PDT), eager collectors sacrifice sleep by staying up late or waking up early for a 20-30% chance to land a pack.
Nonetheless, the awkward timing fails to diminish their motivation.
Will some pack drops favor the time zones of collectors from Asia, Europe, or Australia?
Tedman: There are Top Shot players around the world, which is part of the fun of it… I think we've certainly talked about what it looks like to specifically engage different regions, different countries, and even leaning into players from those countries and doing collaborations around [what] we think could be really fun, as kind of the next generation of how people can engage with this product.
Withdrawal concerns and playoff plans
Not everything has been rainbows and butterflies for Top Shot. The pressing concern among plenty of users is withdrawing their finances, particularly the speed to get their withdrawal approval and means to attain their money.
It is easy to load one's Dapper wallet – the best way to transact in the platform – with a credit card, but retrieving one's investments can presently be done only two ways: wiring the amount to a US bank account or through USDC and Ethereum (crypto).
Users on social media have complained that it takes weeks, sometimes months, to get Dapper's approval. Quite a number of them are still waiting.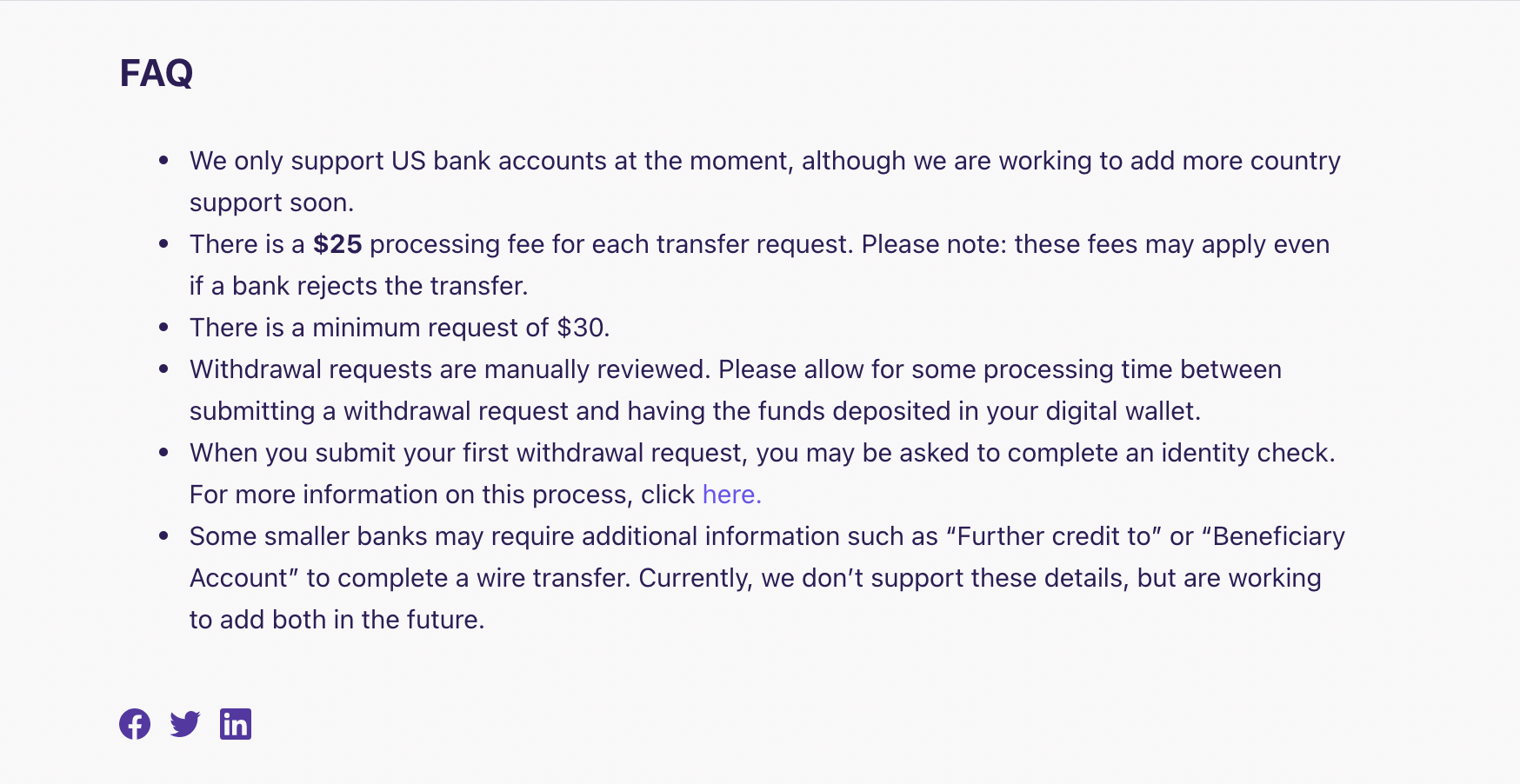 The topic of money is usually a touchy subject, but according to Dapper, the past weeks have seen an uptick in approvals and withdrawals, as the company increases manpower to quicken the process.
Will withdrawal options be added?
Tedman: We're kind of at that step that we're looking at different ways we can integrate different payment options for different regions. We're looking at, certainly, ways that we could increase the speed of identity verification, which is kind of that first step to the withdrawals. I think we're improving on all of those metrics… we'll make sure that fans have a really good experience. We're super committed to that.
The withdrawal process does not dissuade most users from being active on Top Shot. The proof is in the increased number of unique traders in the marketplace. The recent "Certified Ballers" showcase challenge, where users can display their best moments in a video collage, is further proof.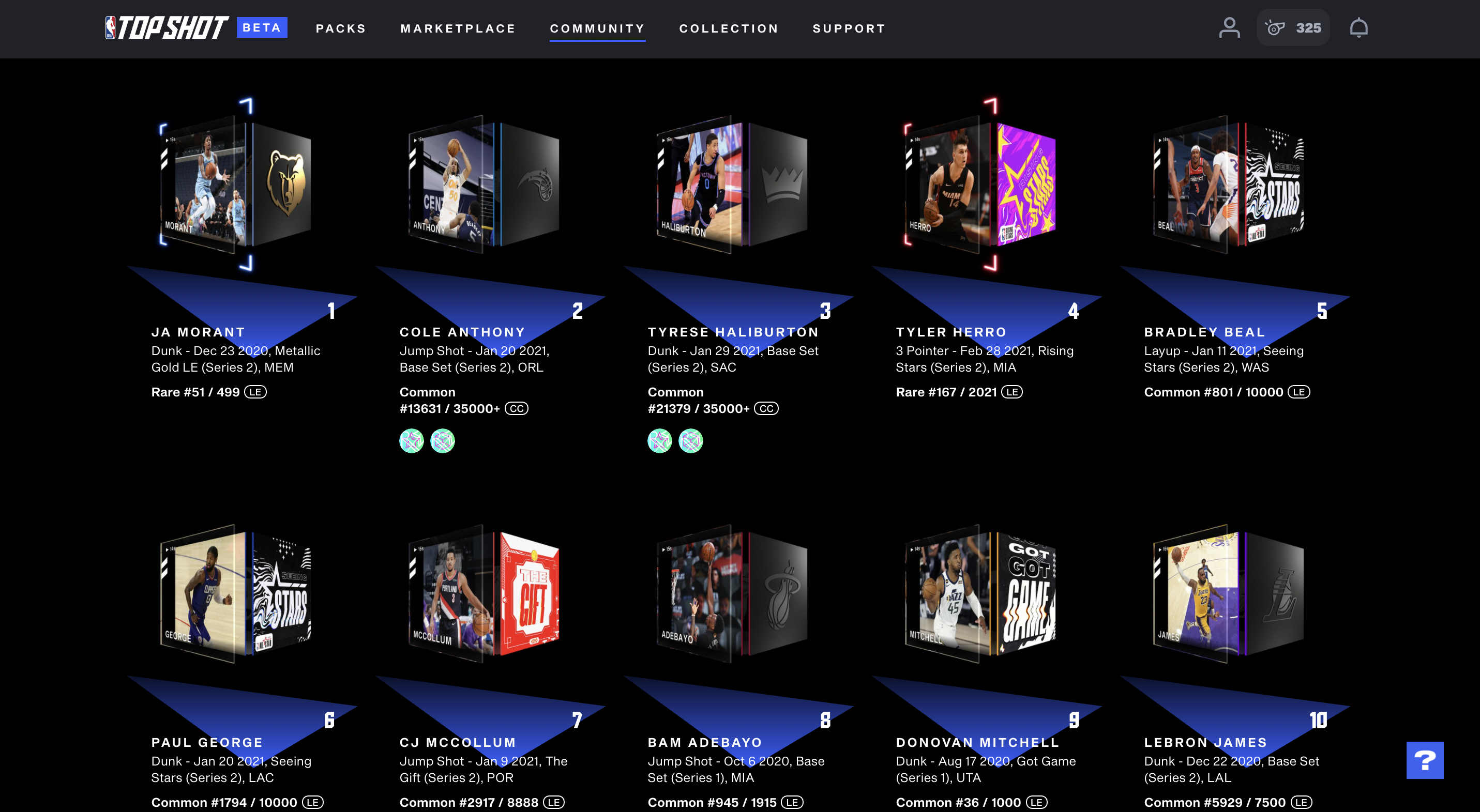 There are pack rewards for showcases with the most likes, depending if a user ranks in the top 3, 10, or 50. Dapper is also rewarding users that have at least 20 likes with $20 credit. The competition runs until May 4 and has led to 24/7 communication on Top Shot's social channels like Discord, with users trading "likes for likes" to increase their count.
There's also speculation that Top Shot has innovative plans they will reveal when the NBA Playoffs begin in May. Guesses include unique moments and packs (rare and legendary) bolstered marketing (they recently hired Dave Feldman, formerly of NFL marketing) and an in-platform arcade game called Hardcourt.
Any plans for the playoffs?
Tedman: I don't think I can share any concrete plans, but I can say that last year we did Eastern Conference and Western Conference Finals packs that were amazing. We did a legendary pack for the Finals – that was also amazing – and so I think we'll definitely repeat that, but I would guess we'll do some stuff that's even bigger and better.
Any update on the in-platform game Hardcourt?
Tedman: I think our priority right now is to make sure that collectors can get access to content and so that you can open packs and you can participate in that magic moment, but the mobile game is still in development. We've done a little bit of testing… [but] until it's really good, we're not going to launch it. And so we'll keep the community apprised and I'd imagine that we'll give early access to collectors… we always like our community to know first.
Price drop concerns, long-term collector benefits
Top Shot's peak in sales occurred near the end of February, when the total market cap reached almost $2 billion and daily sales surpassed $40 million. That coincided with attention from mainstream media outlets like SLAM and ESPN, resulting in an influx of new users banking on the promise of a rewarding new trend in the digital finance world. That was also when many users from the Philippines hopped aboard the hype train.
Unfortunately, the market has been on a drastic dip since, with the platform's total cap now down to a little over $800,000 and daily sales hitting only $2-3 million. Users who invested in moments during the peak find themselves "in the red," which means an unrealized loss in their portfolios when accounting for their moments' current lowest selling price in the market.
There's been conjecture on why prices continue to drop; one reason is because Dapper crowded the marketplace with new moments through succeeding drops, thus shifting the scales in the balance of supply and demand.
Another reason – likely the bigger culprit – is the presence of short-term flippers and undercutters: users who are considered "in it for the quick buck." A lot of them instantly sell the moments they receive in packs even if it means matching or going below the lowest asking price in the market.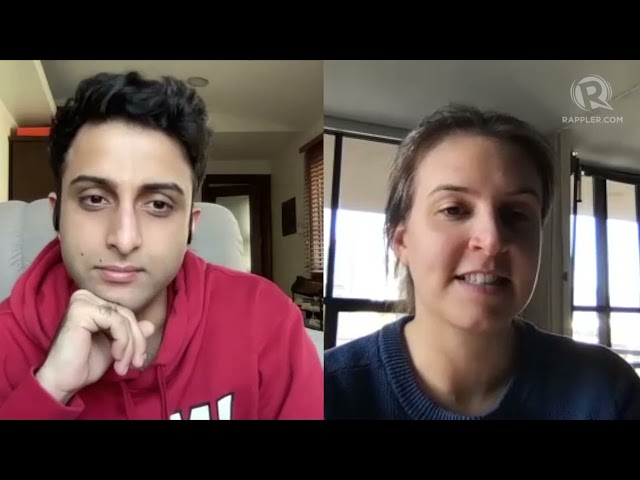 Because Top Shot is a free market where users can choose how much they sell their moments (Dapper takes a 5% cut from each sale for transaction fees), sellers can simply look at the current lowest price in the market of a moment they want to sell and list it below that – sometimes even just by a single dollar.
It seems harmless at first, but when multiple users do the same, it ignites a race to the bottom.
For flippers, it's simple math: if they see an opportunity to make a quick profit, and buyers prefer purchasing moments at their lowest listings, then the prospect of getting their winnings now rather than waiting months or years to make profit sounds more ideal. Sales information for every moment in the platform is publicly displayed.
However, Top Shot has taken steps to make the platform more suitable for long-term collectors. Recent drops for rare and legendary packs included specific requirements to join. Eligible collectors who missed out on the premium drops were also compensated with "rebound packs" made up of common moments, preventing the feeling of going empty-handed.
Astonishingly, only 68,000 collectors out of nearly a million users were eligible for the last premium drop.
Short-term flippers are not pleased.
Does Top Shot aim to promote long-term collecting?
Tedman: We really do think that people will benefit from being long-term collectors and we think that the fun of the product is your collection. It's not flipping your collection and so, you know, the marketplace is fun, right? It's fun to go in and figure out how to put together great showcases, how to put together great stories around content, how to find moments that means something to you and be able to access them.
How is the relationship between Dapper and the NBA?
Tedman: Our relationship is great! What they bring to the product is a real understanding of their fans and a real understanding of how to continue to grow and opportunities. So they came to us with the Rising Stars opportunity to announce the Rising Stars roster through NBA Top Shot and we were like, "That's awesome!"
Given its exponential growth since October, it's easy to forget Top Shot is technically still in its infant stage. After all, the platform is only in beta, but that hasn't curtailed the excitement, and neither have the price drops. Analysts believe users who enter the platform now will eventually be considered "early adopters" in a year or two.
Moments being released these days are part of series 2. There is enthusiasm for what their value will be when series 3 and 4 are minted. The possibilities of watching moments on different hardware – like digital murals, maybe? – also brings anticipation. It helps that NBA players are constantly communicating about Top Shot, per ESPN, and the words "Top Shot" are now associated by broadcasters with highlight plays on a regular basis.
Investors who believe in the product are also putting their money down on the table. In March, Dapper received $305 million at a valuation of $2.6 billion in private funding from a group that includes Kyle Lowry, Klay Thompson, Kevin Durant, and, get this, Michael Jordan himself, plus a few other prominent names. Just two weeks later, they received more private funding at a valuation of $7.5 billion from Coatue Management.
Their product might not be limited to the NBA, too, as Dapper has partnerships with Warner Music, UFC, and Ubisoft (gaming).
Where is Top Shot headed in 3 to 5 years?
Tedman: There are 1.6 billion basketball fans on the planet and so, I think the million registrations that we have is very small comparatively, and so that's very exciting about how far we can grow, but I think we look at the collectibles as the anchor to the possibility of so many different products.
Top Shot users use the phrase "To the moon!" to describe its potential.
Based on their actions, it looks like that's where Dapper wants to take its most popular product.
And if they don't get there, they just might land in the stars. – Rappler.com
(Note: Q&A portion was edited for brevity.)
Naveen Ganglani is a published author, host, and businessman. He is the writer of Nowhere To Go But UP: How a Basketball Team Inspired a Nation. He hosts At the Buzzer, a podcast for basketball plus other sports. You can reach him on Twitter, Facebook, or Instagram. View his Top Shot collection here.