Filipino Mike Leopando lands his dream job as a business analyst of the Milwaukee Bucks
Imagine getting paid to think and talk about basketball everyday.
That's the life Filipino Mike Leopando has been living in the last 7 years as part of the Milwaukee Bucks' business analytics team.
Not many fans, including Leopando in his younger years, would've ever imagined that it was possible to find a job that could marry both stability and sports passion.
"When I left the Philippines, I did think it was possible, but I wasn't sure if it was ever going to happen, and it finally happened and I'm happy and I feel blessed and I'm really excited to see where it goes from here," said Leopando about getting his dream job.
An Ateneo BS Management Engineering graduate, Leopando uses his expertise to focus on the revenue-generating side of the Bucks front office, which includes demand forecasting and reporting, as well as pricing and inventory management among others.
Though the Bucks' business analytics team is only composed of 5 people, they wear multiple hats as their work extends to creating efficiencies within the organization, fan analysis, and providing support to other front office departments.
"It's been a great experience so far, getting exposure to all aspects of the business," shared Leopando.
Fueled by passion
But to live his dream life, Leopando took a number of risks before landing on the luckier side of the coin.
After organizing over 200 teams as part of Ateneo's Intramurals Athletics Council (IAC), Leopando knew he wanted a career in sports management.
"So what I did was, after I graduated in 2006, about two months after that, I decided to pack everything up and move to New York to pursue that dream," said Leopando.
"Without any plans whatsoever, I just decided okay, I'm gonna go for it."
Though he had enough passion to make him set foot into the unknown, it was realistically not possible for a college graduate from the Philippines to land a job related to sports immediately and without connections.
"And so it took me about a year to find a job, and it was as a receptionist at Adidas. I applied 3 times for that role and they said no twice before they finally gave me a chance," shared Leopando.
Leopando eventually was able to move to the admin side of the company and spent 5 years in Adidas.
But working for one of the world's top sports brands still did not satisfy his career goal in sports management. He realized he wanted to work for an NBA team. 
"So, I made the decision to leave Adidas and go for my MBA at Duke University. I spent two years in North Carolina as an MBA student over there. And between my first year and my second year, I was lucky enough to get an internship with the Atlanta Hawks," shared Leopando.
"So I spent a summer with them as the analyst intern. And I think really my experience there helped me gain a lot of the knowledge that I needed, and the network that I needed in order to really break into the industry."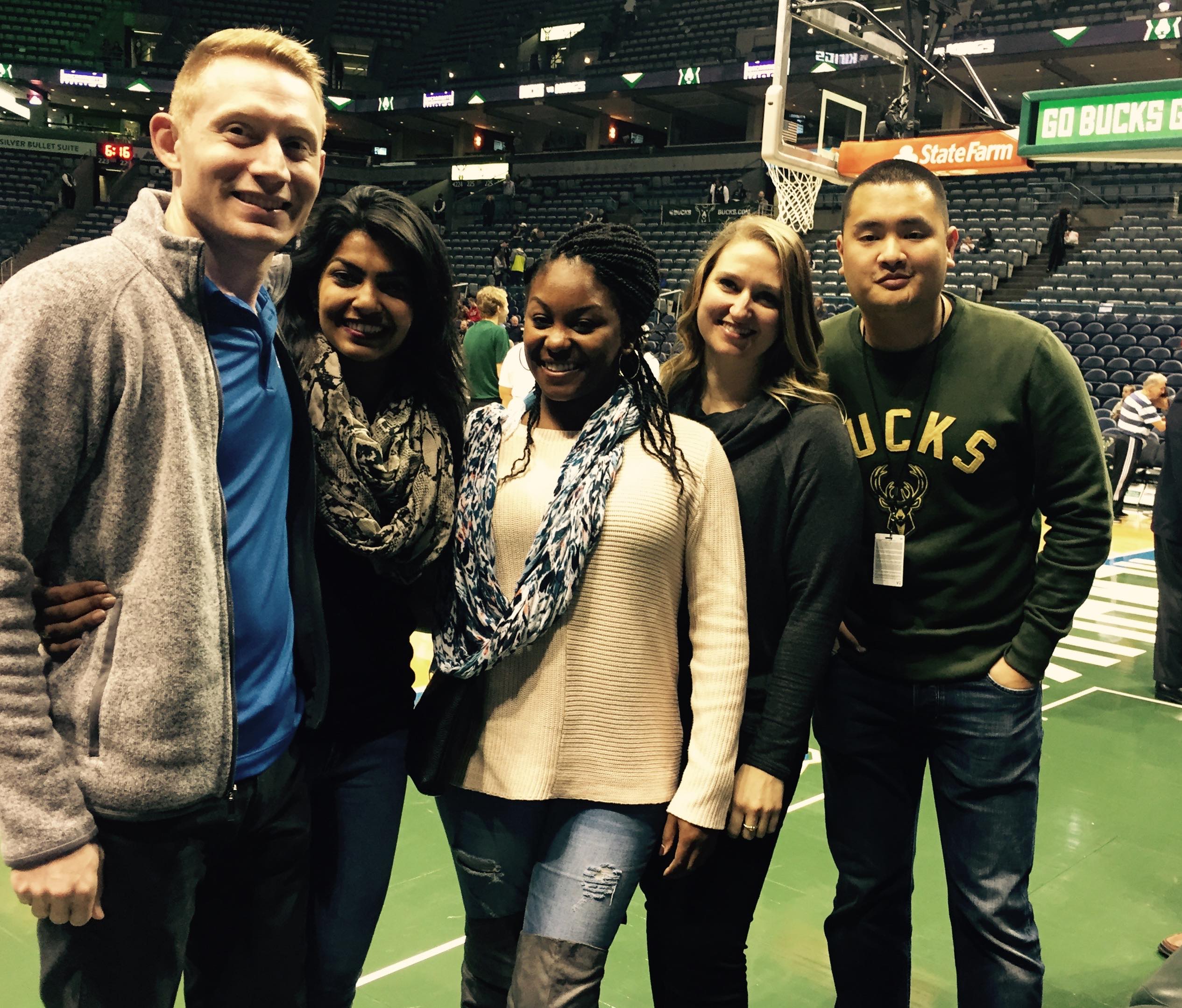 Traveling the road to success
A year after the Bucks drafted rookie Giannis Antetokounmpo in 2013, New York-based billionaires Wes Edens and Marc Lasry bought majority of the team, which led to the revamp of the cellar-dwelling organization. 
This opened up for Leopando the business analytics role, which he took even if he was just virtually a one-man team. But thankfully, his affinity with both numbers and basketball outweighed the challenges and pressures of going solo. 
"It's challenging, to say the least. But it's a lot of fun. I've always liked numbers, and I was always really good at math and so I'm kind of glad that you know I like math and I love basketball and so I've been able to bring those two together," said Leopando.
On the court, Milwaukee was a team on the rise under the mentorship of Jason Kidd from 2014 to 2018 and Mike Budenholzer, who continues to coach the Bucks today.
It took the Bucks close to 6 years to become the No. 1 NBA team in the last two seasons, which saw Greek star Giannis bag back-to-back NBA MVP awards.
Though the team became a major title contender, the Bucks fell to the 2018-2019 season champions Toronto Raptors in the East Conference Finals and were knocked out by the Miami Heat in the East semis of the bubble season.
Apart from how the team itself found its footing in the top ranks of the NBA, the business side of the Milwaukee Bucks was also growing with all the major changes made.
"I think there was also… focus on data, so I think people really worked well with each other on building or rebranding the team – we changed our uniform, we have new courts, we built a new arena," said Leopando. 
When COVID-19 put a halt to the world of sports, including the NBA, the Bucks front office was busy managing all the ticket refunds, but they also did not stop innovating as there was a lot to prepare for in the new normal.
While the city of Milwaukee still prohibits fans in live games, the Bucks have already started planning how to keep fans safe when they are able to return to Fiserv Forum.
"We also had to start looking into creating a frictionless experience for our fans when we're allowed to have fans back in the arena again. So that means looking at mobile ordering capabilities that will eliminate lines of a concession stand, etc," said Leopando.
Bringing in the Filipino community
The Milwaukee Bucks have not left out the Filipino community in their plans to expand their fan base.
The Philippines continues to be a top market in the NBA – with 4 topics related to the league in the country's top 10 Google searches – and the Bucks didn't count out the Pinoy community either.
The Bucks had made their presence felt in the Philippines in small ways such as posting Filipino or Taglish translations on their social media pages.
"At least the Filipino followers know that we know they're there, and that we know that they're listening and watching us and we appreciate them for being there for us," said Leopando.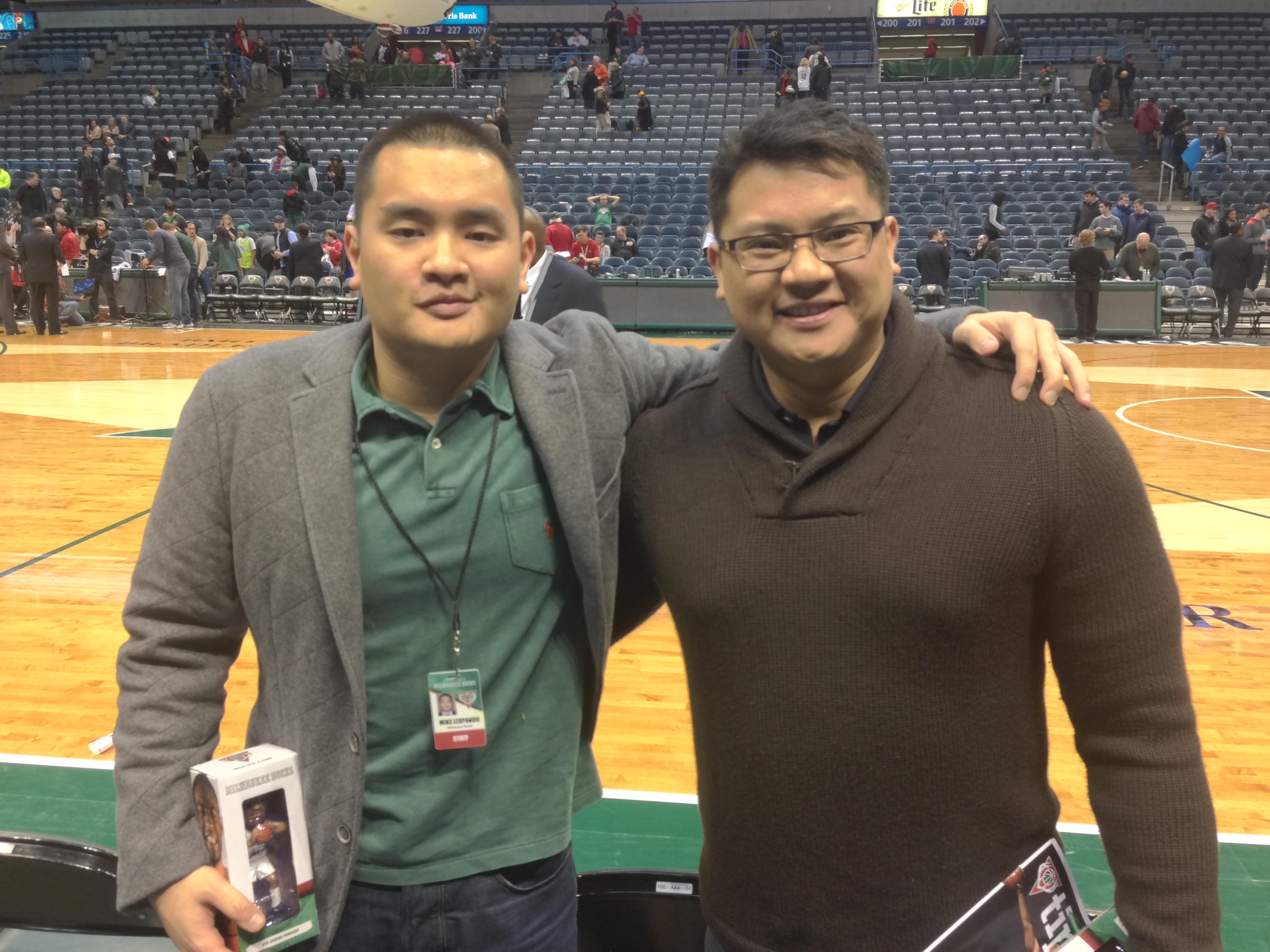 The Milwaukee Bucks are also tapping into major Filipino companies for sponsorships, which allows Leopando to stay in touch with the country he grew up with in his job.
"A a Filipino it's really, really exciting to see those two worlds collide in such a huge way," said Leopando. – Rappler.com