It feels like the Bucks had things massively figured out, especially on the defensive end, against the Suns
Down 0-2 and seemingly at a loss for answers, the Milwaukee Bucks stormed back to even the series up on their home court – but not without the Phoenix Suns making it hard on them, as well as the Bucks occasionally making it hard on themselves.
Devin Booker, after a mediocre outing in Game 3, had the best game of his NBA Finals career. He drilled jumpers over every kind of coverage the Bucks threw at him.
Switching? He would take advantage of whichever poor soul found themselves having to play the guessing game. Booker made them guess wrong – and even if they guessed correctly, Booker would just go ahead and bury jumpers in their face anyway.
Trapping? Booker – an underrated passer and decision maker – would find the open man.
Dropping? The midrange is Booker's realm, his happy place where most of his magic occurs. All he needs is a sliver of breathing room and a momentary glance at the rim to render coverages moot. Give him a screen or two – on or off the ball – with a big man dropping back, and he will have no problem making what amounts to practice shots.
This was the conundrum the Bucks had for most of Game 4. Booker finished with a sublime stat line: 42 points on 60.7% shooting, 8-of-9 from the free-throw line, and 65.7% true shooting. Those are, under normal basketball circumstances, winning numbers.
But if the Bucks had anything to say about it – and they had plenty to say throughout Game 4 – Booker's performance wasn't going to stop them from taking control when it mattered most.
Mixing up defensive coverages
It wasn't too long ago that the Bucks tried absolutely everything they had in their defensive bag against the Suns, who brushed away everything and made shot after shot.
Chris Paul, ever the master puppeteer, would easily take the likes of Brook Lopez and Bobby Portis to his spots and drill mid-range jumpers, rendering 1-5 switching with traditional bigs ineffective. Devin Booker would do the same thing, all while ramping up the aggression and drawing fouls. Mismatches would force help from somewhere else, opening up corner shots and other high-efficiency looks due to forcing the Bucks to make rotations.
The Bucks had no choice but to live with mixing up their coverages. With a traditional center, switches are still viable, except when said center is involved in the screening action. Lopez is by no means a complete sitting duck when forced to defend out on the perimeter, but seeing how much he had trouble defending Paul and Booker on full switches during previous games, the Bucks decided to revert to their base drop coverage with him on the floor.
That was when Booker started licking his chops: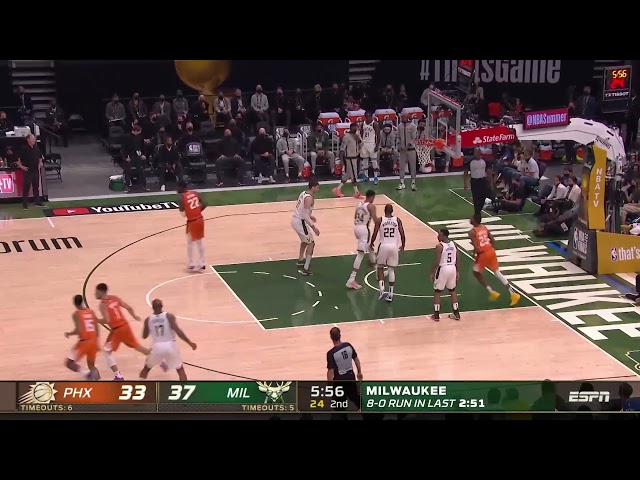 Drop coverage is contingent on two factors: the big man being able to navigate that middle ground between the roll man and the ball-handler, and the on-ball defender being able to navigate around screens and maintain pressure on the ball-handler.
Lopez was hit or miss against Booker when employed in a drop, but the two-man platoon of Jrue Holiday and PJ Tucker held their own, taking turns on Booker and trying to pressure his jumpers with elite screen navigation and timely contests. The Suns put them through the proverbial meat grinder – side screen-and-rolls, "Chicago" actions involving down screens and dribble hand-offs, and challenging them to run around an obstacle course in an effort to keep up.
The on-ball defense was on point, but Booker was at his sharpest.
The Bucks, as they have done throughout the past few games, have been more willing to send help in the form of stunts at the "nail," where a weak-side slot defender sags off his man to slow down a drive, or even get a strip and a steal.
In the entirety of Game 4, only one such possession was successful against Booker: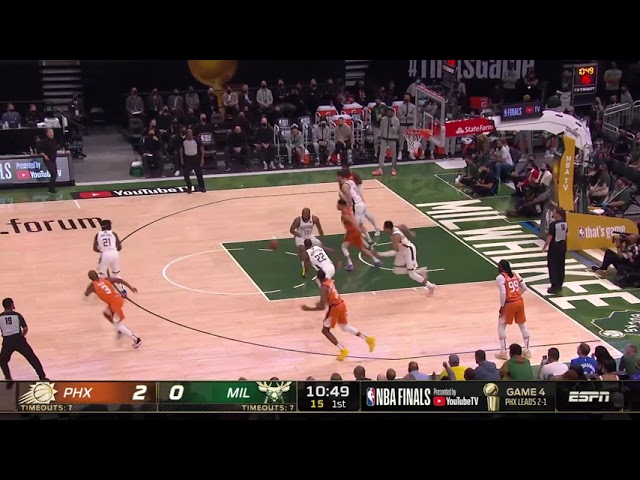 We saw plenty of nail stunts during the previous games, but treading the thin line between timely help and overhelping – at the risk of leaving open shooters on the corners or triggering swing-swing sequences that force rotation – has been a common theme for the Bucks. It burned them in Game 2, where they allowed the Suns to shoot 10-of-17 on corner threes. The tides turned in their favor in Game 3, allowing only four corner three attempts, none of them successful.
In Game 4, they allowed only two such attempts, which played a subtle yet important part in their ability to neuter the Suns' offensive flow.
Neutering such a well-oiled machine started by going after the head of the snake. Paul had another mediocre outing, with the most glaring stat being his 5 turnovers. So far in these finals, he is averaging 4.25 turnovers per game – after averaging 1.5, 1.25, and 2 during the previous three rounds.
A huge factor has been Holiday's hounding defense. The Bucks made it a point to disrupt Paul as soon as the ball was in his hands, whether through individual full-court pressure or picking him up near the half-court line, forcing high ball-screens to be set and allowing Holiday to have a longer lane with which to catch up to Paul.
It also took away Paul's ability to dictate the half-court tempo. Slowing down the pace to a crawl has always been his preferred method of attacking defenses. Hounding him relentlessly forces him to speed up his reads and make quick decisions.
Of course, Paul is more than capable of such feats on the fly, but the chances of him making mistakes are increased when you don't give his erudite basketball mind time to compute: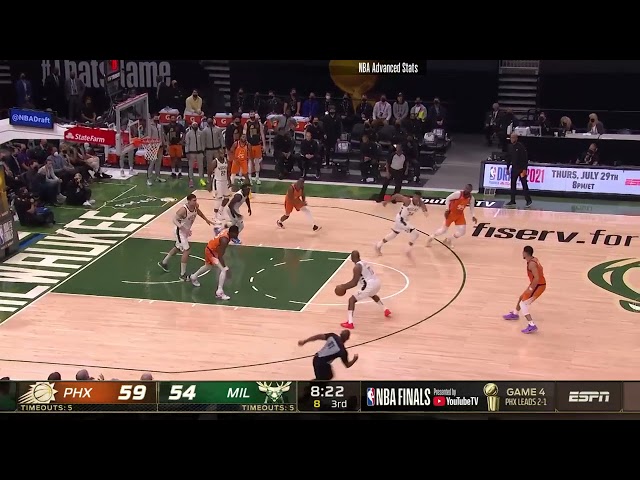 The Bucks made the Suns' backcourt duo work in the halfcourt, peppering them with different coverages and hounding them with exceptional on-ball defense, which forced them to make quick decisions with the ball in their hands. Booker stepped up; Paul did not.
The Bucks' star duo closing things out
Compared to his previous outing, Giannis Antetokounmpo had a relatively subdued stat line in Game 4: 26-14-8 on 58% shooting from the field. He took less shots and seemed to be unusually passive early on. Part of that was the Suns successfully shrinking the floor against him, sending plenty of help off the wings and toward the nail in what was a clear attempt to build a wall.
It was imperative, then, for Khris Middleton to get going and to carry a significant part of the offensive load. A 40-6-4 performance on a 46/38/88 shooting split is nothing to scoff at, and it spoke to his ability to take over games and dictate matters on his own terms.
Middleton couldn't afford to go on one of his infamous bouts of inconsistency, especially with Antetokounmpo – while still putting up an all-around two-way performance – needing to offload some of the burden onto someone who could equally handle it.
Middleton more than handled it; he took the burden and threw it forcefully toward the Suns. He made timely shots against switches – against both Jae Crowder and Mikal Bridges, unquestionably the Suns' best wing defenders – and his combination with Antetokounmpo on screen-and-roll actions put Deandre Ayton between a rock and a hard place.
You have to feel sorry for Ayton – a capable pick-and-roll defender – on some of these possessions: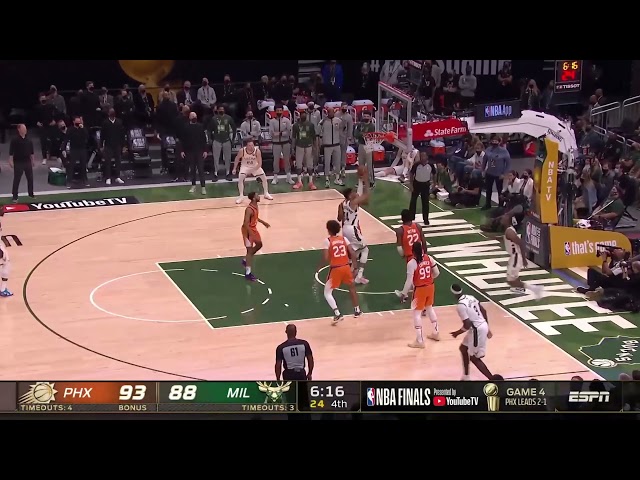 Ayton had the unenviable task of making choices on all of the possessions above. Commit to Middleton, and he would be giving Antetokounmpo a free runway with which to receive a drop pass or lob. Commit to covering Antetokounmpo's roll, and he would be allowing too much space for Middleton to pull up for a jumper or go all the way to the rim.
Stay in that precarious space that allows Ayton to check both Antetokounmpo and Middleton, and Middleton scores anyway. Add in the additional element of an empty corner – eliminating the possibility of help coming from that side of the floor – and Ayton might as well have packed his bags early and booked the next flight to Phoenix.
Meanwhile, Antetokounmpo thrived on the margins. He dominated in transition, made possible through the Bucks obtaining stops and running the floor. When the Suns had Ayton resting on the bench, they were forced to send out a small lineup, with Torrey Craig at the 5.
Antetokounmpo, like he did in Game 3, saw it as an opportunity to impose his will: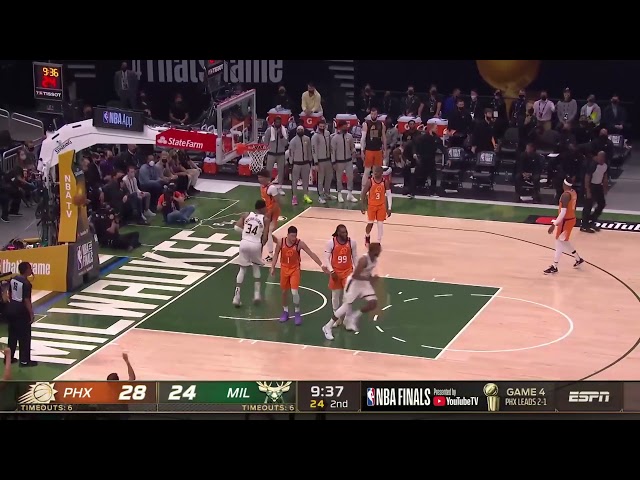 The Suns fighting fire with fire – that is, throwing out mobility and speed through downsizing – is asking to get burned. Antetokounmpo thrives in a fast-paced, baseline-to-baseline style of basketball. In the half-court, the combination of his size and athleticism is the perfect foil to a defense without rim protection and forced to compensate through timely rotations.
Defensively, it allows Antetokounmpo's versatility to shine. He can switch comfortably on screening actions. His lack of finesse and raw maneuverability is compensated by length and covering space in an ungodly amount of time.
It was enough to spook Paul on this possession, whose shot had a snowball's chance in hell of getting past Antetokounmpo: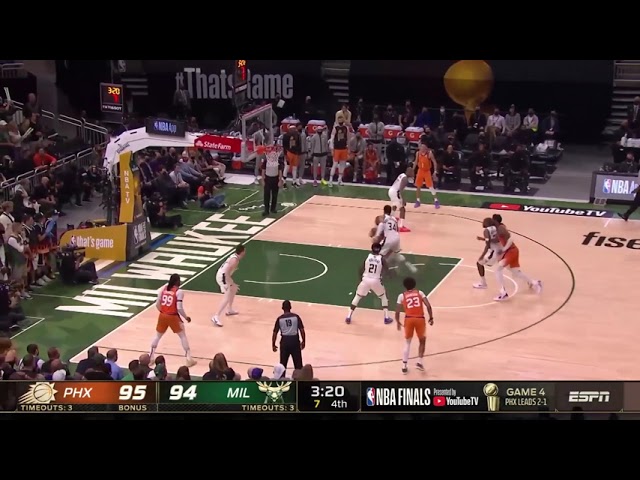 And, quite famously (or infamously, depending on your allegiances), Antetokounmpo showed why he is a former Defensive Player of the Year: a masterclass in pick-and-roll defense and a clutch defensive play that has to be up there as one of the greatest blocks in NBA Finals history.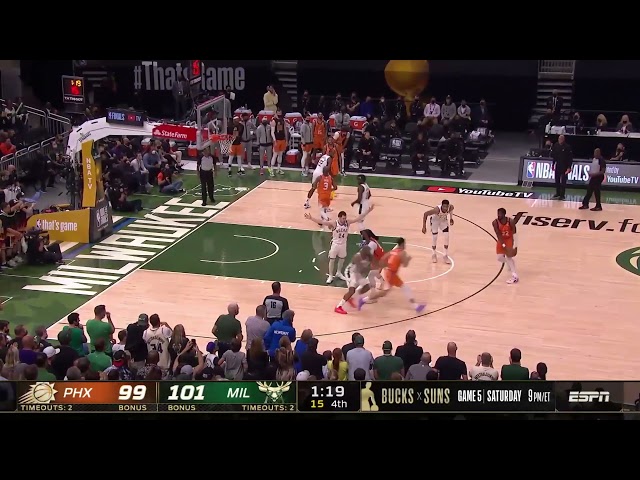 In these past two games, it felt like the Bucks had things massively figured out, especially on the defensive end. Conditional switching, providing help without compromising space and movement, and ramping up pressure on ball-handlers were key discoveries in their victories, in which they put up a non-garbage-time defensive rating of 104.5 in Game 3 – followed closely by their Game 4 defensive rating of 106.2, despite Booker's explosion.
Antetokounmpo was exceptional in both of those games. Middleton finally made noise after a decent but quiet performance in Game 3. As the series shifts back to Phoenix, there is no doubt that Paul and the Suns are fuming and gnawing at the bit, ready to respond and retake control of a series that they have lost firm grip of.
Sit back, relax, and enjoy, folks – this has finally turned into a real battle. – Rappler.com