Jordan Clarkson, the Utah Jazz's second-leading scorer, has put up career-high average of 17.6 points
Fil-Am star Jordan Clarkson has quietly been one of the NBA's most consistent scorers off the bench early into the new season, and his All-Star teammate Donovan Mitchell is letting everyone in on the Utah Jazz's secret.
While the team has only played 14 games so far, the 28-year-old Clarkson has appeared in every single one, and is putting up career-high averages of 17.6 points on 49% shooting, 43% from three, and 94% from the free-throw line.
In that 14-game stretch, Utah's second-leading scorer only had one single-digit outing, and peaked with a 26-point eruption in a 131-118 drubbing of the Milwaukee Bucks led by two-time reigning MVP Giannis Antetokounmpo.
Clarkson, who signed a four-year, $51 million extension in the off-season, has proved to be a key piece for a Jazz team patiently waiting for Mitchell to find his own groove.
So far, Utah's starting shooting guard is averaging 23.5 points on a career-low 42% clip, but the team as a whole is still leading the league in three-pointers made, 3rd in three-point attempts, and 9th in offensive rating.
While Clarkson does have a strong early case as the league's best reserve, he still faces stiff competition against NBA champion forward Chris Boucher of the Toronto Raptors, and resurgent San Antonio Spurs sniper Patty Mills.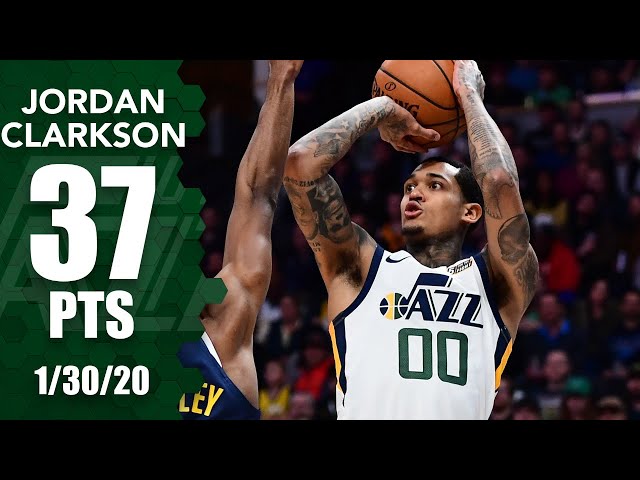 Reigning Sixth Man of the Year Montrezl Harrell is also posting fine numbers with the Los Angeles Lakers, while former MVP Derrick Rose of the Detroit Pistons is still a credible threat.
Ever the competitor, however, Clarkson is taking on all comers for the award as he reaches his prime.
"One goal and achievement that I do want to have under my belt is to win a Sixth Man of the Year award," he said in a previous interview. "I'm kind of out of the conversation a lot just because I've been traded to multiple places now."
"If we're winning and I'm performing well, that could be in the spotlight for me," he continued. "Definitely would love to have that one of these years so I'm definitely going to shoot for that."
Clarkson's added motivation will certainly come in handy moving forward as the Jazz are currently on a league-best six-game winning streak, and are second to the Lakers in the tough Western Conference with a 10-4 record. – Rappler.com