While LeBron James has no doubt been impactful, it is Anthony Davis' unique ability to wreak havoc on offense and defense that has arguably been more important
Let me preface this by saying one thing: Anthony Davis has an extremely long road to go before he can be considered among the Los Angeles Lakers' greatest big men in franchise history.
But hitting a shot like this one definitely doesn't hurt his candidacy to be placed beside the likes of Shaquille O'Neal and Kareem Abdul Jabbar: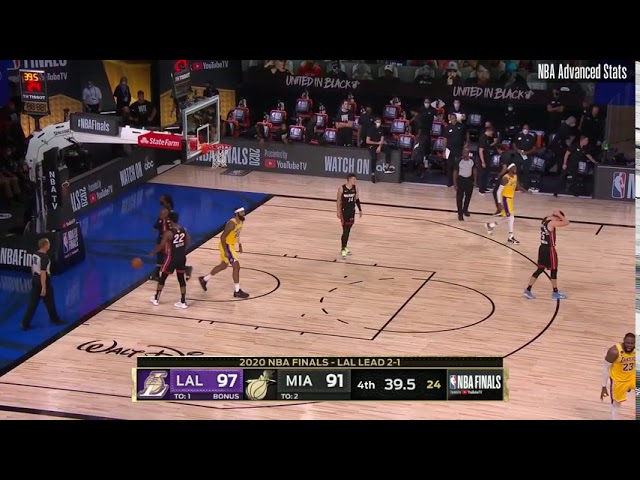 "AD is a game changer when he's knocking down shots like that," Kentavious Caldwell-Pope said after Game 4 of the 2020 NBA Finals.
The road to greatness has to begin somewhere. Every journey toward the peak has to start with that first step. And for Davis, the first step could be just one short win away.
The Lakers have a commanding 3-1 series lead over the Miami Heat, thanks in large part to Davis, who they acquired in the offseason through a trade with the New Orleans Pelicans.
Davis had requested a trade as early as during the middle of last season, with good reason: The Pelicans had failed to provide him with the proper resources to credibly compete for a championship.
When Davis finally made his way to the Lakers, his partnership with LeBron James instantly transformed the Lakers into a Western Conference powerhouse.
The Lakers shot up in several preseason power rankings lists, and were picked by several analysts as legitimate championship contenders.
Amid the plethora of Milwaukee Bucks predictions and notions of their cross-city rivals, the LA Clippers, being the stronger team from Southern California, the Lakers used the power of their superstar duo – along with contributions from their supporting cast – to blaze a path toward the top of the Western Conference.
As usual, it was James' ability to make everyone around him better that was the most celebrated factor.
James is an all-time great and arguably the greatest player of all time, depending on who you ask. But Davis just might be the best player on this particular Lakers team.
An offensive unicorn
Much is made of Davis being a player with a unique profile. Put him in a time machine and send him back 20 years ago, and he would be hailed as a revolutionary in the mold of a Stephen Curry, someone who changes the dynamic of how the game is played. Send him back 30 years and he will be accused of witchcraft and black magic.
Imagine the traditional big men of the past – the Patrick Ewings and Hakeem Olajuwons – be asked to defend someone who moves like this: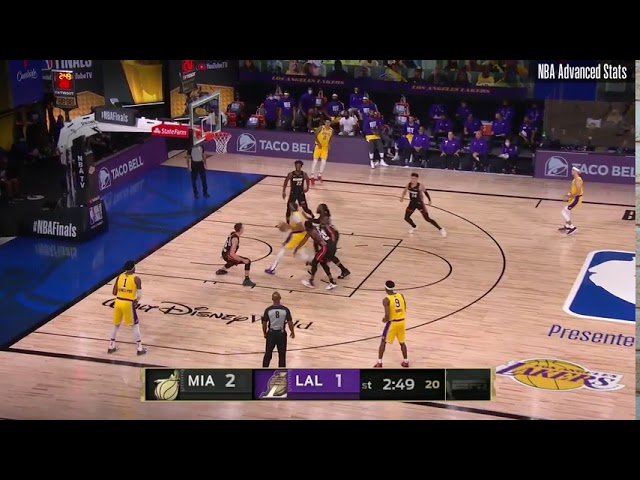 (Not to discredit Ewing and Olajuwon, both of whom were fabulous defenders. But even they would've experienced trouble defending Davis; anyone in basketball past, present, and future would.)
Davis credits his handle and agility off the bounce to his development as a guard during his adolescent years. An enormous growth spurt bumped him up to being considered a frontcourt player, but the change in position did not change his focus on honing his guard skillset.
Being a guard growing up can also develop one's jump shooting – and Davis is no exception. Take his excellent shooting form and combine it with long arms and a long body and you can forget blocking these kinds of shots: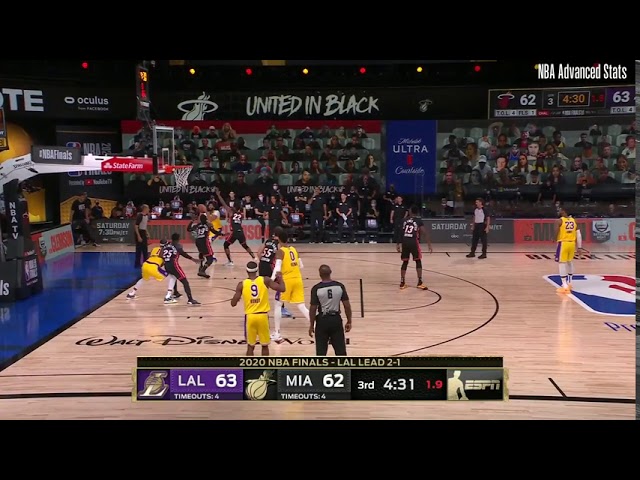 The traditional post-up big man is considered a dying breed. The modern big needs to be more than just a banger down low; he needs to be able to hit a shot from the perimeter, to force defenses to stretch thin, and to cause damage from any spot on the floor.
Davis not only does it from the perimeter; he has the mobility to bulldoze his way to the paint: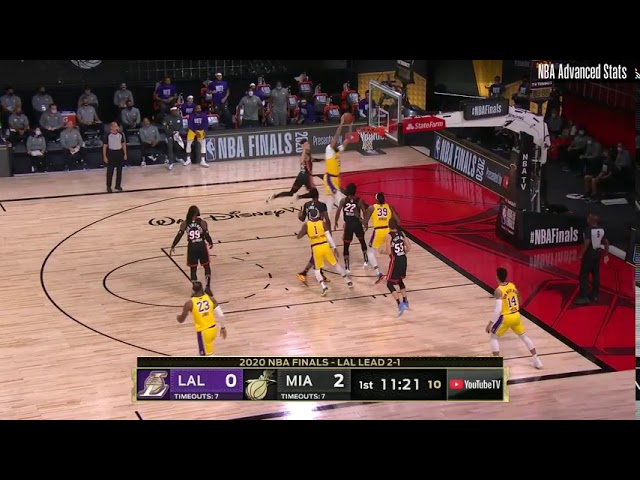 Coupled with his ability to stretch the floor from the mid-range and from as far away as the three-point line, Davis is nigh impossible to defend in single coverage. He is the very definition of someone who paints the shot chart green all over:
Can you name a frontcourt player in the history of the NBA who has that kind of impact on offense?
The closest comparison would probably be Kevin Durant – but he is often considered a wing, someone who is compared more closely to small forwards and shooting guards.
Davis is a bona fide big, a behemoth in the paint who happens to have the ability to kill you away from it with equal effectiveness.
The offensive numbers from Davis are astounding: 28.2 points per game in the bubble playoffs, with an astronomical true-shooting percentage of 67%, per NBA Advanced Stats.
Break his shot profile down further and it is efficiency galore: 61.6% on two-point field goals, 39.6% on three-point field goals, and a dominant 72.1% on shots less than 10 feet away from the rim, per NBA Advanced Stats.
Simply put, taking this once-in-a-generation offensive talent for granted should be considered a crime.
A defensive monster
Again, imagine yourself going back 30 years in the past and seeing someone like Davis play.
The offense speaks for itself; it can induce confusion among old-timers and those who prefer the basketball styles of yesteryear.
But the defense makes him something from not of this world. The modern game demands versatility on defense, the ability to switch assignments both big and small. Even though such skillsets are normalized in today's world, Davis still manages to inspire shock and awe.
Jimmy Butler, someone who is theoretically faster and more agile than Davis, had a snowball's chance in hell against him: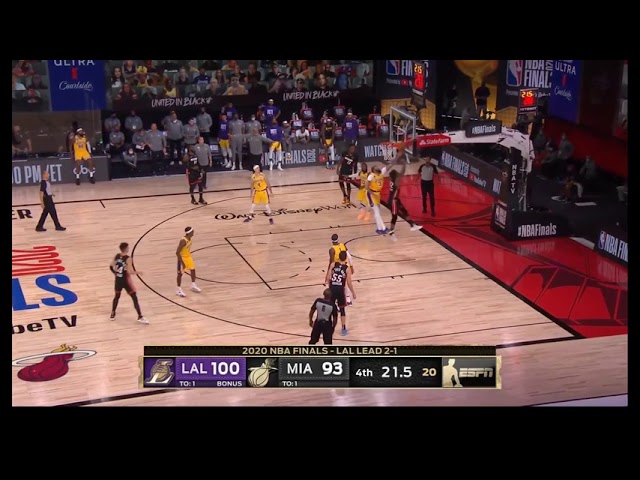 After Butler torched the Lakers in Game 3, the Lakers struggled to find ways to contain him early in Game 4.
With Dwight Howard starting at center, the Heat saw plenty of opportunities to target him through pick-and-rolls, forcing switches and having Butler feast on the apparent mismatch.
The adjustment came at the start of the second half, where Davis would stay on Butler and the Lakers went under screens, knowing that Butler would be hesitant to shoot jumpers.
Meanwhile, Davis' looming presence over Butler made him hesitate and pass out to teammates, afraid of getting stuffed at the rim: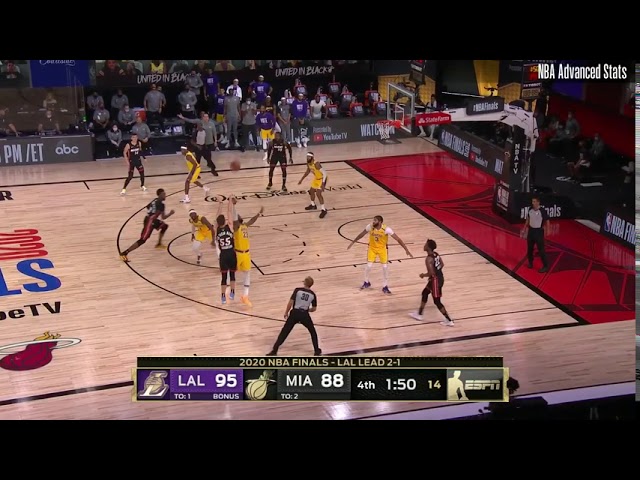 "Anthony's matchup on Butler was a big factor in our defensive efficiency," Lakers head coach Frank Vogel said. "He did a great job. Jimmy's so great (that) it's hard to slow him down, but AD did a great job."
Davis is a shot-blocker extraordinaire. He averaged well above 2 blocks per game in 7 of his 8 years in the NBA. This past season he averaged 2.3, a number that belongs up there among the elite shot blockers in the league but still well below his career high of 2.9 set during his third year.
Shot blocking often comes with the assumption that a big man nails himself at or around the paint; tradition has often relegated it to a game of wait-and-see. With Davis, his ability to smother opponents isn't limited to staying put under the basket and waiting for anyone foolish enough to come at him.
A smaller man might lick his chops at the prospect of having someone like Howard switched onto him, but Davis being switched onto a shifty guard isn't a guaranteed success story for the offense.
Davis is not your typical immobile big man who gets his feet tangled the further away he is from the paint: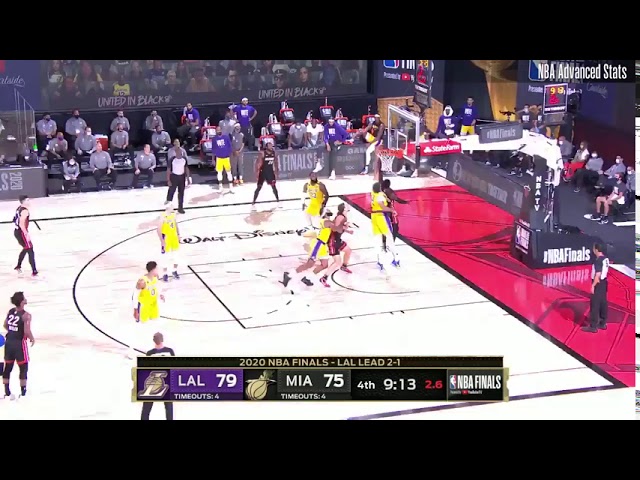 Ask him to take anyone out there on the perimeter and he will have no problem with it at all – a true hallmark of someone who can defend positions 1-5.
"That's why he's the Defensive Player of the Year," said James after the game. "His ability to play 1-5, guard anybody on the floor and take the challenge… The guy can do everything defensively, (such as) guard on the ball, guard the post, slide his feet with guards. Need I say more?"
During these playoffs, the Lakers have outscored opponents by a total of 159 points with Davis on the floor, which leads everyone on the Lakers roster, per NBA Advanced Stats. 
Such is his importance for the Lakers; while James has no doubt been impactful, it is Davis' unique ability to wreak havoc on offense and defense that has arguably been more important.
Draymond Green of the Golden State Warriors once emphasized the difference between 82-game players and 16-game players. There have been plenty of players who have succeeded throughout the regular season, only to fall short during the most crucial time of the year.
Through his exodus toward the Lakers, Anthony Davis has shown that he is indeed a 16-game player. His ability on both ends of the floor has been a massive boost to the Lakers' campaign for a 17th franchise title.
It's hard to fathom a world where Davis and the Lakers don't win this series – the odds are mightily in their favor – but it's getting harder to bet against the house and against Davis winning his first ring and taking that first step toward becoming the latest Lakers big-man legend. – Rappler.com