This is AI generated summarization, which may have errors. For context, always refer to the full article.
Michael Jordan marched to the NBA Finals 6 times and won all 6 of them, while LeBron James won 4 of 10, but at age 35, still looks capable of going for more
When it comes to basketball, we often resort to historical comparisons without delving deeply into the details and nuances that should be the backbone of such discussions. As human beings, it is within our nature to take things at face value, to confer judgment using our own two eyes, and to selectively hear what we want to hear.
The Michael Jordan vs LeBron James debate hasn't been different. For nearly 5 years in the running – ever since LeBron's monumental comeback from a 3-1 deficit against the Golden State Warriors – the arguments have raged like an endless wildfire.
James winning his fourth ring and fourth Finals MVP with a third team – the Los Angeles Lakers – has placed further fuel into those flames.
Go to that renowned and somewhat infamous section of social media known as NBA Twitter and you will see copious amounts of bickering over which one – Jordan or LeBron – is the best the game has ever seen.
That doesn't take into account the countless Reddit threads, Facebook groups, YouTube comments, and even Instagram fights that either deify or denigrate one or the other to uplift their respective hero's case.
In one corner, the Jordan apologists – mostly comprised of those who lived in the heyday of '90s basketball and the immediate era that succeeded it – are all consistent with their messaging:
Jordan went to the Finals 6 times and won all 6 of them.
It is hard to fathom how much of a dominant force Jordan was if you were never around to experience it for yourself. I had the privilege of remembering Jordan's second three-peat with the Chicago Bulls, culminating with their 1998 Finals win over the Utah Jazz.
It's important to note that none of Jordan's championships required a Game 7; such was the air of inevitability surrounding him and the Bulls.
With Jordan also came singular moments that permeated throughout the eras that succeeded him.
Jordan's buzzer-beating game winner over Craig Ehlo in Game 5 of the 1989 Eastern Conference Finals was so iconic that it earned the distinction of being referred to as The Shot.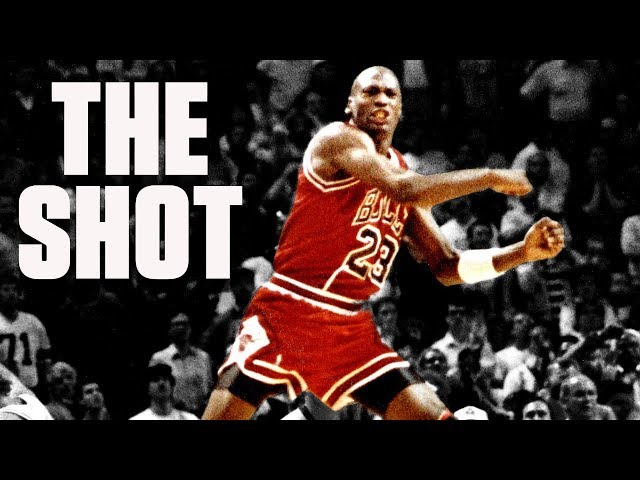 There was Jordan's glorious acrobatic feat of switching hands mid-air from right to left in the 4th quarter of Game 2 of the 1991 Finals, perhaps the ultimate expression of his otherworldly athleticism under the bright lights and pressure of an NBA Finals game: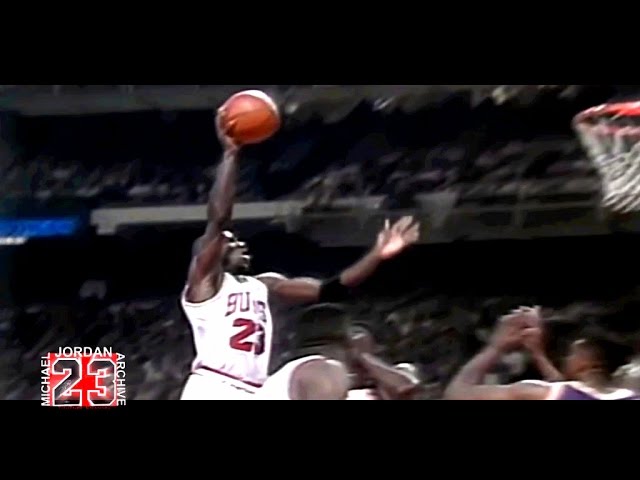 There was the shrug in the 1992 Finals, a rare moment of Jordan being as perplexed as everyone else was at his own ability to turn on the switch and become completely unstoppable: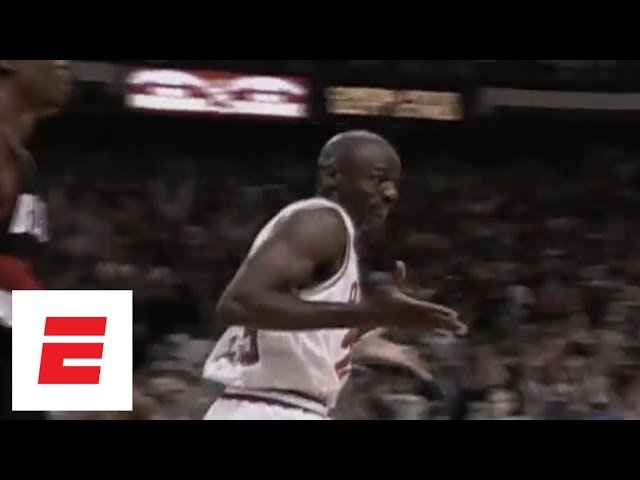 The Flu Game, where Jordan – despite reportedly suffering from food poisoning – willed his team to a Game 5 victory in the 1997 Finals by scoring 38 points: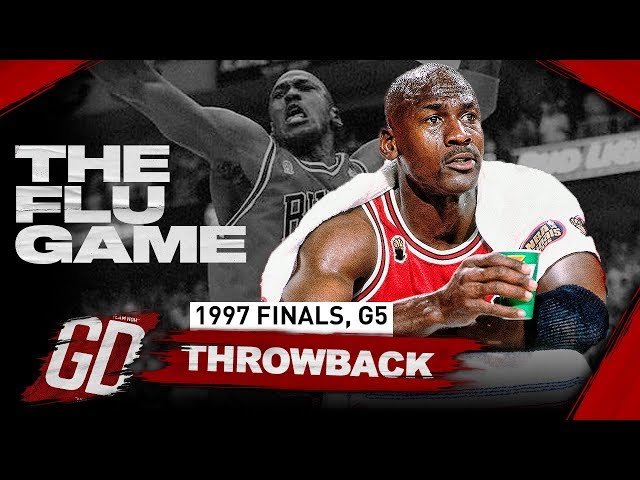 And the way he stole the ball from Karl Malone and proceeded to hit the game-winner over Bryon Russell to put a close to the 1998 Finals and win his sixth and final title: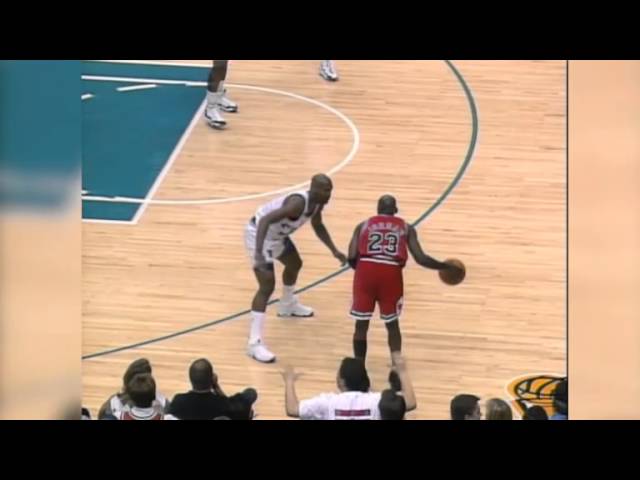 Remembering Jordan's feats at the top isn't difficult, since most of them had him as the star of the show, front and center, almost always the bride and never the bridesmaid.
Jordan had the cast around him that he needed to win, but more often than not the Bulls won because of such feats. Rarely did anyone think – to a fault – that Jordan needed any help to win his titles.
That's where the crux of the argument inserts itself when it comes to comparing Jordan to LeBron.
Whereas the name of the game for Jordan was his aura of invincibility and his pristine performance at the peak, James has the rare combination of unmatched longevity and consistency, something that his defenders always make sure to mention in every GOAT debate:
LeBron has been to 10 NBA Finals, and at age 35 is still capable of going for more of them.
Ever since James entered the league out of high school, he has been christened as the chosen one, the heir apparent to Jordan. He was The King before he even stepped into an NBA court, a coronation several felt was quite hasty and extremely premature.
Seventeen years into his career, James has more than earned that moniker. He is this generation's greatest player, and in his mid-30s is not showing signs of palpable decline despite not quite being the spring chicken he was a decade ago.
James has always been referred to as an unstoppable freight train, due to his rare combination of size and speed. Like Jordan, James was inevitable, but his inevitability seemed like it always had to be tested before it became certain.
James' first Finals appearance was in 2007, where his Cleveland Cavaliers were swept by a tough and experienced San Antonio Spurs team. Take note, however, that James took a team that – on paper – had no business being in the Finals.
James had the likes of Zydrunas Ilgauskas, Anderson Varejao, and Drew Gooden on his team, all 3 whose combined value doesn't come close to approaching the value of someone like Scottie Pippen.
He eventually won against the Spurs 6 years later, but lost against an identical but historic version the following season, the victim of a team hungry for vengeance and lauded for the beautiful way they played the game.
During his second stint with the Cavs, LeBron lost to a young Warriors team on the rise, with both Kyrie Irving and Kevin Love sidelined due to injuries. He defeated their 73-9 version the following year, in what was, without question, LeBron's greatest title win.
The Cavs followed that up with what was the best Cavs team James has been part of – especially in terms of their playoff performance, where they went 12-1 in the first 3 rounds and had an all-time great net rating of 9.7 – and still lost in 5 games to a Warriors team that had Stephen Curry, Kevin Durant, Klay Thompson, and Draymond Green, went 16-1 in the playoffs, and is arguably the greatest team of all time.
Whereas Jordan had a tough time making his way to the top but continually succeeded when he got there, LeBron had a relatively smoother time getting to the peak but had a harder time planting the flag.
It could be argued that two of the franchises he faced in a combined 7 Finals series – the Spurs (thrice) and the Warriors (4 times) – belong in the all-time-greatest-teams discussion, obstacles Jordan never had to go up against. (Mainly because Jordan's team was the best of its generation.)
The other side of that coin presents itself when the 2011 Finals is brought up. LeBron has often been castigated for his performance against the Dallas Mavericks in the 2011 Finals.
In his other losses, he had legitimate hindrances preventing him from winning, whether they were injuries or just facing teams who were the odds-on favorites.
Not against the Mavericks, who were clearly the underdogs yet managed to defeat LeBron's Miami Heat in 6 games.
LeBron's numbers in that series were pedestrian: 17.8 points, 7.2 rebounds, and 6.8 assists. He shot 47.8% from the field, 32.1% on threes, and 60% on free throws, in addition to leading the team in turnovers per game (4) and turnover percentage (19.5%) – numbers ill-suited for someone who was supposed to be the best player of the series.
When you watch the series, LeBron was uncharacteristically lethargic. He has often been criticized for his bouts of passivity, yet in this series it was at its most detrimental. He was outplayed by an older superstar who had an inferior supporting cast. There is no sugarcoating that fact.
That will forever be a negative mark on his record, and – for better or worse – will be used as an argument against him whenever he is compared to Jordan.
It may matter more to some people; for others, it may only be a mere blip. But one cannot help but think that Jordan – who never averaged below 27.3 points in any of his Finals series – wouldn't have wilted away in a such a manner.
LeBron has always been self-aware (and self-conscious), and he isn't deaf to such criticisms. From 2011 onward, he improved his stock in the playoffs. His portfolio of legendary playoff performances steadily increased to the point that it has become virtually unassailable.
Game 6 of the 2012 Eastern Conference Finals against Boston was LeBron going on a rampage to save the Heat's season:
It was a feat he replicated against the Celtics 6 years later, with the same setting – Game 6 of the conference finals – but with a different team:
Game 5 of the 2016 Finals, where LeBron put up 41 points, 16 rebounds, 7 assists, and 3 steals to match Kyrie Irving's 41 points: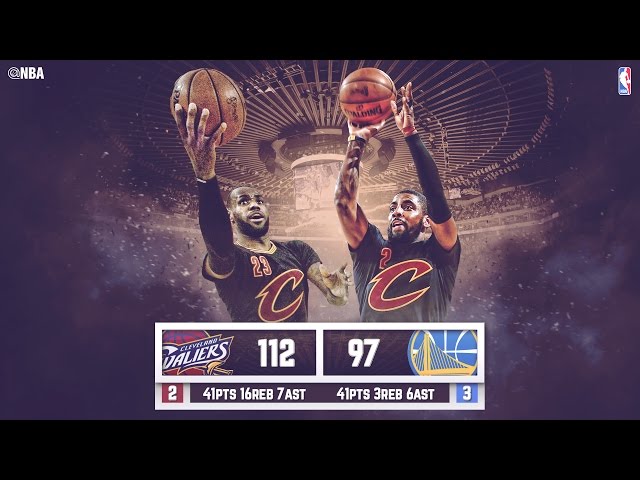 Game 1 of the 2018 Finals – a loss – but one where LeBron made the mighty Golden State Warriors bleed by scoring 51 points, the sixth player in history to have a 50-point game in the Finals:
And of course, Game 7 of the 2016 Finals, where The Block happened: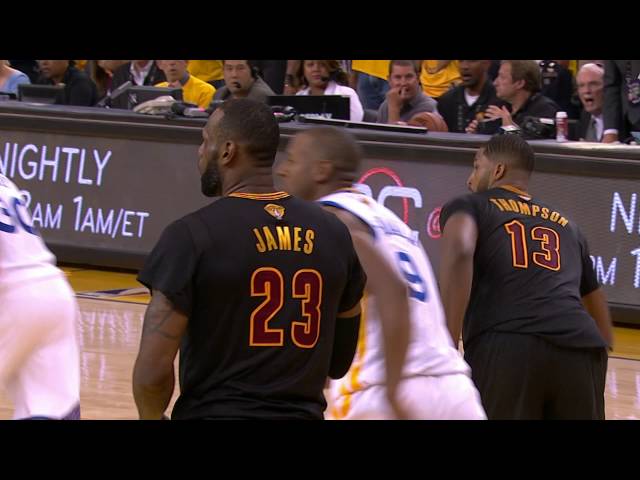 There is a noticeable pattern present. LeBron has delivered when his team needed him to, and has done so by taking over in a statistically dominant manner. He has had his own singular moments – The Block, for example – but he puts his imprint on games in a similar yet distinct manner as compared to Jordan.
Jordan has those singular moments and is more renowned for them, although like LeBron, he has the ability to turn on the switch of statistical dominance when he has to.
But Jordan has always projected an aura of inevitability – even invulnerability at times. LeBron, for all his moments of dominance, had to be dominant to prevent his teams from losing. Jordan was dominant almost as if on a whim – as if he was showing that he was the best in the world just because he could.
Take note, however, that these two distinctions aren't necessarily better than the other. There is a certain admiration to be had for the need to be dominant in order to save your team (and actually doing so).
There is also a certain amount of pleasure to be derived from watching dominance for its own sake. It's a matter of personal taste – which can be applied to a lot of things when it comes to Jordan and LeBron.
The longevity: LeBron having played 193 more regular season games and 81 more playoff games – a full regular season's worth of playoff games – than Jordan.
Their playoff numbers (Jordan's 33.4/6.4/5.7 on shooting splits of 48.7%/33.2%/82.8%; LeBron's 28.8/9.0/7.2 on splits of 49.6%/33.5%/74.1%) are so evenly matched that there is no runaway argument to be had for one to be favored over the other.
Their regular season scoring: LeBron having more total career points (34,241 to Jordan's 32,292) but Jordan having the edge in career points per game (30.1 to LeBron's 27.1).
The advanced stats: Jordan having a slight edge over LeBron in ESPN's box plus-minus metric (9.2 vs. 8.9 in the regular season; 11.1 vs. 10.1 in the playoffs).
Other perceived advantages: Jordan being the better "pure" scorer; LeBron being a better passer and rebounder; Jordan supposedly being the better defender and having one-upped LeBron by winning Defensive Player of the Year; LeBron having more All-NBA selections (16) than Jordan (11).
Not to mention the question of whether one will succeed in each other's era: Jordan, an offensive leviathan, being placed in today's relaxed defensive rules that favor scoring; LeBron, a physically-gifted freak of nature who also happens to be a basketball genius, having his way with the slower paced game of the '90s.
It's obvious that the answer to that question – for both parties – is a resounding yes.
And finally, the infamous comparison: Jordan is 6-0 in the Finals; LeBron is 4-6.
Whichever way you want to slice it, the argument for either one is going to come down to preferences – and with LeBron's career still yet to wrap up, the conclusion hasn't been etched in stone.
At this point, there is no use in debating who is the GOAT in a definitive manner; Jordan's story has been finalized, while LeBron's is still an unfinished work, despite it being already more comprehensive than any career has been.
Jordan may still have a slight edge – the operative word being slight – but LeBron is approaching within an arm's length.
If LeBron continues to perform at a high level – Father Time be damned – and wins one or two more titles, we may have to consider a 1A/1B situation.
If LeBron goes beyond such expectations and wins 3, even 4 more… then the argument ceases to be one.
For now, all we can do is to reminisce and respect what Jordan was and is – a cultural icon and at one point the undisputed greatest player of all time – while appreciating what LeBron has achieved so far and bracing ourselves for what is yet to come.Because LeBron is getting pretty damn close – and we are all fortunate to be witnesses. – Rappler.com