Artists share their stories about late NBA great Kobe Bryant in a heartfelt video created for his first death anniversary
The men and women behind the murals dedicated to Kobe Bryant commemorated the late NBA legend on his first death anniversary.
Artists shared their stories about Bryant in a heartfelt video created by Mike Asner, the founder of Kobe Mural, a project that catalogued artworks that honored the Los Angeles Lakers icon.
"I did this so my daughters can know that they can do anything," Tyke Witnes, a father of two, said about his mural of Bryant and his daughter Gianna posing back-to-back in Costa, California.
"He is my hero – he was my hero yesterday, he is my hero today, he would be my hero tomorrow."
Kobe Mural, which has accounts on Instagram and Twitter, has identified more than 400 mural locations not just in the United States but all over the world on its interactive map.
At present, there are nearly 200 murals outside the United States that celebrate the life of Kobe, Gianna, and the 7 others who died in horrific helicopter crash in Calabasas, California.
"His mentality of pursuing a better self and his legacy will always be remembered by us," said Louis ZKS, who worked on the biggest fluorescent Bryant mural in the world in Binjiang, China.
"Thank you, Kobe. Because of you, we're all connected."
There is also a mural in Mulhouse, France, where Bryant once lived when his father Joe still played professionally in Europe.
"Kobe used to live here when he was young. He left something really special and precious for the people of Mulhouse," said Poti, who painted a smiling Bryant in the shade of the Lakers' purple and gold colors.
Although already gone, Bryant continues to serve as an inspiration to his fans like Jorge Roldan.
"He inspired me to chase my dream and become a full-time artist," said Roldan, who has a full-court mural in Tampa, Florida.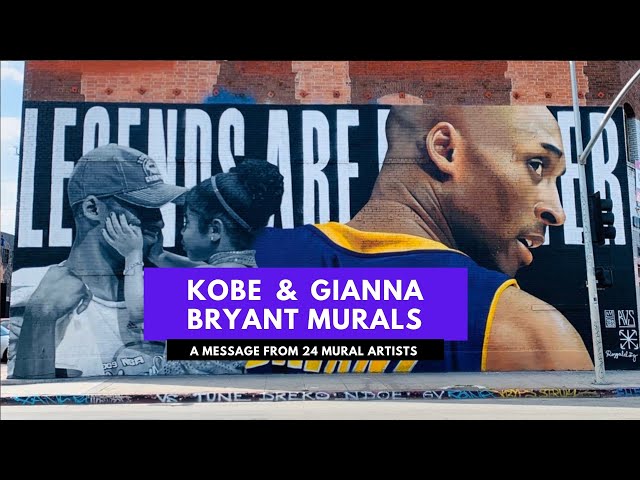 – Rappler.com