After LeBron James surpassed Kareem Abdul-Jabbar for No. 1 on the NBA's all-time scoring list, here's a look at 12 players who at the very least have an outside chance of threatening James' all-time scoring record, wherever it ends up
This story first appeared on ClutchPoints.
Many NBA fans thought Kareem Abdul-Jabbar's sacred all-time scoring record was here to stay forever. However, LeBron James proved that wrong by making history against the Oklahoma City Thunder to become the latest record-holder.
James got to 38,390 points after the game against the Thunder, and he still has several years of high-level play left in him.
Who knows just where this record will end up when he's done. He will almost certainly get to over 40,000. Will he get to 45,000?
If LeBron keeps going and going, his scoring record may truly never be broken, at least not for a very long time. It takes a special talent to play so well for so long.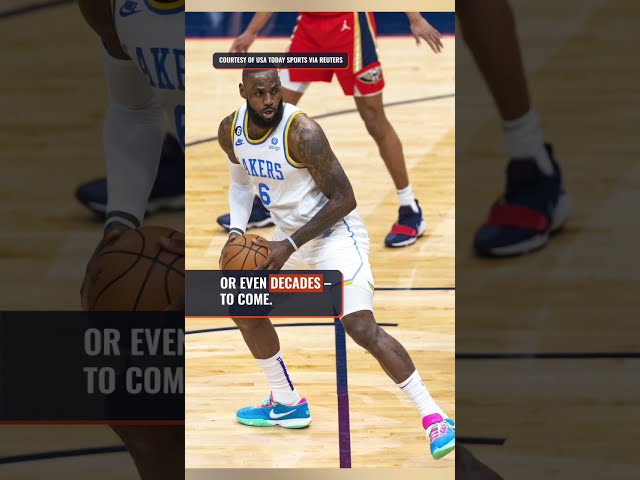 But for this exercise, let's look at some of the players who at the very least have an outside chance of threatening LeBron James' all-time scoring record, wherever it ends up.
12. Russell Westbrook
As of this writing, Russell Westbrook has a tally of over 24,000 career points. He's also no stranger to leading the league in scoring, doing it on two occasions in his career. In fact, he averaged as much as 31.6 points per outing during the 2016-2017 season. Russ also has an incredible motor and could very well play for a long time. However, with his effectiveness waning at 34 years old, that dims his chances in a major way.
11. Damian Lillard
Damian Lillard is 32 years old, but he's still out here putting up 30 points per game for the Portland Trail Blazers and is looking as healthy as ever. Dame is approaching 19,000 career points, so he obviously has a long way to go. But if he plays for a long time and continues to put up these kind of scoring numbers as a face of the franchise, he could at least get in the conversation
10. Stephen Curry
Steph Curry would be in much better position to threaten LeBron James if he didn't deal with those injury problems earlier in his career. As it is, Steph is at nearly 22,000 points at 34 years old. The Golden State Warriors star is obviously still capable of putting up 30 points a night, but the early seasons derailed him a bit, and recent injuries are also slowing his pace.
9. James Harden
A former teammate of Russell Westbrook, James Harden has scored over 24,000 points in his career. Furthermore, he has led the league in scoring thrice, averaging over 30 points per game in those campaigns. However, playing alongside Joel Embiid takes away his touches. Given that the 33-year-old is aiming for a championship, his scoring output is one of the sacrifices he must take.
8. Devin Booker
Devin Booker has never shied away from showcasing his Mamba Mentality. In fact, this is a player who once scored 70 points in a game. He also has over 12,000 points at only 26 years old. Given that he's the Suns' primary scorer on the wing, Booker can really rack up the points. If he can average 27 points per game until he's 40 while playing 82 games, Booker has a decent shot at the scoring title.
7. Ja Morant
Ja Morant is the face of the Memphis Grizzlies franchise. For the past two seasons, Morant has been averaging at least 27 points per outing. Furthermore, he already has over 5,000 points in his career at only 23 years old. Although LeBron James still has a huge distance over him, if Morant can match James' longevity and continue to drop big games for the Grizzlies, the gap can still possibly be closed.
6. Donovan Mitchell
Donovan Mitchell is another player who once dropped over 70 in a game, tallying 71 points earlier this season for the Cavs. Mitchell should also be on track to reach 10,000 points in the near future. Given that he's currently the best player on the Cavs squad, Mitchell has the keys to continue to drop high-scoring games. However, Mitchell will have to average 27 points per game until he's 40 while playing 82 games per season. That's still possible, however, it's still a stretch due to concerns regarding longevity.
5. Giannis Antetokounmpo
Despite only being 28 years old, Giannis Antetokounmpo has already accomplished a lot of hardware in the NBA that includes MVPs and one NBA championship. He also already has over 15,000 points to his name. While a slow NBA start will probably hold him back from James' all-time scoring record, Giannis is the main offensive weapon of the Bucks, which allows him to drop big numbers every night. Averaging 30 points per night is quite easy for The Greek Freak.
4. Trae Young
A lot of people still question whether the Hawks made the right decision of selecting Trae Young over Luka Doncic. While that's still up for debate, a way for Trae Young to silence his critics is to go after James' all-time scoring record. Playing for the Hawks, Young has shown he can average well over 29 points per outing. Despite only being 24 years old, Young is also nearing the 10,000 mark. Given that he's the main offensive weapon for the Hawks, Young can freely collect the points that he needs.
3. Jayson Tatum
The Celtics have become a championship contender, partly thanks to Jayson Tatum. Tatum has proved that he can score in different ways, especially by establishing himself as one of the leading scorers for the 2022-2023 season. Furthermore, he should reach the 10,000 mark as early as when he is 25 years old. As the focal point of the Celtics' offense, Tatum has the keys to drop big games on a nightly basis. In fact, he has shown that scoring 60 points in a game is a doable task.
2. Kevin Durant
Kevin Durant is one of the most unstoppable players in the NBA as a 7-footer equipped with guard skills. He has led the league in scoring on four different occasions, including three straight seasons. Durant's best season saw him average 32.0 points per outing. Although an Achilles injury certainly prevented him from scoring more, forcing him to sit out a little over a season, Durant still has over 26,500 points to his name. He's the highest scorer on this list and the next-best scorer in terms of active players in the NBA. However, at 34 years old, he'll have to decide whether to chase the scoring record or to win championships given his age and past record of injuries.
1. Luka Doncic
Luka Doncic has been dubbed as the next face of the NBA, and he has been living up to the hype thus far. In fact, he has posted similar numbers to what LeBron James did when the latter entered the league in terms of stuffing the stat sheet. At 23 years old, Doncic already has over 8,500 points to his name. Although that tally is still far from James, if Doncic can match James' longevity and continue to be the face of the Dallas Mavericks franchise, the Slovenian star is on the right path to challenge LeBron James' elusive record. – Rappler.com