Long tagged as a good-but-not-great team, the league-leading Utah Jazz prove that continuity breeds chemistry
Do you still doubt the Utah Jazz? I can't really blame you. They've spent so many years being perennial Western Conference contenders, only to fall short of a Western Conference Finals appearance for what has seemed like an eternity.
The counterpoint: There's little reason to doubt this version of the Jazz, one that is fresh off a 114-89 destruction of the Los Angeles Lakers, albeit a depleted version without Anthony Davis and Dennis Schröder.
Let's start with the more digestible numbers. The Jazz are currently 26-6, the best record in the NBA and in complete control of the top seed in the West, as it currently stands. Barring any unfortunate circumstances – a precipitous slump or serious injury setbacks – those facts will stand when the regular season ends.
But how did the Jazz arrive at such a position? We've all seen how, in the past, they were a good-but-not-great team. We've seen them reach the pinnacle of the defensive mountain, only to stumble and fall all the way back to square one. We've seen how, offensively, they had the tools – a healthy balance of shooting and individual shot creation from their wings and guards – only for such tools to fail them when it mattered the most.
What has changed this season? Zooming out to see the bigger picture, not a lot. They still have a dynamic on-ball shot creator and playmaker in Donovan Mitchell. They have a dominant defensive tower in Rudy Gobert. They have shooters who complement their spread pick-and-roll attack and drive-and-kick game in Bojan Bogdanović, Royce O'Neale, and Joe Ingles. Their coach is still Quin Snyder, who is one of the best coaches in the NBA yet so criminally underrated and understated by the mainstream NBA scene.
In a sense, the fact that nothing's changed is what makes them stronger and better this season. For all the talk of having better offensive flow and better defensive focus, not much is credited to continuity as a main factor in them improving on both ends of the floor.
The principles of the system are the same, but having played in it for so many years has made it second nature for them to execute. If you don't have to think about the next move because it's drilled into your very fabric as a player, then you minimize mistakes.
Continuity breeds chemistry. One such example is the one between Mitchell and Gobert. The connection they have in the pick-and-roll is outstanding. Part of that is due to the dynamism of Mitchell with the ball in his hands, and the other part of it is the roll gravity and vertical spacing that Gobert generates.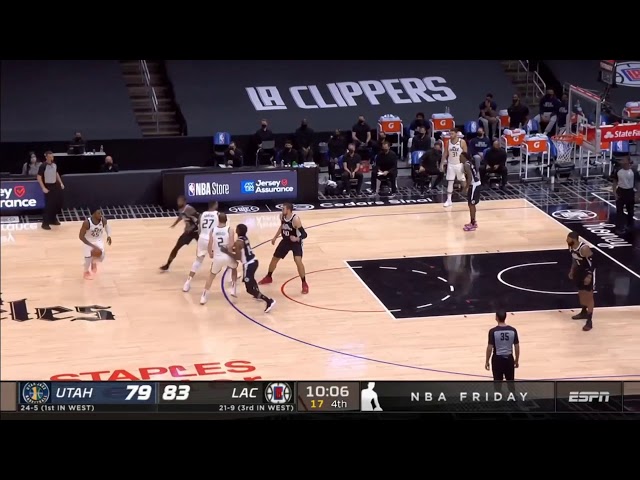 It can be seen from the sequence above. The Jazz set "double drag" screens – two high ballscreens set in transition – with Gobert rolling as the second screener and the first screener, usually a shooter, popping out beyond the arc.
Mitchell's athleticism and quick first-step forces the roll-man defender between a rock (containing Mitchell, preventing him from going all the way to the rim) and a hard place (recovering back to Gobert to take away the drop pass or lob).
Mitchell and Gobert have been terrorizing teams with this simple action. Add another dynamic ball-handler to the equation, either as a substitute for Mitchell or as an additional layer of shooting – and it becomes nigh-unguardable.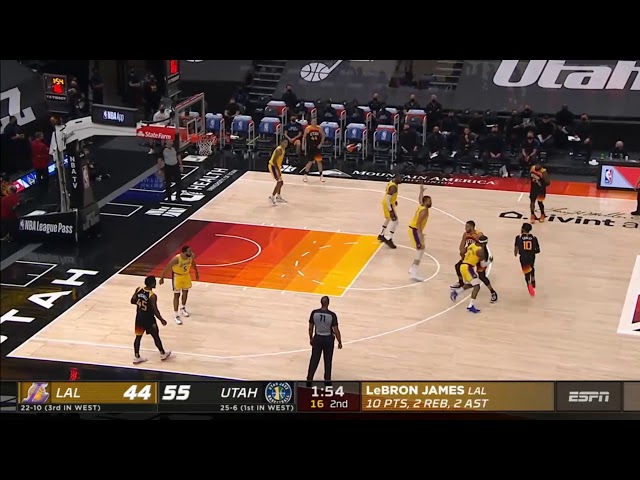 Mike Conley takes his turn as Gobert's pick-and-roll partner, with Mitchell stationed on the weakside corner. Gobert's gravity as the roll man forces the weakside corner defender to "tag" Gobert on the roll, leaving Mitchell open for the shot, but not without help from the vision and passing chops of Conley.
Conley's addition to this team has been a revelation. Like Mitchell, he is a capable ball-handler and decision maker in the pick-and-roll. That relieves some of the ball-handling responsibilities that Mitchell has often shouldered in the past, allowing him to be a spot-up perimeter shooter from three-point range, where he is shooting 38.6% on 8.6 attempts per game – a respectable rate on a relatively high volume of shots.
Conley himself is a capable shooter – 42% from beyond the arc on 6.8 attempts per game – which, like in Mitchell's case, adds another layer of dynamism that makes it difficult to defend him in the pick-and-roll. You pick your poison with Conley: hedge or contain him, and he finds Gobert rolling to the rim or a shooter open on the perimeter; you allow him an open look off the initial screen, and he pulls up from deep.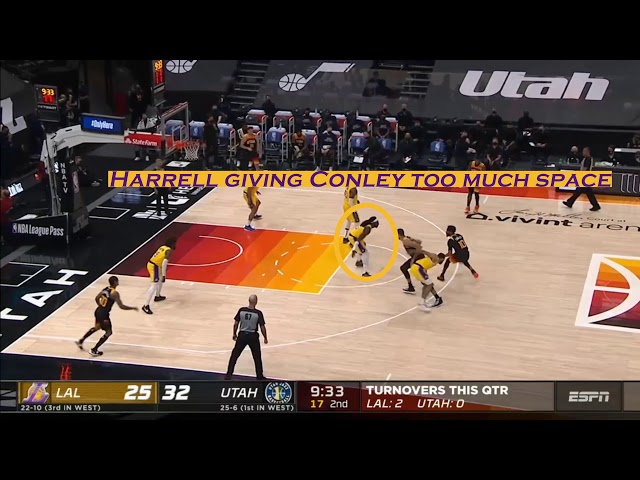 Averaging 16.4 points on a shooting split of 44.9/42/82.2 and a true-shooting percentage of 59.7%, Conley's numbers don't particularly scream superstardom, especially when compared to those of his backcourt partner's (24.1 points on a split of 42.5/38.6/83.1, 55.5% true shooting).
But the Jazz outscore opponents by 17.4 points per 100 possessions with Conley on the floor, a team-high; without him, that number drops to a mere 2.1 points per 100.
Which is why Conley's value has always been understated. He's not the flashiest operator, but he gets the job done. He makes the right play on offense and gets back on defense, ready to dig down and put pressure on the opposing ball-handler, get his hands in the way of passing lanes, and doing whatever else is needed on the defensive end.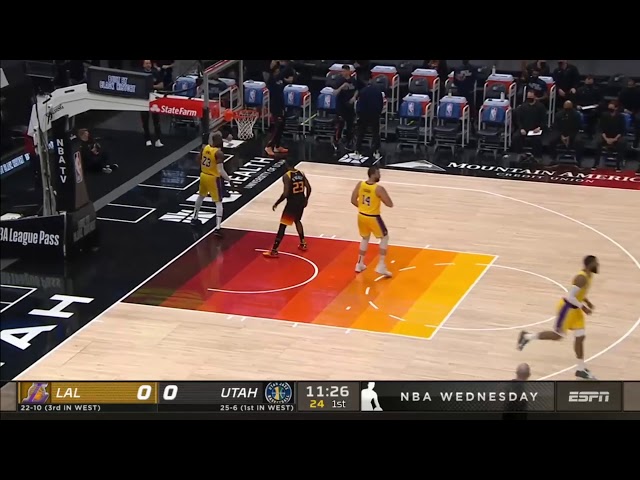 Conley, Mitchell, and Gobert are the three-headed dragon that comprise the face of the Jazz's potent offensive attack, but to reduce their identity to those 3 would do a disservice to the overall offensive philosophy of the team: finding holes in the defense and exploiting them, stretching defenders thin, and attacking openings that present themselves. They do these with constant passing, drive-and-kick, and scorching-hot three-point shooting.
The Jazz shoot the most threes per game – 42.6 – and are 3rd in the league in three-point percentage, at 39.9%. The combination of high volume and high efficiency is uncanny; over the past two wins against the Lakers and the Charlotte Hornets, they hit a combined 50 threes, an NBA record for total three-pointers made in consecutive games.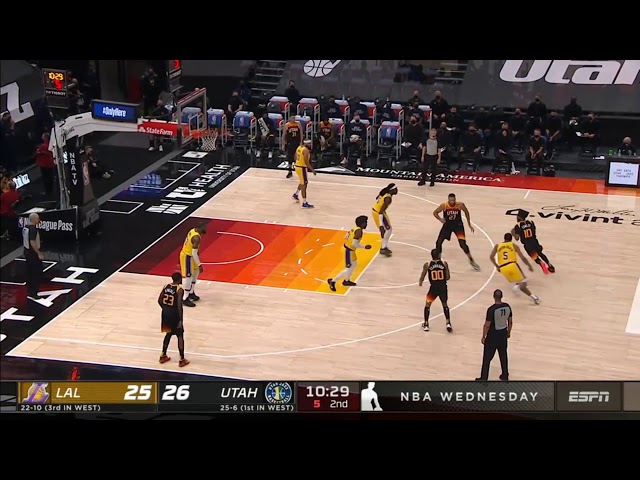 The value of making the extra pass – passing up a good shot for an even greater shot – is the underlying fuel of their offense. As shown above, the Conley-Gobert pick-and-roll collapses the Lakers defense toward the paint, leaving the weakside an attractive target for Conley.
With Wesley Matthews left to "split the difference" between two weakside players, he is placed in a tough spot. He chooses to close out on O'Neale, who makes the extra pass to Jordan Clarkson for the wide-open shot.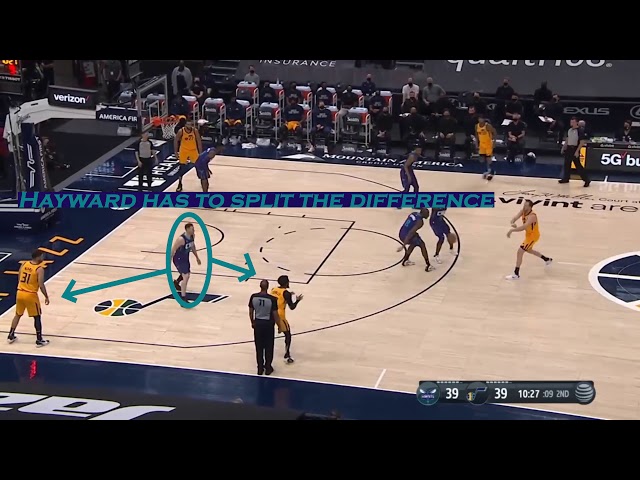 Defenses who make mistakes against the Jazz are almost always made to pay for it. Rotations have to be crisp and lines of communication have to be clear. Otherwise, the Jazz will capitalize and focus on the weakest point created by such mistakes, as the Jazz did to the Hornets above.
"The thing that we've talked about is really to take what the defense gives us," Snyder said after the game against the Lakers. "On any given night, the emphasis is on guys reading the situation and reading coverages."
The simplistic yet effective nature of the Jazz offense – high pick-and-rolls surrounded by three-point shooting, peppered with occasional movement and off-ball screening – is taking the league by storm, and so far, there has been little indication of any serious foils that may derail the train.
"It's really unique to have the whole team buy-in to an idea and to a style of play, into a team buying in a sacrificing for each other," Conley said after the game. "We've really bought into being unselfish and getting excited for the next guy [who goes off]."
The Jazz are 4th in offensive rating, scoring 116.7 points per 100 possessions. They are bested in that department by only the Brooklyn Nets, Milwaukee Bucks, and LA Clippers, all of whom are offensive juggernauts in their own right. But they currently lead the league in net rating, outscoring opponents by 9.9 points per 100 possessions.
What differentiates the Jazz from those 3 teams has been their defense: 106.8 points allowed per 100 possessions, 2nd in the league behind the Lakers.
Gobert is the obvious factor when it comes to that. As he has been throughout most of his tenure with the Jazz, he is the anchor, the foundation upon which their defense was built and where it continues to thrive. His intimidating rim presence discourages opponents from trying their luck in the paint. They stutter and hesitate, afraid of getting their shot blocked. Sometimes, Gobert doesn't even have to do anything other than be there.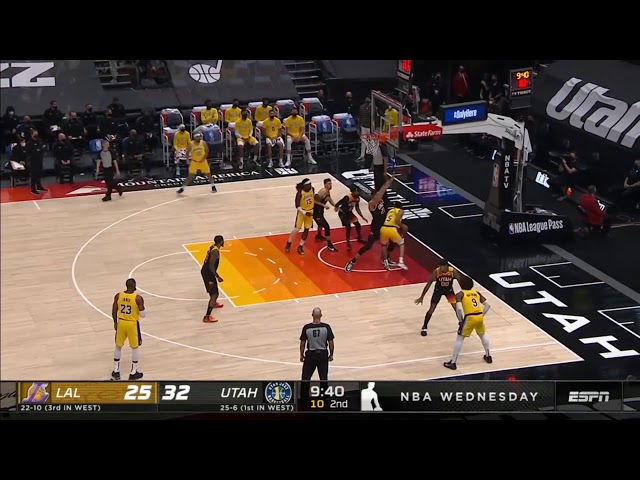 Those who are brave enough to try their luck against Gobert are often sent away easily. Not much can get past someone who is averaging 2.8 blocks per game this season – on pace to become a career high in single-season blocks per game.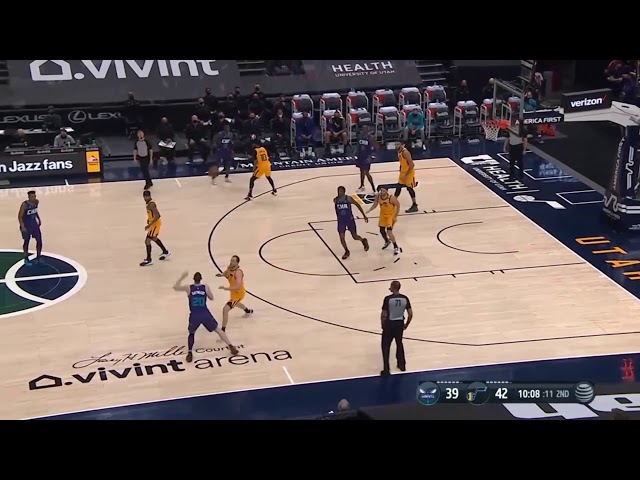 Opponents shoot 6.2% worse at the rim when Gobert is on the floor, up there among the best at his position at 93rd percentile, per Cleaning the Glass.
Having someone like him roaming in the paint allows a considerable margin of error when it comes to perimeter defense. Teammates funneling penetration to Gobert has become acceptable, trusting in his ability to swat shots or discourage them altogether.
But Gobert is by no means an excuse to do away with overall team defense, and the Jazz are aware of that.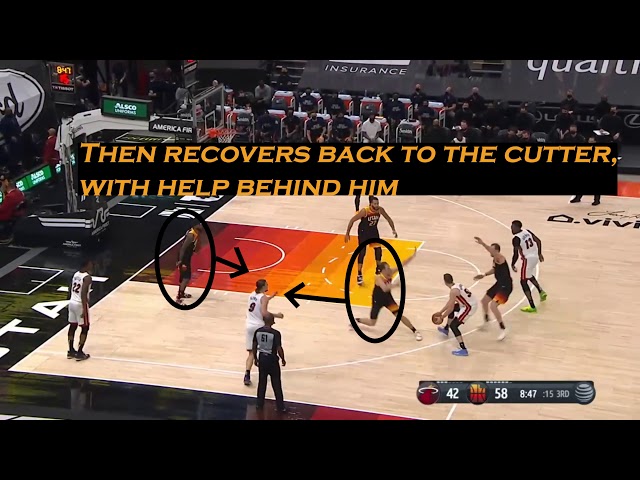 Intelligent defending is the name of the Jazz's game. They take away shooters' open looks, and dare teams to take inefficient long-twos or midrange shots. They are one of the rare teams in the league who don't allow themselves to be controlled by what the offense does, but rather, force offenses into the kinds of shots they want them to settle with.
"Regardless of who we're facing or who's playing or who's not playing, we want to make sure that we come in every single night with a mindset of defending," Gobert said after the game. "It's all about getting better."
Which is the scariest thing about this particular version of the Jazz. They are already sublime on both ends of the floor – blitzing opponents with their shooting while making them bleed for their points – but there is still plenty of room for them to grow.
Only a few teams have given off that certain vibe of impending dominance – the dynasty Warriors and the Big 3 era of the Heat, to name a recent few. Those teams have lived up to expectations and eliminated all semblance of doubt on their way to winning titles.
While the Jazz certainly don't belong in that conversation yet, they are slowly creeping in, and doubting them has become harder and harder as the wins and statistics keep piling up. – Rappler.com