The global sports brand partners with Filipino artist Jill Arteche to design a court showing the inclusivity of sports for girls
Global sports brand Nike and Philippine non-government organization (NGO) Girls Got Game (GGG) celebrated girls in sports with refurbished courts designed to empower them.
The International Day of the Girl held on October 11 is a day commemorated by the United Nations to celebrate young girls and highlight the unique challenges they face every day. 
Both organizations share the same mission of increasing the participation of young girls in sports and launched its campaign with the reveal of the courts designed by Filipino artist and illustrator Jill Arteche at the Sacred Heart Academy School in Sta Maria, Bulacan.
Illustrated on the outdoor court, which represents the "now," are young girls learning sports like volleyball, basketball, rugby, and football.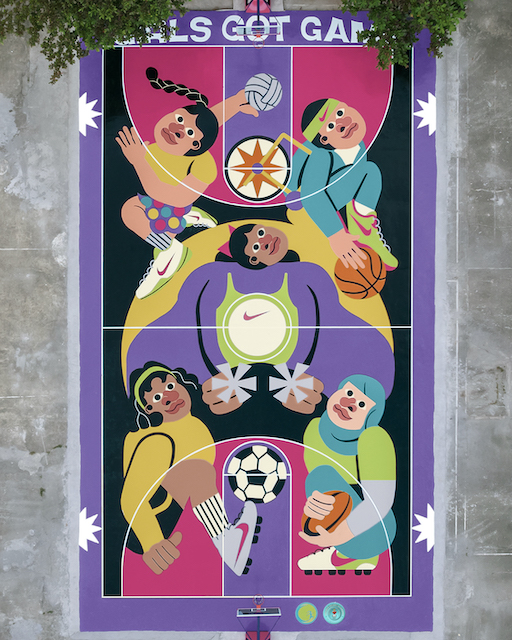 The indoor court features the young girls' ambitions of the "future" by becoming doctors, leaders, and athletes, a reminder that their dreams are within reach.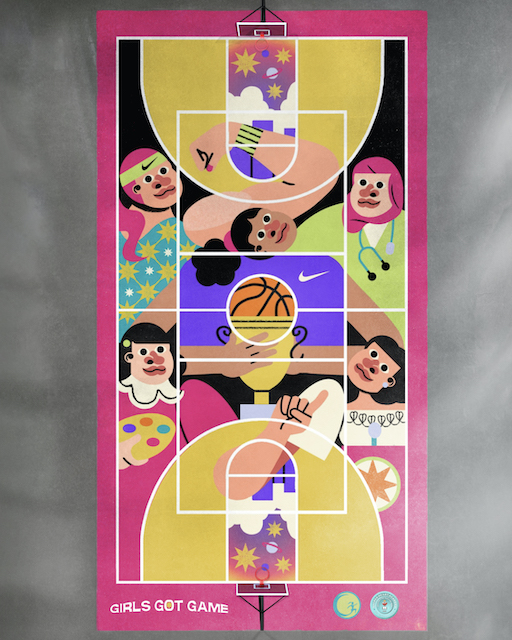 Nike country marketing manager Jino Ferrer told Rappler that both organizations chose the venue to cater to young Filipinas outside Metro Manila to give them access to sporting venues.
"We want to make sure that even those girls who basically are coming mostly from the provinces will have at least a first-hand experience of playing in the court one day to help them or inspire them that they could pursue and continue living their dreams," said Ferrer. 
GGG, which holds training camps for girls aged 10 to 14 years old, has also been using the same venue, which made it a good starting point for the organizations' long-term plan of building courts for girls all over the country.
The NGO has helped more than 2,500 young girls across the Philippines, who come primarily from economically-challenged households.
"We felt that it was authentic to Girls Got Game, but at the same time, there's already an existing community, so we want to continue serving those communities," added Ferrer.
Prior to the International Day of the Girl, Nike and GGG have already held virtual classes for girls, as the country's COVID-19 protocols have prevented the youth from playing sports together.
But Nike and GGG are working together to make sure that kids will be able to go out and play sports, and get them moving once the COVID-19 restrictions have eased up. 
"We see girls as the changemakers who have the power to improve their communities. Through our sports clinics we coach them to build confidence and realize their full potential so they can have an equitable future," said GGG managing director Mariana Lopa.
Nike products can also be customized to Arteche's art at the Nike Park Fort store in BGC. Ask the store athletes at the check-out counter to get a customized piece of Jill Arteche's Nike By You clothing or accessory. – Rappler.com