This is AI generated summarization, which may have errors. For context, always refer to the full article.
'The Summer Olympics would always bring joy and sadness to the family,' says the mother of Ian Lariba, the first Filipino table tennis player to compete in the Olympics
She was in tears when the world paid attention to the just-held Tokyo Olympics.
On Thursday, September 2, an emotional Imelda Lariba cried again as she, her husband Tony, and youngest daughter Yenyen visited the Oro Gardens Memorial Park in Cagayan de Oro for the third death anniversary of their first born who brought so much pride and honor to the country.
The late Ian Nietes Lariba, fondly called Yanyan, was the Philippines' first ever table tennis player to qualify in the Olympics.
"The Summer Olympics would always bring joy and sadness to the family. But we tried to lighten up knowing that Yanyan couldn't be happier with the success of the Filipino athletes, especially her fellow Kagay-anon," said Imelda.
She referred to the success of Cagayan de Oro's boxing hero Carlo Paalam, weightlifter Hidilyn Diaz, and boxers Nesthy Petecio, and Eumir Marcial who all brought home medals.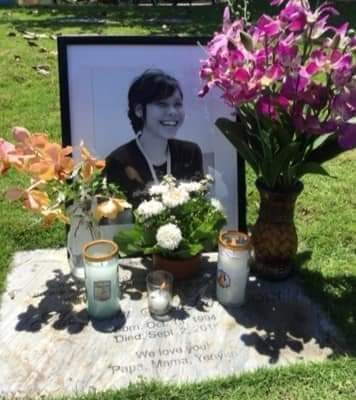 The late Lariba was the country's flag bearer in the 2016 Rio de Janeiro Summer Games where Diaz won a silver in weightlifting.
Lariba, who graduated high school at Corpus Christi School in Cagayan de Oro, was about to turn 24 when she died in a Manila hospital after a year-long battle with acute myeloid leukemia, the same age when fellow Cagayan de Oro native Paalam won the Olympic silver in boxing.
From Corpus Christi in Cagayan de Oro to De La Salle University in college, the left-handed Lariba was undefeated in her five-year table tennis career in the University Athletic Association of the Philippines (UAAP) Games.
She won three Most Valuable Player (MVP) awards while leading the De La Salle Lady Paddlers to three UAAP titles.
In preparation for the Olympic qualifiers, Lariba went to South Korea to train under Korean coach Kwon Mi Sook. She competed in the 2016 ASEAN University Games prior to heading to Brazil for the Rio Olympics.
But like many first-timers, Lariba caved under pressure as she yielded to Congo rival Han Xing right in the preliminary round to go home empty-handed.
"Her death is still fresh in our minds. Yanyan had a future in sports, and the Tokyo Olympics brought back memories of her. We're still coping," Imelda told Rappler.
Dario Hernane, Lariba's coach at the Army's 4th Infantry Division in Cagayan de Oro, offered a prayer for the late table tennis player as he reminisced the days of her training.
"She was young and really childish. And then some scouts from Manila took notice of her great potential," Hernane said. – Rappler.com