Eduard Folayang did everything right at the beginning of the match, but Shinya Aoki eventually found a way to get the match to the ground
Team Lakay head coach Mark Sangiao revealed what he thought went wrong for Eduard "Landslide" Folayang after the Filipino icon succumbed to old rival Shinya "Tobikan Judan" Aoki last Thursday, April 29, at "ONE on TNT IV."
The Japanese star once again got the better of the former ONE lightweight world champion, winning via armbar in the first round of their third encounter.
For Sangiao, Folayang did everything right at the beginning of the match, but Aoki eventually found a way to get the match to the ground.
"It was Aoki's night. I thought we were able to prepare for it well. I thought early on Eduard did a good job keeping the distance from Aoki, as he was forced to throw kicks because he couldn't get inside," Folayang said.
"There was a time where Aoki attempted a takedown, and Eduard was able to stop it, but he made one mistake there – just one. Aoki faked a jumping triangle, but he didn't push through it, and then he changed levels, and that's something that Eduard didn't expect."
From then on, Folayang was at a significant disadvantage as the Evolve MMA star showcased his top-level grappling by immediately putting himself in a position to put Folayang away.
It also didn't help that it happened so early in the round, so sweat wasn't a factor yet, making it harder for the 36-year-old to wiggle out.
"The moment they hit the ground, their feet were hooked, and at the same time Aoki's hands were locked. That was a split-second turnaround. He faked it, went down, and then trapped Eduard's legs," Sangiao said.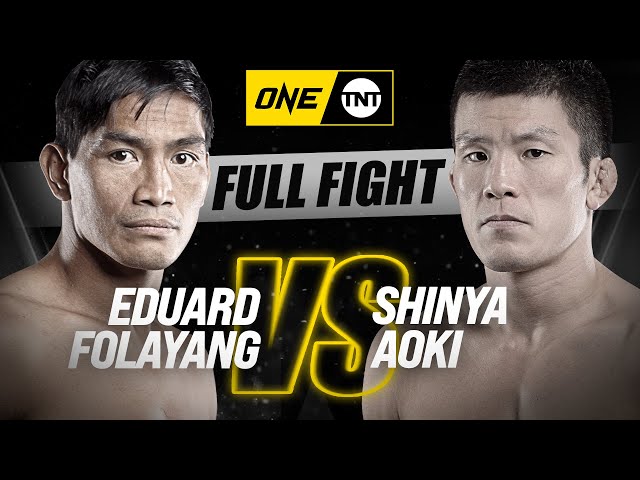 For Sangiao, the overwhelming result was simply a byproduct of Aoki's high-level ground game more than anything.
"When Aoki gets you in his game and locks in, at the level of his grappling – which is truly world class – he locks in very tight. He can be considered a scientist in grappling, so it's really hard when you grapple against him."
After his third straight loss, Folayang was the subject of retirement talks, but Sangiao would hear none of it.
At the end of the day, Sangiao knows that it's still Folayang's call, and based on what he's seen, his old pal and prized student isn't going anywhere yet. (READ: Folayang eyes Akiyama, Aoki fights anew amid retirement pleas)
"When it comes to Eduard, I don't think it's in his vocabulary to retire yet. Looking at him, he's still motivated to train," Sangiao said.
"I just talked to him and he told me it's back to training to work on his ground and his wrestling and improve on what needs to be improved, improve what's already working. I know Eduard's a world-class striker, so he needs to keep on building on that. He needs that fire to get back to his winning ways.
"It's really hard. But even Aoki himself has struggled, he has lost consecutive times already, but he's still here. So looking at Eduard, I know that he is still motivated to continue his career, so watch for his comeback." – Rappler.com
Catch all the ONE Championship action by downloading the ONE Super App.
Read more from ONE Championship: