This is AI generated summarization, which may have errors. For context, always refer to the full article.
The Elite, a second-year PBA team, notches its first-ever victory in the Philippine Cup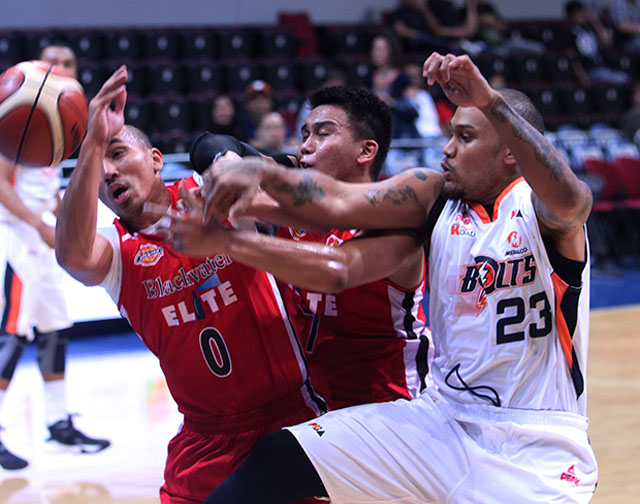 MANILA, Philippines (UPDATED) – Third year guard Carlo Lastimosa hit a high-looping floater off the glass for the game-winner as Blackwater Elite escaped the Meralco Bolts, 92-90, in the 2016 PBA Philippine Cup on Wednesday, November 4 at the Mall of Asia Arena.
The 25-year old Lastimosa out of College of St. Benilde broke the 90-all deadlock as he drove down the gut of Meralco's defense for the tear drop with a second left and Blackwater escaped with their first win in a Philippine Cup conference.
"Sarap! (Great!)" exclaimed head coach Leo Isaac, whose team went winless in their maiden Philippine Cup last season. "Finally we got a win in the all-Filipino conference. We hope that things will be in our favor going into our remaining games."
Lastimosa, who was traded to Blackwater from Barako Bull last July in exchange for Brian Heruela, finished with 11 points, 3 rebounds and a steal in over 16 minutes on the floor. He converted two crucial baskets, including the game-winner, inside the final 3 minutes.
Big man JP Erram led the Elite's balanced offense with 14 points and 5 rebounds while Reil Cervantes, Mike Cortez, Bambam Gamalinda, and James Sena all had 12 points apiece.
Veteran Cortez had an all-around performance that included 7 rebounds, 7 assists and a steal. Sena also added 7 boards and 6 dimes.
Kieth Agovida was invaluable for Blackwater with a productive 9 points, 6 rebounds, 4 assists, two steals and one block in close to 21 minutes of play. Agovida also provided the intangibles with his overflowing hustle and energy.
The Elite very nearly walked away from the game embarrassed after they squandered an 18-point first half lead and allowed the Bolts to take the advantage, 87-84, on a Gary David basket and a Rabeh Al-Hussaini free throw with 2:40 left to play.
But versatile big Cervantes fought back for Blackwater and buried a booming 3-pointer to re-take the lead, 89-87, with 1:25 remaining.
Both teams went scoreless after that and it looked like the Elite would hang on but Cliff Hodge repaid Jimmy Alapag's unselfish pass to him by draining the game-tying triple with 6 seconds on the clock. Lastimosa then took over and prevented what could have been the first overtime of the season as Blackwater improved to a 1-2 record.
David had a game-high 23 points on 3-of-10 shooting from downtown, while Jared Dillinger and Rabeh Al-Hussaini added 15 and 10 points, respectively. Hodge ended up with a double-double of 13 points and 14 rebounds to go with 3 assists and two blocks as Meralco fell to 0-2.
The Bolts had to make do without athletic rookie swingman Chris Newsome, who was ejected from the game with 2:20 left in the first half. He was slapped with a flagrant foul penalty 2 after elbowing Agovida in the face as he drove to the basket.
Newsome, who remained calm and said he did not intentionally elbow Agovida, finished with 7 points and 3 rebounds in 14:11 minutes of play. – Rappler.com