This is AI generated summarization, which may have errors. For context, always refer to the full article.
The San Miguel Beermen weather June Mar Fajardo's knee injury to come back from a 0-3 deficit and win the 2016 PBA Philippine Cup championship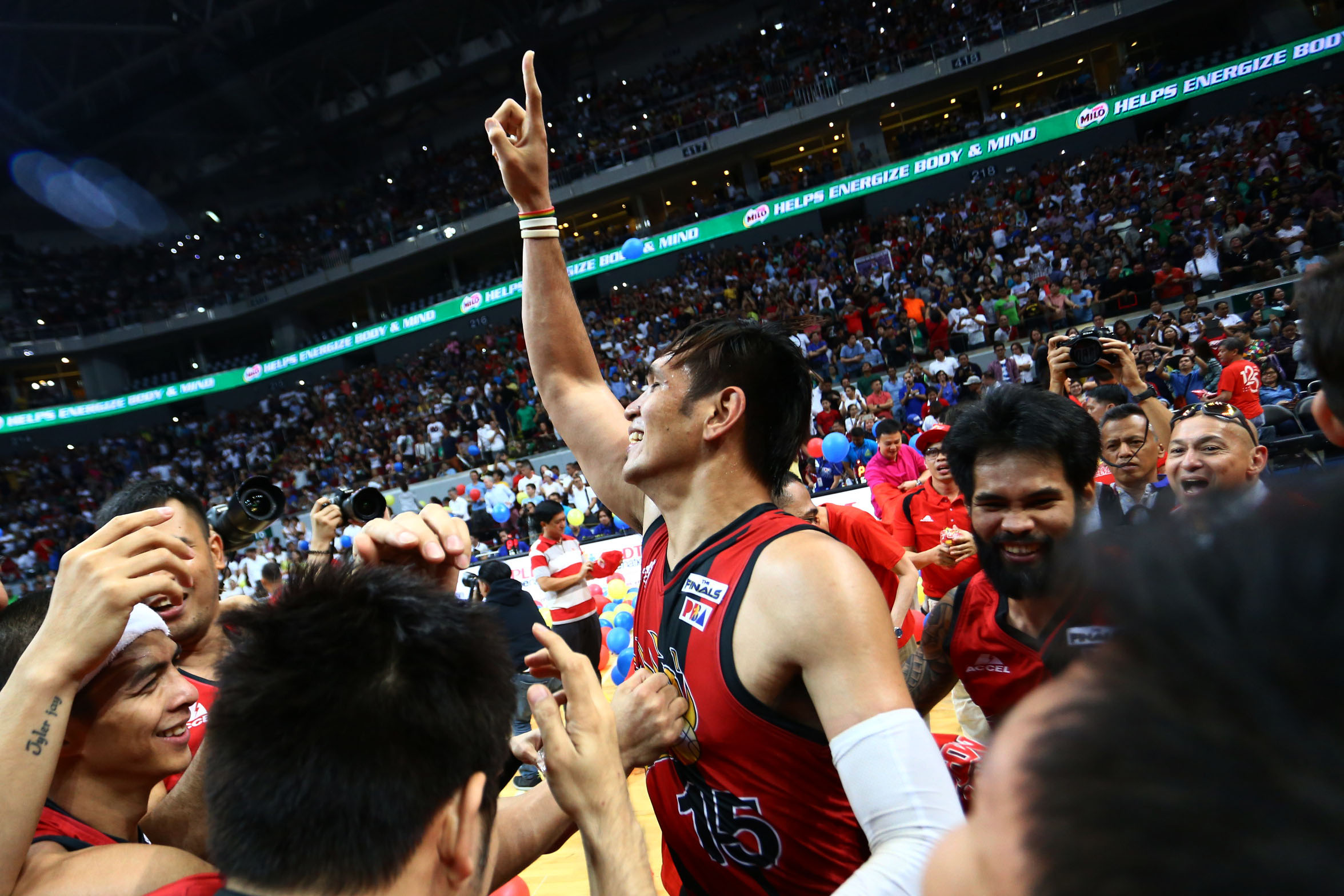 MANILA, Philippines – Back in Game 1 of the 2016 PBA Philippine Cup Finals 17 days ago, the uncertainty over an injured June Mar Fajardo's participation was a massive black cloud hovering over not just the San Miguel Beermen, but the entire best-of-7 series against the Alaska Aces.
Fast forward to Wednesday, February 3 after the final buzzer of Game 7 sounded, with the Beermen sporting red championship shirts and the colorful balloons finally falling and popping all around them.
Game 1 and all of the worries over Fajardo seemed like a lifetime ago. 
(READ: San Miguel makes history, wins PBA Philippine Cup title)
"May plano talaga si God, may plano si God sa akin, sa team," the 26-year-old center said. "Maybe blessing in disguise na na-injured ako and nag-end kami sa history."
(God really has a plan, he has a plan for me, for the team. Maybe it was a blessing in disguise that I got injured because we ended up making history.)
Fajardo, the reigning back-to-back MVP and the conference's Best Player, was sidelined indefinitely due to a knee injury he sustained in the semifinals. He could barely even walk and watch Games 1 to 3 live. 
There was much speculation over the real status of his injury. Was it a serious ACL injury that the team was trying to cover up in order to confuse Alaska? Or was it a minor injury Fajardo could quickly recover from?
The timing of his return was likewise shrouded in mystery.
In the end, despite going down 0-3 in the series and very nearly getting swept, San Miguel survived – one game without Fajardo, and 3 games with him. They dominated and frustrated Alaska for the 3rd time in the last 4 conferences to become the first team in PBA history to come back from a 0-3 deficit and win.
In hindsight, the injury – though quite a scare for the defending champions and the nation's Gilas Pilipinas – turned out to be a blessing in disguise.
"When June Mar went down it was definitely a blessing in disguise," said Finals MVP Chris Ross, who also said he never doubted his team even when they were a game away from losing the series. 
"We were able to beat Rain or Shine when he went down. We obviously struggled the first 3 games but we could've won the game. And we figured that, man, we can do this without June Mar. But if June Mar came back it was just gonna be a positive."
(IN PHOTOS: San Miguel Beermen overcome the odds to win PH Cup title)
"We have so many talented guys on this team that if we lose one guy, it's the next man up, and that's what we really did," he added.
In Fajardo's absence, many stepped up including Ross, Marcio Lassiter, Alex Cabagnot, Arwind Santos, Yancy De Ocampo, Gabby Espinas, and Brian Heruela.
Sans Fajardo, the Beermen managed to distribute minutes and pull players off the bench, making them less predictable. And in Fajardo's surprise return during Game 5, he quickly contributed 13 points and 4 rebounds while playing just 16 minutes.
(IN VINES: Fajardo returns, San Miguel extends PBA Finals to Game 6)
Fajardo went on to play 29 minutes at most in Game 7, far less than his usual 40-minute averages, which undoubtedly kept him fresh as head coach Leo Austria's rotation lengthened.
"The good thing with the loss of June Mar, so now we have (Gabby) Espinas and Yancy de Ocampo who can be included in our rotation," explained Austria, who steered the Beermen to 3 championships out of the last 4 conferences. 
"And it's good for June Mar because June Mar has always been criticized that he's playing 39 minutes per game. But now, I think what happened is really good for us because the players brought out their best, especially Chris Ross."
Interestingly, the Beermen did not drop a game whenever Fajardo was present inside the arena. For Game 4, Fajardo was in street clothes watching from the sidelines as San Miguel mounted a late comeback from 11 points down to foil Alaska's bid for a sweep.
"Di ko lubos maisip itong comeback namin. Naka-4 straight wins kami (I can't quite wrap my head around our comeback. We got 4 straight wins)," remarked a cheerful Austria. 
"We know from the start we were down 0-3, ang gusto lang namin manalo ng isa para di ma-sweep (all we wanted was to win one and avoid a sweep). Yung first win namin, nagdadasal ako ng mabuti kasi (During our first win, I prayed real hard because) we were down by 11 points in the last 3:53. I think that was the turning point."
"After our first win, (I told the guys that a) miracle is just around the corner," Austria added, a huge smile on his face. "Ngayon, natuloy at binansagan ng mga fans ng beer-acle (And now, it went all the way and the fans dubbed it a beer-acle)." 
#PBAFinals: Coach Leo Austria talks about San Miguel's Philippine Cup championship

Posted by Jane Yvette Bracher on Wednesday, 3 February 2016
– Rappler.com