This is AI generated summarization, which may have errors. For context, always refer to the full article.
Is Jayson Castro taken for granted? Outside of imports, no other player in the PBA alters defensive game plans like "The Blur"
MANILA, Philippines – Jayson Castro and LeBron James have more in common than you think.
LeBron is highly regarded as the most dominant force in the NBA today, while many view Castro as the best the PBA has to offer. Their averages are always superb, though they make the extraordinary look ordinary so regularly that we do them the injustice of taking their greatness for granted. 
James puts up 27 points, 7 assists, and 7 rebounds on a nightly basis, and he's done it for nearly the entirety of his career. Over the past few years, you can't name any other NBA player who's accomplished a similar feat while making it look so easy.  
Name anyone else in the PBA who can score 17 points, grab 5 boards, and dish out 5 assists a game like Castro conference in and conference out, and you'll come up with an extremely short list. Outside of an import, think of any other player who can alter defensive game plans of the opposition more than Castro, and you'll come up short just like how Purefoods unsuccessfully tried defending him in the semifinals of the Commissioner's Cup.
For years now, Castro has put up the numbers, won Best Player of the Conference and Finals MVP awards, and led the Tropang Texters to championship contender status in succeeding seasons. He's the best point guard in Asia. But why does it feel like we don't discuss about him enough? Do we, like with LeBron, have the unfair tendency to take him for granted as the prime years of his career materialize before our eyes?
"Maybe," says Gilas head coach and Talk 'N Text team consultant Tab Baldwin. "I mean, Jayson has a great reputation in the country among the fans, he has a great reputation among the players, so I'm not sure he's taken for granted, and he shouldn't be. He's a true talent."
Maybe we don't take him for granted, but Castro's brilliance on the basketball court has been so consistent that we've developed a bad habit of not celebrating him enough because we've gotten so used to it. 
(IN VINES: Castro delivers finishing blows for TNT)
Sure, the opposition is always aware of the damage he can cause. But why isn't there enough discussion about him as the best player in the PBA? You won't find him on many posters or billboards, unless it's Gilas-related. Instead of celebrating this once-in-a-generation athlete, people would rather discuss Ginebra's latest coaching saga, who June Mar Fajardo is dating, or what Manny Pacquiao, basketball player-coach-musician-movie-producer-boxer-government official, is doing at the moment.
An every day game for Castro would be a career night for some PBA players. And when Castro is at his best, it's hard to take your eyes off him. When Castro is at his best, we realize why not only the Philippines, but the entire Asia, know his name. When Castro is at his best, Talk 'N Text looks damn near unstoppable. When Castro is at his best, no one else comes close.
And for four games against the Hotshots, Castro was undisputed. 
"I think he really carried us this series. Every single bucket, every single play he made for the team, we needed all of it. That's just another championship team that we played," said former Talk 'N Text superstar and current team manager Jimmy Alapag.
Alapag said it best. Castro averaged 25 points, 6 assists, and 5 rebounds a contest while shooting 55% from the field, 56% from downtown, and 83% from the free throw line against the Hotshots – those are insane numbers. 
The icing on the cake? When it was time for him to deliver in the clutch, he provided virtuoso performances. In the game 4 clincher, Castro scored 13 points in the final quarter, most coming in succession, with each basket putting another nail in Purefoods' coffin.
Castro hits ANOTHER 3-pointer. He's up to 28 points today. TNT up 67-61 with 4:03 to go. #rstream pic.twitter.com/zULFoz8keB

— Naveen Ganglani (@naveenganglani) April 11, 2015
Castro hits what's like the final nail in the coffin of Purefoods with ANOTHER 3. 72-63 TNT with 2:36 to go. #rstream pic.twitter.com/jmOmms28uL

— Naveen Ganglani (@naveenganglani) April 11, 2015
"Ilan beses kami nagkatapat at lagi kami nilang pinapaiyak, especially yung finals namin, kasi 13-0 kami. And then sa finals nakaisa lang kami. This time, konting relief nga," Castro said about the Hotshots.
(We faced them so many times and they always made us cry, especially in the 2014 Commissioner's Cup, because we entered with a 13-0 record. And then we only won once in the finals. This time, there's some relief.)
We've seen him step up in the clutch before, but this type of a performance was even on a higher level. Sure, his athleticism has always been touted and his 3-point shooting has improved, but Purefoods had always found a way to beat Talk 'N Text despite Castro's abilities.  
The Hotshots came in winners of their last three series against the Tropang Texters. Purefoods was supposedly the king of do-or-die games, a title they earned on the way to their legendary Grand Slam. But Castro broke that apart. The Hotshots dared him to shoot and he killed them. Then they dared him to drive and he did so. When defenders were waiting for him in the paint, he kicked the ball out to open shooters.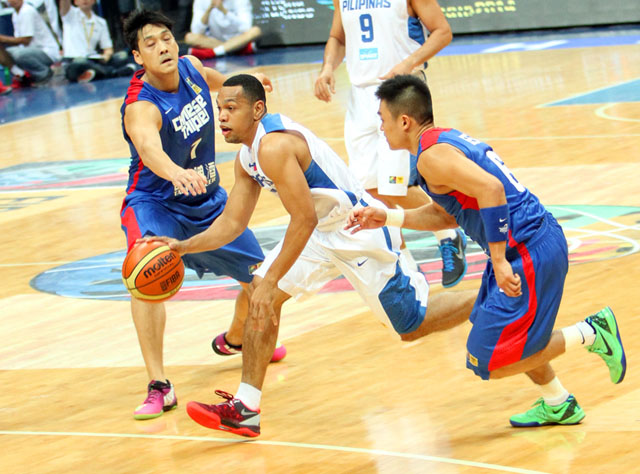 His skill-set continues to grow, but his off-the-court traits have improved as well, and it's starting to reflect inside the games that matter.
"I honestly couldn't be any happier and any more proud of just his leadership and obviously he's play," says Alapag. 
"I couldn't be happier for him. This is his team now. The day that I said those playing shoes don't come on anymore, this immediately became his team, and he deserves it. I'm just excited to be on the sidelines as a fan and watching him lead this team now." 
"Lagi niya akong mino-motivate – every practice," Castro said about Alapag, his mentor, "lagi kaming nag-uusap tungkol sa basketball, kung paano mag lead nang team nito." 
(He always motivates me. We always talk about baskeball, about how to lead this team.) 
"Malaking salamat ko na napunta ako dito sa Talk 'N Text. Kung hindi dahil sakanya hindi ako makapag perform dito." 
(I'm very thankful that I went to Talk 'N Text. If not for Jimmy, I couldn't perform like this.) 
Now Castro leads Talk 'N Text to battle against a team superior to Purefoods. Rain or Shine has the import that can explode for 50 points. They have their own superstar in Paul Lee. They have an enforcer in Beau Belga. They have a defensive stopper in Gabe Norwood. They have young studs who are ready to take center stage in Raymond Almazan and Jericho Cruz. And like Talk 'N Text, they have shooting from everywhere. 
"Rain or Shine is a tough team, especially may import silang masipag na si Chism, and then Paul Lee, tsaka yung mga shooter nila like Jeff Chan, at tsaka yun nga, yung defensive player nila si Jericho Cruz. Yun yung pocus namin ngayon," says Castro. 
(They have a good import in Chism, and then Paul Lee, and then they have shooters like Jeff Chan, and they have a defensive player in Jericho Cruz. Those are our focus.) 
"They're a well-coached team. They're a team that plays a lot on emotion," Baldwin says. "A seven-game series is going to have its emotional moments. But a seven-game series, we'll find out who's the team, who's the better team. Emotion will play it's part, but it won't dominate the series." 
"You have to play better basketball over seven games to win it, and while I believe that we'll have confidence, so what? You have to prove it. They'll have confidence – they finished the regular season as the top seed – so we have to knock them off their pedestal." 
"They're a powerhouse offensively, always, and that's what we have to contend with." 
Both teams are so even in almost every aspect, it wouldn't be surprising for their series to turn into a titanic clash that could go the distance. Depth? Both squads have it. Shooting? Check. Defense? Yes. Drama? There will be plenty. A duel between stars? 
Castro is the best player in the PBA, but Lee is hot on his heels, and his performance itself (17 points, 6 rebounds, 3.2 assists a game this conference) warrants praise. Both guys are in the running for this conference's Best Player award, and that debate will rage on until the finals' conclusion. 
"Team player ako. Even hindi ako maka score or ilan lang ma-iscore ko, basta manalo lang yung team, masaya na ako. Kasi ganon yung natutunan ko dito sa Talk 'N Text eh, especially kay Jimmy," says Castro. 
(I'm a team player. Even if I don't score or I score just a few points, as long as my team wins, I'm happy. That's what we're taught at Rain or Shine, especially from Jimmy.) 
"Once na nag champion ka, parang lahat masaya… second nalang siguro yung Best Player of the Conference. Kung bigay saakin, thank you. Kung di naman, okay lang, basta mag champion kami." 
(Once you become champions, everyone's happy. Winning BPOC is second. If it's given to me, thank you. If not, that's okay as long as we're champions.) 
"Para ma talo din namin yung Rain or Shine, we need to play as a team talaga." 
(To beat Rain or Shine, we really need to play as a team.) 
Castro is right. If not for contributions from import Ivan Johnson, Ranidel de Ocampo, Aaron Aban, Kevin Alas, and others, Talk 'N Text would not have beaten Tim Cone and his Hotshots, but Castro is the one that runs the engine. Rain or Shine will present its own difficult challenges for Coach Jong Uichico and the Tropang Texters to solve, though even Yeng Guiao and his Elasto Painters will have to deal with the biggest concern: who can stop, or at the least even contain, The Blur? 
Dare him to shoot and he will torch you from downtown. Give him a driving lame to the rim and he will be gone in a second. Collapse on him and he will find De Ocampo, Larry Fonacier, Johnson, or many of Talk 'N Text's other shooters to nail open shots.  
"Our team has never been really built on having just one or two 20-point scorers. For the longest, we've always been a team built on balance. Even during this series we had guys like Jay Wash and Kev and Aaron Aban really come in and contribute," said Alapag. 
"But again," he added, "you need to have that veteran leadership." 
Right now, that's Castro (and De Ocampo to a degree), who's playing at a level even above Lee and any other non-import in the PBA. Castro is the best local the league has to offer, and he's making it crystal clear to everyone with his fantastic play on the court. In the locker room? He's succeeded Jimmy as the veteran voice. 
"There's two things that I really love about Jayson: his ability in the big moments and his humility. He always integrates his ability into the team both in terms of his play and in terms of his character, and that's very important for the team," said Baldwin.
"We certainly don't take him for granted and I don't think anybody else should." 
– Rappler.com