This is AI generated summarization, which may have errors. For context, always refer to the full article.
Teen standout Breanna Labadan stays on pace for her second rhythmic gymnastics world title bid, netting two event final spots in the Asian Championships
MANILA, Philippines – Standout Filipina gymnast Breanna Labadan comfortably clinched one of 18 finals spots in the individual all-around event of the 14th Senior Rhythmic Gymnastics Asian Championships, finishing sixth overall in the 37-woman field at the Ninoy Aquino Stadium on Thursday, June 1.
The 16-year-old phenom tallied a 107.9 total, scoring 27.0 points in the clubs routine and 24.2 in ribbon, one day after netting 28.5 in hoop and 28.2 in ball, where she also clinched the event final for two possible medals.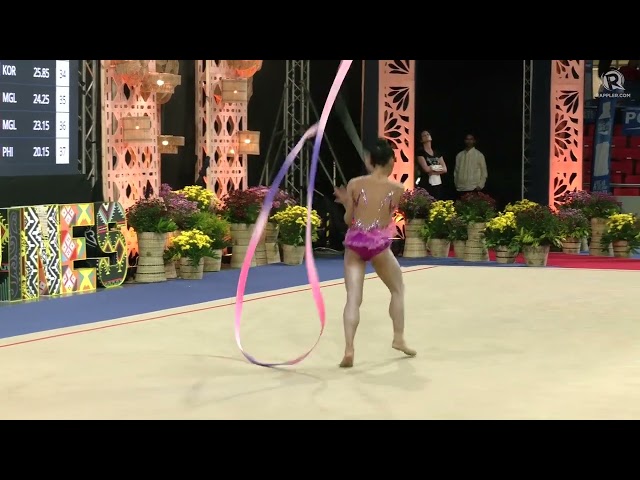 Again to no one's surprise, reigning Asian individual all-around champion Takhmina Ikromova of Uzbekistan stayed unbothered at the top spot with 133.95 points, while fellow competition favorite Elzhana Taniyeva of Kazakhstan stayed in close second with 127.90.
Chinese bet Zilu Wang ranked third with 120.95 points, while the Japanese duo of Mirano Kita (119.80) and Aino Yamada (109.85) surged to the fourth and fifth spots, respectively, as Labadan got dislodged after a momentary hold of third.
Labadan, who won a Southeast Asian (SEA) Games bronze medal last year at just 15 years old, now eyes a spot at the Rhythmic Gymnastics World Championships, her second go-around at the worldwide level after a stint in Sofia, Bulgaria also in 2022.
"A top 10 finish for Breanna will likely secure a ticket in the world championships in Valencia, Spain in August," according to competition manager Anna Carreon. "So we are praying she will do well tomorrow."
"We would like Breanna to have a splendid performance and we are all praying that she really does excel in the finals tomorrow of both of her events to make our country even more proud of her," said Gymnastics Association of the Philippines (GAP) president Cynthia Carrion.
Other Filipina bets, however, were not as fortunate, as Daniela dela Pisa settled for 27th place, nine spots below the final round cutoff. Trisha Montifalco, who only competed in the hoop event, finished last in 37th place.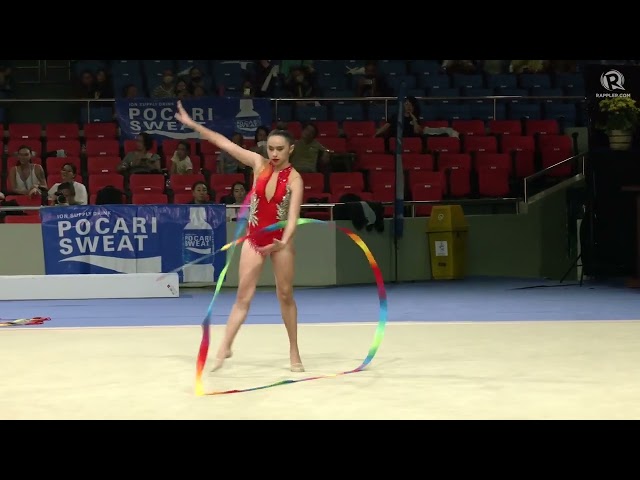 – Rappler.com