Residents of Catbalogan City in Samar have mixed feelings over the commercial center set to rise at the historic Samar Sports Complex
Over the past several decades, the Samar Sports Complex (more popularly known simply as the "grandstand") hosted major sporting and cultural events for Samareños. Beyond sports, the complex represents an important slice of Samar's history. It served as a garrison of the Japanese Imperial Army during the World War II.
But the once glorious sanctuary for sports lovers and cultural enthusiasts slowly deteriorated over the years, forcing local athletes to hunt for other playgrounds and open spaces. Now, a mall is expected to rise above the grounds of its athletic field.
The commercialization program for the Samar Sports Complex has residents divided. Some see a shopping complex as a sign of progress. Conservationists oppose the construction of the mall. (WATCH: Save Samar Provincial Athletic Field)
Despite strong opposition from some elected officials, civic leaders and concerned residents of Catbalogan, it appears there's no more stopping the local government pushing through with the commercial development on the 2.3-hectare area.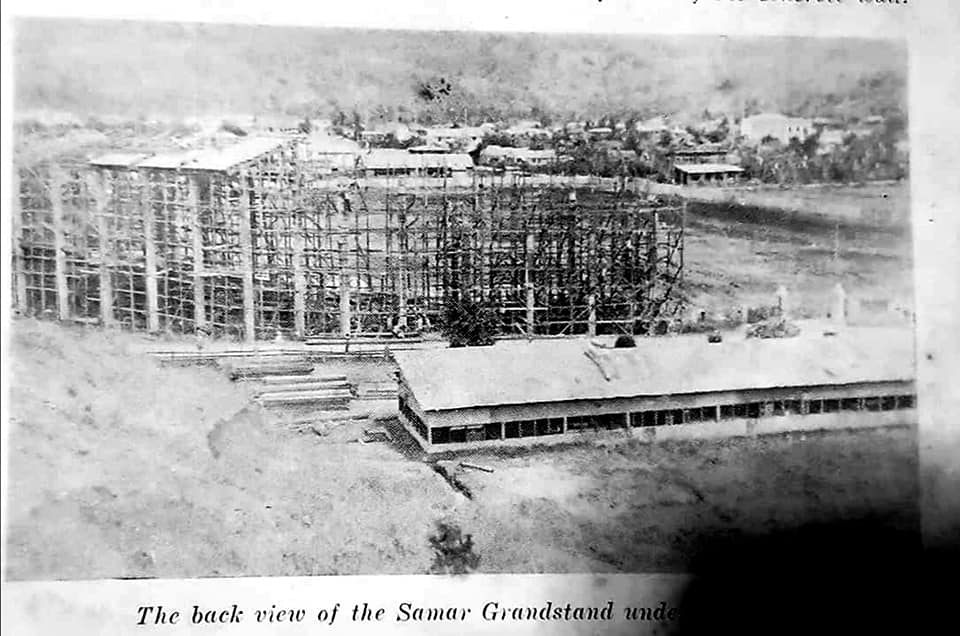 Trucks carrying heavy equipment have been seen arriving at the site. Pre-fabricated posts are piled up on the sports complex's grounds.
City Councilor Alma Uy, an opponent of the project, said she was shocked upon finding out about the renewed commitment to resume the project.
"Na-shock ako. Kay despite han decision han Court of Appeals, after mag-publicize, baga nag-arangkada naman lugod hira dida," she said.
(I was shocked. Despite the decision of the Court of Appeals on the land reclassification issue, it appeared as though they accelerated their plans of building a mall there.)
Joint-venture agreement
For decades, the people of Catbalogan have had to endure more or less two hours of travel time to reach the center of commerce in Eastern Visayas – Tacloban City in Leyte – to purchase goods that are only available in malls.
Residents then started comparing the progress of the relatively mountainous Catbalogan to its neighboring city – Calbayog – which has shown drastic urban development, attributed by many to its flatlands and massive land area. Locals often call Catbalogan quaint although it became a city in 2007.
While the local government of Catbalogan managed to attract an investor to put up the city's first-ever retail facility, Primark Town Center, legal concerns put the project on halt for a time. While groundbreaking took place in 2018, it remains to be seen when the SM-owned town center will finish construction.
In 2019, the Provincial Government of Samar entered a joint-venture agreement with Metro Retail Stores Group (MRSG) to build a commercial center in the city. MRSG said it would develop, build, and operate a multi-million commercial complex together. It was expected to finish between 18 to 24 months at the time of announcement.
The negotiations generated excitement among locals as plans for commercial center featured supermarket, a department store, a movie theater, a terminal, a hotel, and a modern Provincial Government Center with a 1,000-seater convention hall.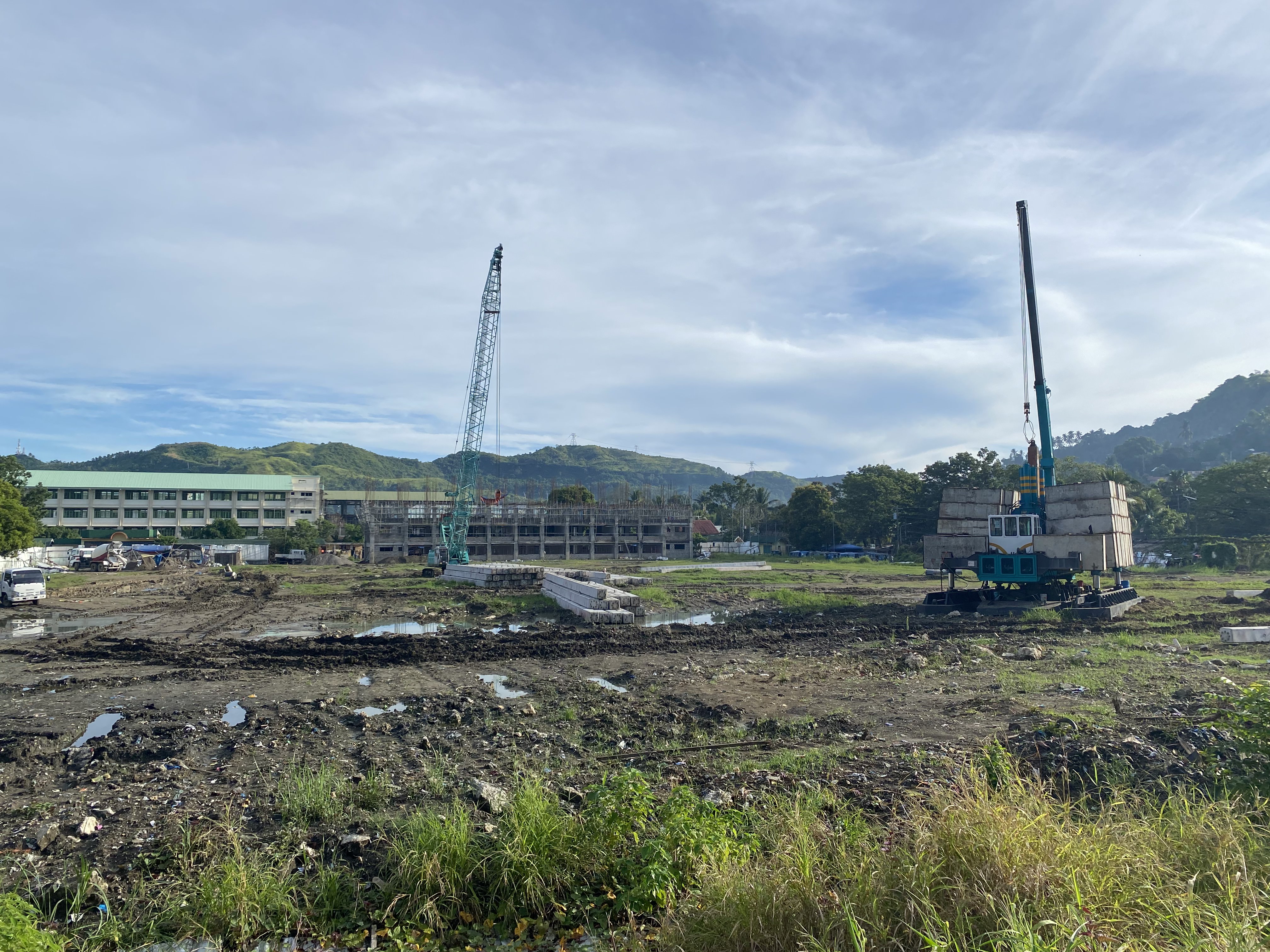 The construction of the P472-million commercial project in the Samar capital was perceived as a step to a more progressive Catbalogan. However, locals became concerned on discovering that it would rise at the historic Samar Provincial Athletic Field.
In a letter dated December 14, 2019, the National Historical Commission enjoined the provincial government "to look into this demolition issue and to coordinate with the NHCP for the preservation of local heritage sites and open spaces significant to the community."
Calls to stop the commercialization
In March 2020, men carrying shovels started digging around parts of the athletic field to start the fencing work around the area.
The move then met heavy criticism from opposition leaders in the city as the construction firm did not acquire fencing, excavating, and building permits. There was also no environmental compliance certificate issued at that time, according to City Councilor Alma Uy. 
After eight days of going back and forth to the grandstand to check the workers from a Cebu-based construction company, Uy, together with the City Engineering Office, drove off the men who insisted on "closing off the field."
But in November 2020, the Provincial Government of Samar officially broke the ground for its joint-venture project with Metro Gaisano Mall deemed as "relevant to the changing times."
"Especially during this time of pandemic-induced situation where we need to generate more employment because we never know when the uncertain times will end," Governor Reynolds Michael Tan said in his groundbreaking message last November 2020.
Meanwhile, a group of concerned residents led by former Associate Justice Antonio Nachura called on the Provincial Government of Samar and the City Government of Catbalogan to stop the commercialization of the Samar Sports Complex.
The complex's grandstand hosted sports meets for the Eastern Visayas Athletic Association (EVAA), Eastern Visayas Regional Athletic Association (EVRAA), and the State Colleges and Universities Athletic Association (SCUAA) from the 1970s all the way to late 1990s.
Nachura, together with 15 other officers and board of trustees of the Katbaloganon Filipinos International Foundation, Inc. (KFI), in a resolution urged the city government to immediately revoke the city ordinance that changed the area's land reclassification from institutional to commercial.
KFI also asked the provincial government to draft plans, programs, and projects intended to restore, rehabilitate, improve and maximize the use and importance of Samar Sports Complex, "consistent with its historical, cultural, social, educational and sporting significance."
However, Tan, in a press conference last August 11, said neither the city nor the province included the Provincial Athletic Field in its list of heritage and historical sites.
"To be clear, the heritage is being decided by the LGU and then approved by the National Historical Commission. So, in the case of the grandstand, it was never in the city's list nor the province list," said Tan.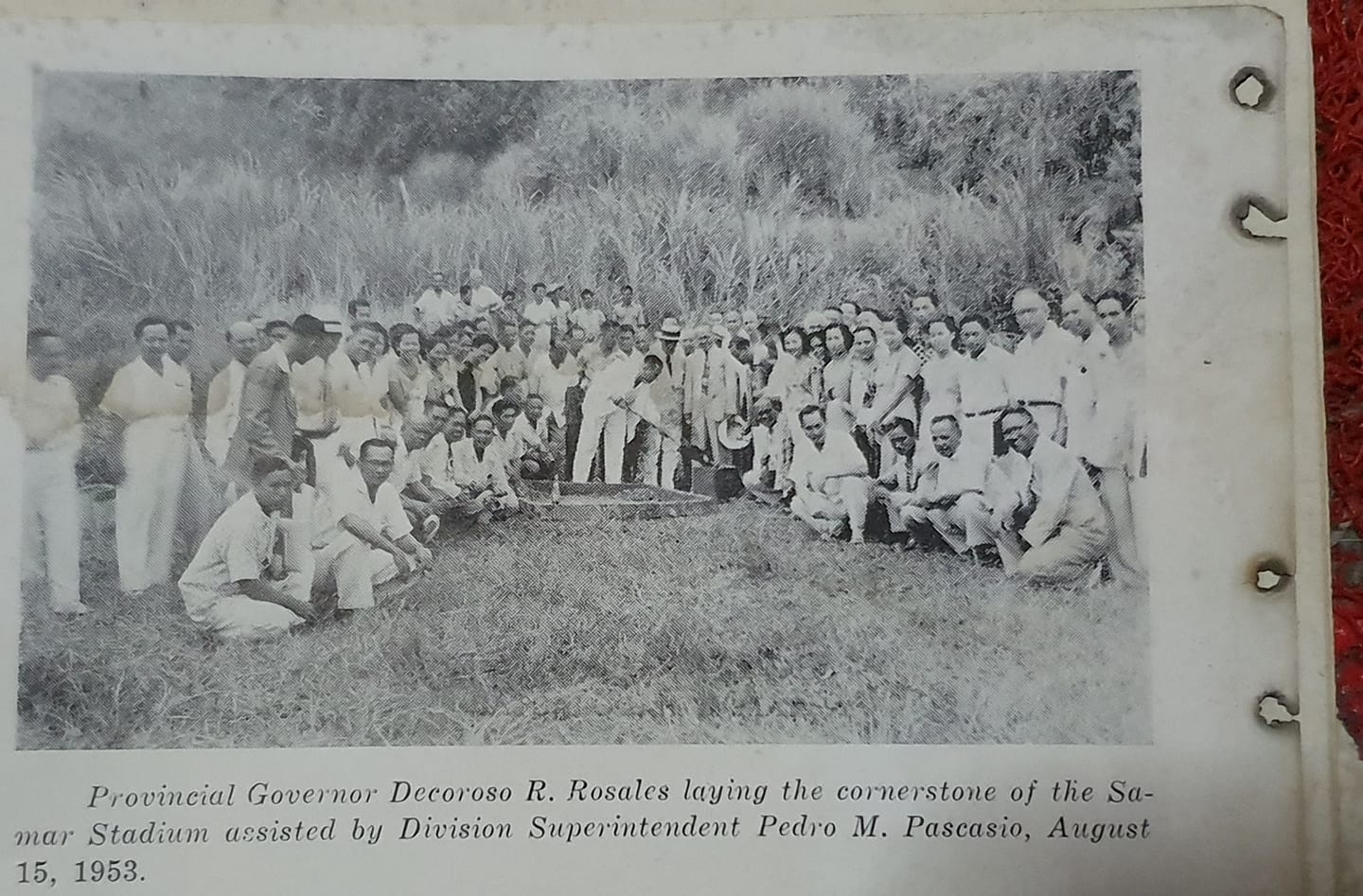 While he acknowledged how people feel over the soon-to-rise mall, Tan stressed that he would not let public sentimentality get in the way of planned projects for the province's development.
"Siguro naman liwat kita nga mga taga-Catbalogan, mayda talaga hiton certain feelings. Mixed emotions talaga ito hiya dida. Even ngani ako as a governor mayda ako hiton memories dida but we cannot prevent that from the developments nga hihimuon. So, iton nga athletic field nga legally converted," Tan said.
(For sure, we at Catbalogan have mixed emotions about the grandstand issue. Even I, as governor, have memories there. But we cannot let our sentimentality prevent the development plans we want to push for the province. Plus, the athletic field has been legally converted for commercial use.)
Uy said she recently filed a criminal case at the City Prosecutor's Office against Tan and Frank Gaisano, the chairman and CEO of MRSGI.
Addressing the criticisms thrown against her as an obstruction to progress, she said: "Kay ano mo i-beblame ha akon an diri progress han Catbalogan or han Samar? Kamo an nagkinapot. Ano man akon power hini?"
(Why would anyone blame me for the delayed progress of Catbalogan or the Province of Samar? You have been in power for too long. I can only do so much.)
Although there is no definite date yet, Tan said the planned mall would push through, with construction expected to resume in the near future.
Mixed emotions
The longtime desire of the people of Catbalogan to see its first-ever mall rise in the heart of the city is no longer an elusive dream. But some residents of Catbalogan are still a bit apprehensive about the idea of a mall getting built at the Samar Sports Complex.
For one, the grandstand served more than just a venue for the annual institution-based intramurals, field demonstrations, and band competitions. It's a place where a lot of kids learned how to ride a bike, met lifelong friends, and learned the value of sportsmanship.
Maria Fatima Cadiz, 28, whose house sits in the same street leading to the main gate of the grandstand, shared her fondest memories of the place growing up.
"Dida ako first nga naglakat, dida ako first nga nahibaro pag bike, dida ako first nga nahibaro pag motor kay safest man hiya nga tanan, 'di ba?" Cadiz said.
(It's where I first learned how to walk and acquired the skills to ride a bike and a motorcycle because we all know it's the safest place in the City to do them, right?)
"An high school na ako, han may buot na ako, na-observe ko kasi ito dida nga nag-uuyag ka and at the same time nahibabaro ka han sports kay nakita ka han mas dagko ha imo," she added.
(When I finally reached high school, I learned how to play sports I never knew then just by observing athletes play from afar.)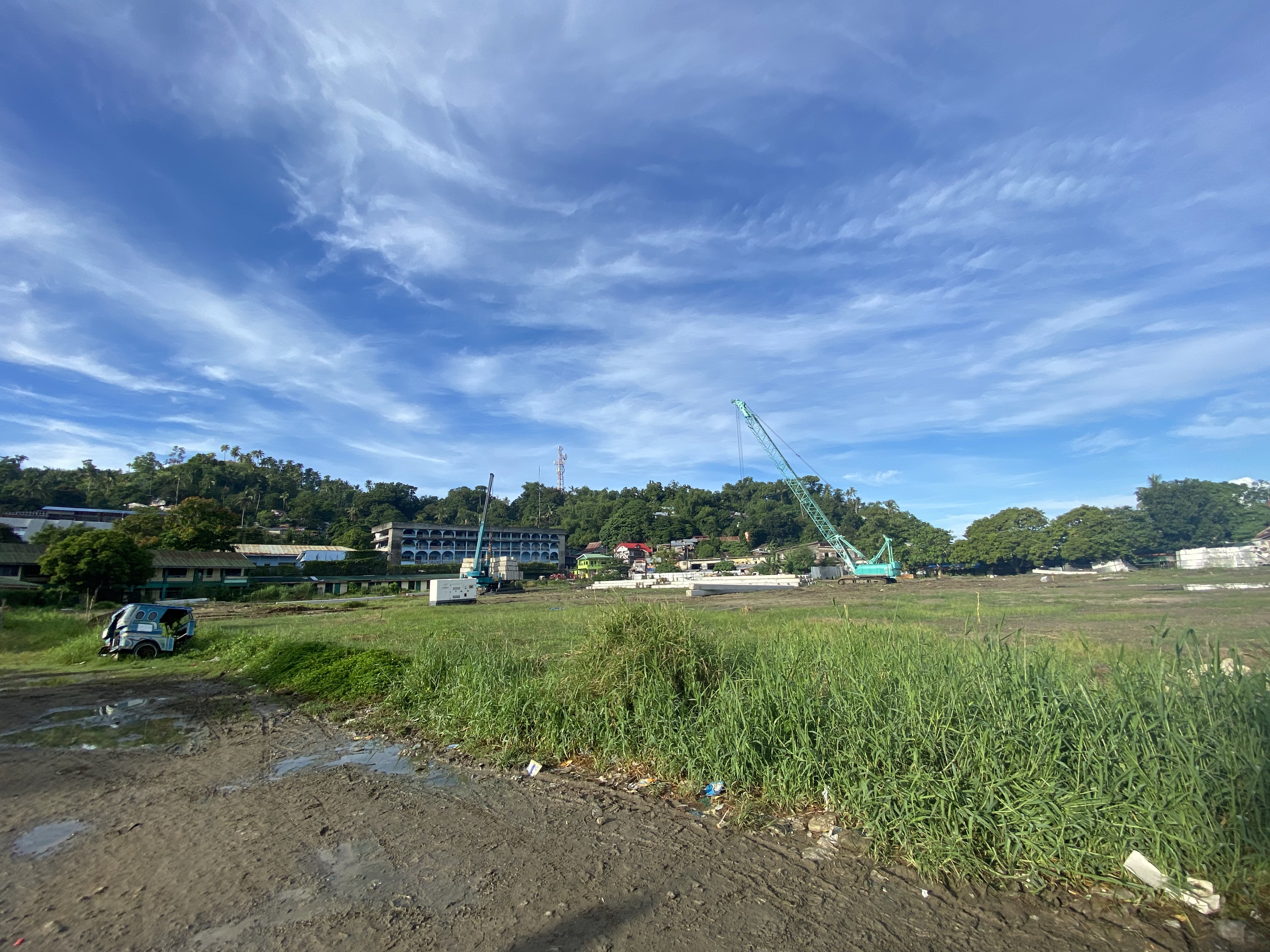 Cadiz lamented her cousins' struggles to find a place where they could play basketball following the decision of the government to stop letting the public in three years ago.
"Tikang hito nga ira pag-shutdown, tungod nga didto hira nag-uuyag, nahinumndom ako nagsisiring hiya ha akon nga 'Teh, ginkukurian gad kami pamiling venue tungod kay diri na kami ginpapasulod didto'. Kay 'di ba nagtitikang-tikang naman adto an diri pagpasulod kay gin-lo-lock nira an gate. Amo ito nawawarayan na hira venue tapos bumalhin na hira Sto. Niño nga nabaha," she said.
(I clearly remember my cousin telling me that he and his teammates were having a hard time finding a venue where they could play basketball following the shutdown of the grandstand. Since then, they decided to move to a court in Sto. Niño where it usually gets flooded.)
Cadiz made it clear that she's not against the construction of a mall in the area as long as no one gets unfairly treated in the process.
"Karuyag ko an mall kay as long as waray tawo nga ma-aagrabyo," Cadiz said.
(I want to see a mall built there. But I hope no one gets to experience distress along the way.)
For 29-year-old Erica Gutay, pushing through with the construction of the planned mall increases the chances of her house — which sits across the grandstand — getting torn down by a possible road widening project in the future.
But she said she believes a mall would eventually generate jobs for people living around the area — including her.
"Siguro yana, diri pa naton makarawat it change kay diri pa kita sigurado it epekto ha aton. Pero, ha susunod nga panahon nga ada na ito hiya ngan makikita naton nga mayda mas dako nga mabubulig ha aton, ma-appreciate na namon kun ano it igbubutang dida nga bag-o," Gutay said.
(Maybe we can't appreciate it now because we're not yet sure of its direct effect on us. But hopefully, we see the silver lining that a mall in the area would benefit us in the future.)
Meanwhile, Bryan John Biteng, a 21-year-old athlete who frequented the grandstand to play hoops and train with his friends before its closure, said the sports complex made an impact on him as an athlete.
"Goods an grandstand kay didto natatabo an mga sports activities ngan dako bulig haam hadto na mga athlete pag tra-training," Biteng said.
(The grandstand certainly contributed a lot for us athletes, especially when it came to training.)
Biteng said he doesn't mind seeing a mall rise at the Samar Provincial Athletic Field as long as a new sports complex gets built for athletes first.
"An mall naman, para akon okay man hiya kun para gihap ha ciudad diri kita maurhi kun ano it mayda it iba. An akon la habang nag-bi-build mall ha grandstand dudungan na liwat kun diin man irerelocate an bago nga field para haat mga athelete kay kailangan ito hit for training hit at mga future athletes."
(If building a mall means we will no longer be left behind, then I'm okay with it. I just hope the government would simultaneously build the new sports complex with the planned mall because our athletes badly need it for training.)
Tan, in a speech, addressed the growing concerns of the public over the non-existence of a sports facility in Samar.
He said that the construction of "a first-rate Samar Provincial Sports Complex that is complete and fully functional, enough to accommodate national activities like the Palarong Pambansa" is in the pipeline.
The new sports complex is said to open soon in Barangay Maulong, about two kilometers away from the city proper.
It will be called the "YES Hub" or Your Everyday Sports Hub and will feature amenities such as a promenade, a basketball court, a volleyball court, a lawn tennis court, a sepak takraw court, a badminton court, a boxing ring, and food stalls, among others. – Rappler.com
Lance Lim is a Visayas-based journalist and an awardee of the Aries Rufo Journalism Fellowship.