This is AI generated summarization, which may have errors. For context, always refer to the full article.
'I hope sports is just always fair,' says Junna Tsukii, who declined to stand on the podium after falling short of her bid to reclaim her SEA Games throne
PHNOM PENH, Cambodia – Filipina-Japanese karateka Junna Tsukii did not hide her disappointment after settling for silver in the women's 50kg kumite in the Southeast Asian Games here on Saturday, May 6.
Her bid to reclaim the SEA Games crown she won in 2019 ended in frustration as Tsukii bowed to Malaysia's Shahmalarani Chandran in the finale following a controversial judges' verdict.
After their three-minute match ended in a 1-1 tie, the four judges split their votes before the referee gave her nod – and the win – to Chandran, much to the chagrin of Tsukii.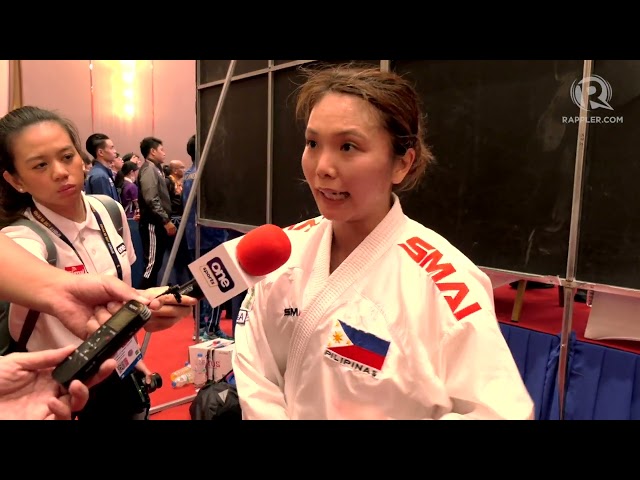 "I was more active than her, but they chose her. I don't know what happened with this judge. I'm not happy with my medal," said Tsukii.
"The judge is not correct. If the point is 1-1, [the one] who is more active, more aggressive will win, will take advantage. But at the last moment, she didn't attack."
Refusing to take part in the customary bow between opponents, Tsukii glared at the referee on her way to the backstage.
She also declined to stand on the podium during the awarding ceremony.
The former World Games champion said she beat Chandran convincingly in March when they faced in the Southeast Asian Karate Federation Championships, where she captured the gold medal.
But Tsukii clarified she is not out for handout victories.
"I hope sports is just always fair. I'm not saying, 'Please give me the win.' If I lose, I'll accept it," she said.
The 31-year-old added it was upsetting for her to fall short of her goal after all the things she sacrificed.
"I didn't go back home, I didn't meet my family, friends. I give everything for karate, for this moment. But still I'm proud of what I did for this," Tsukii said.
It would have been a double gold for the karate team after SEA Games first-timer Sakura Alforte topped the women's kata individual.
Enrique Vasquez added a bronze in the men's kata individual. – Rappler.com