This is AI generated summarization, which may have errors. For context, always refer to the full article.
They may look as smooth as a ninja flying, but these speedy athletes from the Philippine obstacle course racing team show how hard work can make races look fast and easy
MANILA, Philippines – It looked like a lost cause – with Indonesia almost one obstacle ahead of the women's relay team – before Filipina track star Mecca Cortizano closed the gap with Mudji Mulyani and made a fluid sprint on the wave wall.
With the thrilling finish, the women's relay team of the Philippine obstacle course racing (OCR) squad bagged its third gold out of four events.
Never losing heart until the race is over – it's a favorite Filipino story told in 33.733 seconds.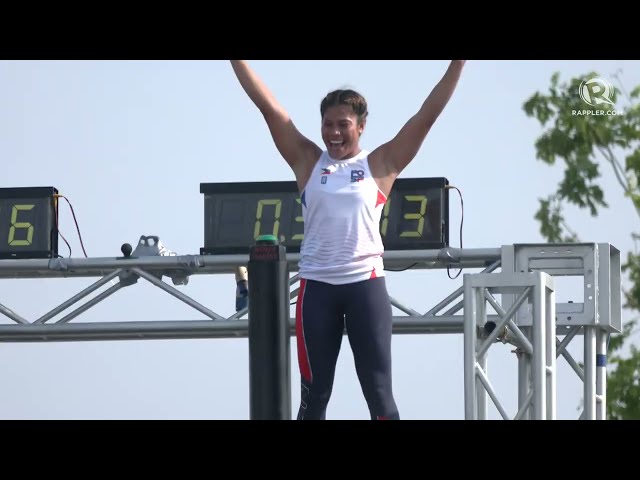 The 12-person Philippine OCR delegation was then coming from victorious individual runs the day before, with Mark Julius Rodelas and Kevin Pascua securing the gold and silver medals, and Precious Cabuya and Kaizen dela Serna dominating the distaff side.
When the men's relay team bested Malaysia, they once again completed a successful golden campaign for the 32nd Southeast Asian (SEA) Games in Cambodia, bringing home four gold medals out of four events.
Yellow brick road
But everything isn't as smooth as a ninja flying from one obstacle to another in a matter of seconds.
For starters, there had been a possibility that some relay athletes would not be able to play. As neighboring countries were showing up with more competitive times, ninjas like Cabuya, Dela Serna, Rodelas, and Pascua could have played in the relay competitions as well, removing some athletes originally in the relay lineup.
With the pressure to execute a golden campaign in this year's SEA Games, it would have been an understandable move to drastically reduce time and secure a sure win.
Ninjas make use of explosive movements to ace their 100-meter runs. Athletes in the relay teams who are used to the longer OCR races – from 3-kilometer to as long as 21-kilometer races with obstacles – have a lot of things to catch up on.
"'Yun yung challenge," said Thumbie Remigio, head coach of the Pilipinas Obstacle Sports Federation (POSF). "Paano namin i-convert into a ninja athlete 'yung mga OCR athlete in less than three months." (That's the challenge: to convert OCR athletes to ninja athletes in less than three months.)
But Remigio remained confident that athletes would pull through. "Kinuha mo sila doon eh. Kailangan mo silang bigyan ng chance." (You have to give them this chance.)
The team spent much time fine-tuning details to shave seconds. To prepare, the Filipino bets followed a running program with a dedicated running coach, Precious Que-Aguilar; as well as a jumping program by Olympic long jumper Marestella Torres-Sunang.
Other countries such as Cambodia, Malaysia, and Indonesia have already caught up with the techniques. They even visited the Philippines early this year to practice on the ninja rig in Pasig City.
It's perfectly fine, though, if everybody else is copying the Filipinos' techniques, said coach Kristian Guerrero. After all, they have set the existing world records. "Sila 'yung basis," said Guerrero, referring to Rodelas and Pascua. "Sila 'yung standard." (They're the basis. They're the standard.)
Because what really mattered most was execution, focusing on the particulars such as landings and transitions to the next obstacle, said Guerrero.
"I think 'yun 'yung mga small details na hindi masyadong na-figure out ng mga ibang bansa na nagawa namin for this year." (Those were the small details that separated us from other countries.)
First a family
Aside from calibrating their training programs, the team also benefited from a healthy environment.
Some of the athletes have been together since the 2019 SEA Games. "Parang pamilya na sila," said Remigio. (They're already a family.)
Gold or silver, it doesn't matter. My triumph is your triumph as well."

Precious cabuya
They are fierce competitors in events. But during training, which makes up the bulk of an athlete's life, they are loyal allies that help each other. Remigio gives the credit to athletes not only for their individual dedication to get better, but their commitment to making sure their team improves as one.
"Si Jaymark ang laki ng effort niya, saka si Popoy, para turuan 'yung mga non-ninjas noong mga techniques," he shared. "Sila-sila 'yun." (Rodelas and Pascua made huge efforts to teach non-ninjas the techniques. That's all to their credit.)
In fact, this is Cabuya's message to Dela Serna after she won gold: "To Kaizen, my strongest opponent in the course but also one of the [people] who is closest to my heart, gold or silver [it] doesn't matter. My triumph is your triumph as well."
The athletes also thrived from immense support and a federation free from politicking inherent in other sports associations. Athletes earn their place in events through qualifiers and not through mere connections. In a merit-based environment, athletes remain committed and motivated to improve.
Central to this organization is POSF president Al Agra, to whom all coaches and athletes attribute the flourishing of the sports in the Philippines.
"Aggressive siya," Guerrero said. "Sinusuportahan niya talaga 'yung mga tao, 'yung federation itself, the team. And then I think maybe gusto niya lang talaga 'yung ginagawa niya. Parang 'di siya napapagod na i-organize at suportahan 'yung POSF."
(He's aggressive. He supports everyone: the whole federation and the team. And then I think he just really likes what he's doing. He doesn't tire of organizing and supporting the POSF.)
With the playing field getting stronger every year, Filipino OCR athletes bear the pressure to improve consistently.
The team is currently setting its sights on the Ultimate Ninja Athlete Association championships in the US this July, and the OCR World Championships in Belgium this September. – Rappler.com