This is AI generated summarization, which may have errors. For context, always refer to the full article.
Eric Cray captures an unprecedented sixth straight SEA Games gold medal in the men's 400m hurdles, extending his reign in the event to a decade
PHNOM PENH, Cambodia – Even after a decade, Eric Cray remains the Southeast Asian Games men's 400m hurdles king.
Cray, 34, captured an unprecedented sixth straight SEA Games gold medal in the event after leaving his opponents in the dust with a time of 50.03 seconds at the Morodok Techo National Stadium on Thursday, May 11.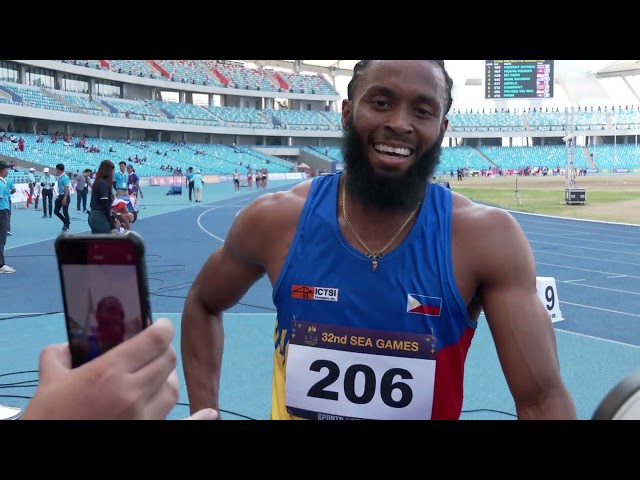 There were concerns whether Cray was still capable of defending his throne as he nursed a sports hernia – an injury in the abdomen or groin area that causes chronic pain.
His age also raised doubts, being 10 years older since he first ruled the event in the 2013 SEA Games in Myanmar.
But just like Michael Jordan – the name of the NBA legend he screamed shortly after crossing the finish line – Cray proved he is the greatest in the event in the region and gave Philippine athletics its third gold in this SEA Games.
"Six years, Jordan. Six champs. 6-0. Last year, it was the year of Kobe, that was five. Now it is six, Jordan. Just a little thing I got going with my coach," Cray told Filipino reporters.
Cray is almost just the same age as Jordan – then 35 – when he won his sixth and last championship with the dynastic Chicago Bulls of the 1990s.
"There were ups and down. It was hard. But God has been on my side the whole and I'm so happy that I can keep going," said Cray.
Natthaphon Dansungnoen of Thailand clocked 50.73 seconds to settle for silver, while Jun Jie Calvin Quek of Vietnam finished in 50.75 seconds for the bronze.
Overall, Cray has won eight gold medals in the regional showpiece, with the two other coming in the men's 100m in 2015 and 4x100m mixed relay in 2019.
Jordan hung up his spurs after his sixth NBA championship, will Cray do the same?
"If God keeps me running fast enough to compete, who knows? Maybe seventh," he said. – Rappler.com