This is AI generated summarization, which may have errors. For context, always refer to the full article.
Gilas Pilipinas tastes sweet payback by fighting back from an 11-point deficit to dethrone Indonesia
PHNOM PENH, Cambodia – Gilas Pilipinas kept its redemption campaign in the Southeast Asian Games alive by exacting revenge on the same team that dislodged it from the top.
The Philippines tasted sweet payback as it dethroned Indonesia with a come-from-behind 84-76 victory to advance to the men's 5-on-5 basketball finals at the Morodok Techo Sports Complex here on Monday, May 15.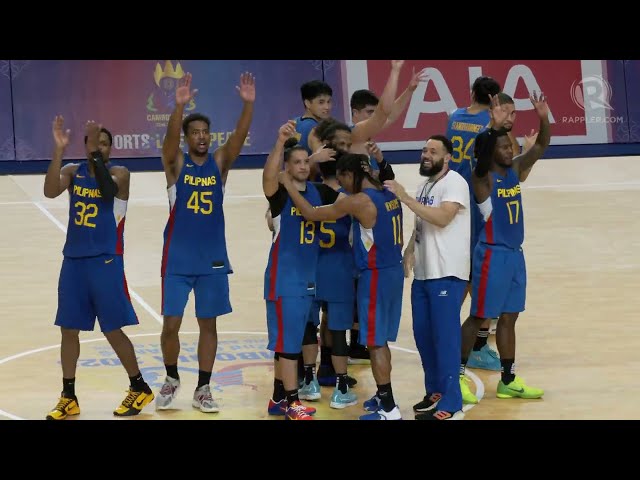 Justin Brownlee put the Filipinos on his back with 34 points, 9 rebounds, 5 assists, 3 steals, and 2 blocks, hitting a pair of key triples late to propel the Philippines to a rematch with Cambodia for the coveted gold medal.
Fielding several naturalized players from the United States, the Cambodians advanced to the finals for the first time ever after disposing of Thailand, 76-66, in the other semifinal pairing.
With a short turnaround, Gilas Pilipinas will face Cambodia at 3 pm (4 pm, Manila time) on Tuesday.
Indonesia still led 74-70 with four minutes left before Brownlee caught fire, scoring 8 straight points – highlighted by back-to-back treys – to power a 14-0 run that snatched the win for Gilas Pilipinas.
Brownlee erupted for 15 points in the fourth quarter alone as he outdueled fellow PBA import Lester Prosper, who showed the way for Indonesia with 26 points and 9 rebounds.
"The important thing now is we're able to keep him fresh. Hopefully, his body is acclimatizing to the heat, but also the suffocating denseness of the air," said Philippine head coach Chot Reyes of Brownlee, whose struggles early in the tournament had reportedly been due to the sweltering Cambodian heat and dehydration.
"Hopefully, that (improved form) continues tomorrow. Again, we need him at his best tomorrow."
A repeat of Gilas Pilipinas' heartbreak when it lost the gold to Indonesia in Vietnam last year seemed imminent when the Timnas enjoyed a lead as big as 38-27 after a Prosper triple in the middle of the second frame.
Indonesia still held the upper hand at the end of third period, 65-60, until the Philippines brought out its big guns courtesy of Brownlee.
"They threw haymaker after haymaker at us but we just hung in there," said Reyes.
Brandon Ganuelas-Rosser backstopped Brownlee with 13 points and 4 rebounds, while Arvin Tolentino chipped in 10 points and 3 rebounds.
Gilas Pilipinas newcomer Jerom Lastimosa made his presence felt with 9 points, draining timely triples in the opening quarter that kept the Filipinos afloat.
Anthony Beane – a naturalized player like Prosper – finished with 12 points, 6 rebounds, 6 assists, and 2 steals for Indonesia, which looks to salvage bronze against Thailand on Tuesday.
The Scores
Philippines 84 – Brownlee 34, Rosser 13, Tolentino 10, Lastmosa 9, Lassiter 9, Newsome 4, Perez 2, Ross 2, Standhardinger 1, Phillips 0.
Indonesia 76 – Prosper 26, Beane 12, Dhyaksa 9, Diagne 9, Jawato 8, Gemilang 6, Kokodiputra 3, Kosasih 2, Saputra 1, Noor 0, Teja 0.
Quarters: 24-20, 45-38, 65-60, 84-76.
– Rappler.com