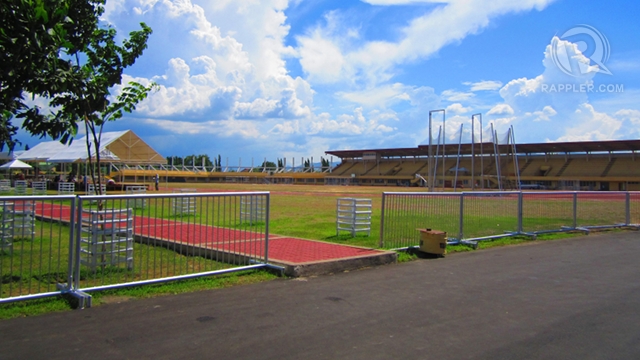 LINGAYEN, Pangasinan - In a press conference for the Palarong Pambansa 2012, Department of Education Secretary Armin Luistro expressed hope that this year's Palaro will become a benchmark for other sports events in the future. He thanked the local government for their cooperation and success in preparations.
"We are very pleased with the preparations and our only prayer now is that the weather cooperates," Luistro said.

Palaro, Pambansa, and Pangasinan
Luistro reiterated Archbishop Soc Villegas' message at the Governor's Night held yesterday: that 3 words should be remembered– "Palaro", "Pambansa", and "Pangasinan".

Luistro, affirming what Archbishop Villegas said, explained that the Palaro's message to young athletes is to do the best that they are capable of, regardless of their opponents.
"Pagka Palaro at hindi paligsahan, lahat nananalo (Everyone wins when Palaro is considered not as competition)," he said. He emphasized that to be a winner means to beat personal records, and not necesarrily that of their competition's.

He also highlighted that 'Pambansa' is important because the athletes playing represent the country as a whole. There are no divisions or different regions, only Filipinos and Filipino champions.

This year's Palarong Pambansa venue, Pangasinan, has raised the bar for future competitions. DepEd hopes that this will help push Philippine sports to a whole new level.

Bigger and better
Palarong Pambansa 2012 is the first of its kind in the Philippines. Luistro boasts of a high-tech tournament, making use of social media to disseminate reports on the games instantly and to a bigger audience. Previous Palaro's have remained mainly unreported on, contrary to the buzz that this year's competitions have generated in the media.

Aside from the involvement of technology, the tournament promises to be clean and green. Athletes are also expected to be on their best behaviors in this regard.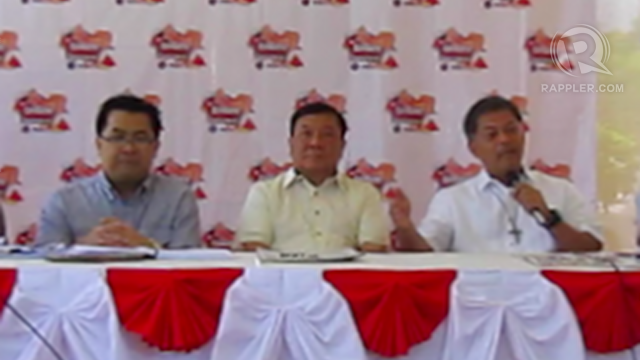 HAPPY WITH PALARO. Palarong Pambansa Secretary General Tonisito Umali, Pangasinan governor Amado Espino and DepEd Secretary Armin Luistro speak to media on day 1 of Palarong Pambansa.
A zero-tolerance attitude for cheating has been adopted. Stricter athlete screenings have been conducted, students competing are required to turn over medical certification, and their report cards or certification that they have satisfactorily passed their academic subjects.

Game officials have also been given refresher courses that aims to ascertain that they are trained and updated in the current international rules and regulations of each sport they are officiating.

The participating student athletes and game officials all have insurance coverage from DepEd. Pangasinan has also covered the medical expenses that have been incurred by participating athletes.

Pushing for partnership

Both the DepEd and the Pangasinan local government said that the games would not be possible without their mutually beneficial partnership.

In what Luistro called "a well-organized and excellent host province," Pangasinan has most certainly given much effort in making this a successful sports event.
According to Pangasinan Governor Amado Espino, the Palarong Pambansa paved way for projects on sports facilities to be completed. The province aims to continue this progress even after the Palaro and they hope to be able to construct their very own Sports Academy.

Though obviously happy with this host region, Luistro stressed the importance of having a different venue in the following years of the Palaro.

"Alam ho niyo kung bakit kailangan lumipat yung Palaro, talagang ang gusto nating mangyari na bawat probinsya ay mayroong facilities at programa pagkatapos nang Palaro. Can you imagine, nagumpisa po tayo sa Pangasinan, mayroon pang probinsya na mayroong ganitong capabilities, (We need to switch provinces every year for Palaro because we want every province to develop facilities and programs every year after the games. Can you imagine, we start in Pangasinan but there are other provinces with the same capabilities)." Luistro said.

The goal is for every province to have a "respectable and standard sports facility".

DepEd hopes that the games would not only support Pinoy athletes and foster sports, but also pave the way to better facilities and awareness in our country.

The Palarong Pambansa will officially open tomorrow, May 7 and the games will end on May 12. - Rappler.com