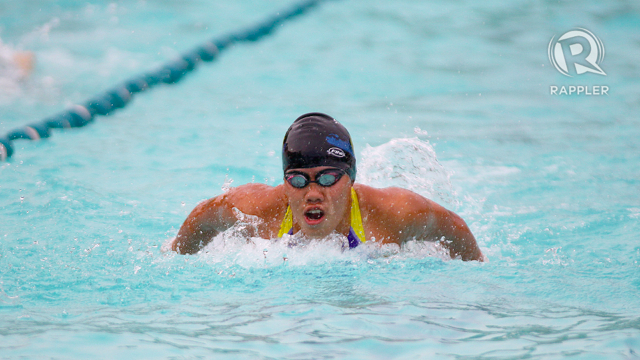 SWIMMING SENSATION. Delia Cordero makes a splash in her comeback and breaks the secondary girls 200m butterfly record. Josh Albelda.
DAGUPAN CITY, Philippines - What a comeback.
Delia Cordero returned from a one-year absence from the Palarong Pambansa and did the unthinkable: break two records in her first two competitions back in the fold.
The 16-year-old Diliman Preparatory School ace towed the National Capital Region to a wonderful performance in the Day 1 of the swimming competitions of the 2012 Palarong Pambansa in the Dagupan Poolsite here.
The Big City swimmers brought home 12 of the 16 gold medals at stake today, with Cordero, Catherine Bondad and Axel Ngui leading the parade with two-gold-medal finishes.
"Sobrang saya ko po dahil sobrang tagal na nung record na yun tapos ngayon lang na-break (I am so happy because that record has been there for so long and it was only broken now)," Cordero said after breaking the first record in the 200m butterfly with a time of 2:26.16, 0.06 better than Althea Lim's mark in 1998.
Cordero later returned to the pool with Roxine Kee, Mikee Bartolome and Joy Rodgers to set another record, this time the 200m medley with a 2:09.09 mark that shattered the 2:09.30 record also set by the NCR in the 2008 Palaro.
Other Metro Manila bets joined in the domination as Bondad and Ngui reigned supreme in their pet 400m freestyle and 100m backstroke events for girls and boys, respectively.
Samuel Ongjoco also topped the 200m butterfly race, clocking in at 2:19.94, ahead of Dexter Lacuna (2:21.90) of Central Luzon and Ralph Claveria (2:24.45) of NCR.
Joshua Yang and Andria Canlas topped the 100m backstroke for elementary boys and girls, in order, even as their teammates Kim Ramos and Carmen Matabuena finished second and third, too.
Here are the complete results:
Boys 200m Freestyle Elem
Jose Mari Arcilla, IV-A, 2:12.60
Maurice Ilustre, NCR, 2:16.76
Rafael Barreto, III, 2:17.77
Girls 200m Freestyle Elem
Nicole Pamintuan, IV-A, 2:22.64
Carmen Matabuena, NCR, 2:23.71
Raissa Gavino, NCR, 2:25.66
Boys 100M Backstroke Elem
Jsohua Yang, NCR, 1:10.62
Kim Ramos, NCR, 1:12.37
Christian Anor, XI, 1:13.76
Girls 100M Backstroke Elem
Andria Canlas, NCR, 1:16.81
Jamleth Villanueva, III, 1:17.41
Carmen Matabuena, NCR, 1:17.67
Boys 100M Backstroke HS
Axel Ngui, NCR, 1:03.58
Christian Dimaculangan, IV-A, 1:04.43
Jan Santos, NCR, 1:05.03
Girls 100M Backstroke HS
Catherine Bondad, NCR, 1:09.54
Caitlin Cruz, IV-B, 1:11.72
Claire Galang, NCR, 1:12.40
Boys 50M Butterfly Elem
Jose Mari Arcilla, IV-A, 29.48
Patrick Birad, VII, 29.80
Guillfer Clemente, VI, 30.66
Girls 50M Butterfly Elem
Regina Castrillo, NCR, 30.90
Josefa Agoncillo, IV-A, 33.11
Andria Canlas, NCR, 33.44
Boys 200M Butterfly HS
Samuel Ongjoco, NCR, 2:19.94
Dexter Lacuna, III, 2:21.90
Ralph Claveria, NCR, 2:24.45
Girls 200M Butterfly HS
Delia Cordero, NCR, 2:26.16*
Thea Caluma, NCR, 2:33.85
Frances Pillado, IV-B, 2:40.30
Boys 200M Medley Elem
NCR 2:09.14
CALABARZON 2:11.46
Central Visayas 2:14.02
Girls 200M Medley Elem
NCR 2:14.41
CALABARZON 2:22.66
Central Visayas 2:25.56
Boys 200M Medley HS
CALABARZON 1:58.65
NCR 2:01.04
MIMAROPA 2:01.80
Girls 200M Medley HS
NCR 2:09.09*
CALABARZON 2:13.43
MIMAROPA 2:15.82
*new records
- Rappler.com