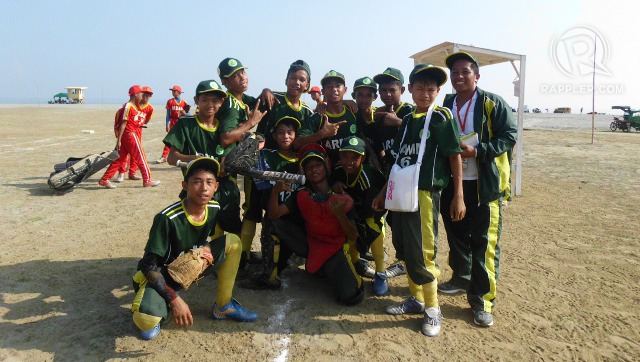 HOPE. Baseball gives the boys of ARMM another way of life. Julienne Joven.
LINGAYEN, Pangasinan – They carry their world in a sack.

The elementary baseball team of ARMM came a long way from home to compete for the gold in Palaro. But unlike other teams, the boys of ARMM lug their playing gear in a single, empty rice sack.

They are not one team to be put down, though. Despite the dismal state of their equipment, the boys of ARMM placed in the Top 5 of baseball in last year's Palaro.

Region's pride
In last year's Palaro at Dapitan City, Zamboanga del Norte, the region of ARMM finished last among the country's 17 regions, earning only 3 points from elementary and no points at all from secondary.

On the other hand, the region of NCR, last year's overall champion, garnered a total of 572.66 points – a stark difference.

Amazingly, it was the elementary baseball team of ARMM that gave them these 3 points. Landing 5th in elementary baseball, ARMM gave their region their only placer last year. After all, baseball is a popular sport in the ARMM.

On Wednesday, May 9 they earned their first win against CAVRAA in a close fight. They lost to Western Visayas and MIMAROPA in the games from the past few days.

'Too many challenges'
The only times these boys get to play decent baseball are too far and too few.

"Ang ginagawa lang namin kapag walang klase, walang pasok, sa dagat nangingisda (When we don't have classes, we spend the time going fishing)," said player Amerkhan Hapsan.

Coach Marjun Daud also said that unlike NCR and other better-off regions, they don't even get to really rehearse as a team prior to Palaro. After all, they only meet their teammates after regionals, and that's the only time they get to truly train.

When asked about the hardest challenge the team has faced, Coach Daud refused to answer. He said, "Basta. Marami talaga (There are too many)."

The most obvious challenge though would have to be the equipment. They are still using the same gear they used two years ago. Most of their gloves are battered and their single bat has too many scratches all over it.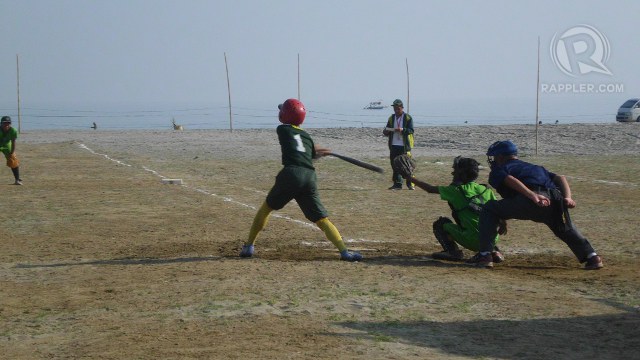 "Kahit kulang sa equipment, nagta-train pa rin kami (Even if we lack equipment, we still train)," Coach Daud said.

Luckily, these boys don't hail from the war-zone areas of ARMM. That is, at least, one blessing to be thankful for.

This year, most of the boys in the team are new; even Coach Daud is new. He said that perhaps the older ones have graduated to high school.

They have with them, however, one veteran: Coach Baidido Panda, who was single-handedly responsible for the ARMM win last year. The only female baseball coach last year, she even had to train her kids without the help of an assistant coach.

"Rain or shine, nandiyan kami sa field para maglaro. Hindi ko inisip na babae ako; hindi hadlang sa akin ang pagiging babae ko… Naghirap talaga kami para maabot yung Rank 5 na yun (Rain or shine, we were there in the field to play. I didn't think about being a woman; my femininity was not a hindrance… We really worked hard to reach that Rank 5)," said Coach Panda.

And their achievements will probably not stop there – or in Palarong Pambansa, for that matter.

"Kaya ako nag-aral po tsaka pumasok sa ganitong laro, gusto ko talaga maging Philippine team (The reason I studied and entered this game is because I really want to be part of the Philippine team)," Hapsan said with a proud smile on his face.
As of Thursday, May 10, the ARMM elementary boys team was eliminated from the games. - Rappler.com