Kiefer Ravena came up clutch down the stretch of regulation and in the first overtime to help his Ateneo Blue Eagles hold off the National University Bulldogs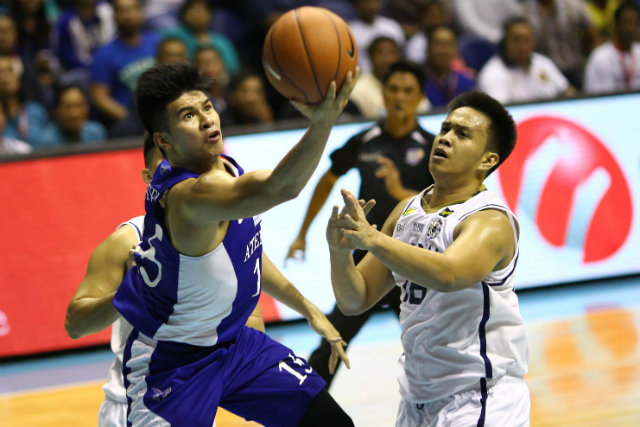 Clutch Ravena leads Ateneo past NU in double OT thriller
MANILA, Philippines – Kiefer Ravena does it again. 
The reigning UAAP MVP came up clutch down the stretch of regulation and in the first overtime to help his Ateneo Blue Eagles hold off the National University Bulldogs, 74-70, in double overtime on Wednesday, September 16, at the Smart Araneta Coliseum.
Ravena finished with a game-high 21 points but shot just 7-of-26 from the field and 1-of-10 from downtown, though that lone 3-pointer proved to be the biggest basket of the game.
It looked like the Bulldogs had the match won when they went on top 55-50 with 1:45 to go in regulation, but a Ravena floater with 34.6 seconds to go breath some life into his team and a potential comeback.
With 18.7 seconds left, Gelo Alolino turned the ball over, leading to free throws for Blue Eagles rookie Jerie Pingoy, who drew the fifth foul on Alfred Aroga. 
Pingoy made both, but then Alolino was fouled and made his own pair of charities to put NU ahead 57-54 with 16.4 seconds to go.
Ateneo then committed a 5-second inbound violation, but Alolino lost the ball again, paving the way for Ravena to hit the 3-ball that sent the game to OT.
WOW. RAVENA DOES IT AGAIN. OVERTIME. pic.twitter.com/jAU4KGUNSY

— Naveen Ganglani (@naveenganglani) September 16, 2015
Ravena came up clutch anew in overtime when he hit a layup against 3 NU defenders to tie the game at 62-all. After which, Alolino missed a tough turnaround jumper, leading to a second overtime.
AND HE DOES IT AGAIN! pic.twitter.com/lEXe7xROWG

— Naveen Ganglani (@naveenganglani) September 16, 2015
Alolino misses at the buzzer. Double overtime! pic.twitter.com/2HZpv1rbMT

— Naveen Ganglani (@naveenganglani) September 16, 2015
Ateneo went ahead by 4, 68-64, in the second OT thanks to a huge reverse layup by Von Pessumal and free throws by Chibueze Ikeh, who had the best game of his collegiate career on Wednesday.
Alolino kept his team in the contest by making two tough shots in the paint, but Ikeh and Ravena converted their free throws late to seal the win.
The win improved Ateneo's record to 2-1, while NU – the defending champions – dropped to 0-3 with the loss.
It was also the Blue Eagles' first victory against the Bulldogs in 3 years. During that span, NU had defeated Ateneo 6 straight times.
"There was really no doubt in our minds that we can win against NU," Blue Eagles head coach Bo Perasol said after the contest. "It really didn't help their cause that Alfred wasn't there in the end, but we really played well – defensively, offensively – it wasn't a perfect game but we really grinded it out."
Ikeh finished with 14 points and 17 rebounds – 14 on the offensive glass. 
"He stepped up today and he proved he belongs in our team. He doesn't have to prove anything at all. He really belongs in our team. He worked hard in aspects of the game that we really needed," Perasol said about his big man.
"What a way to show it against the defending champions," Ravena complimented his teammate. "Last game it was Aaron, now it's Ikeh. It's his time. For a player who hasn't really adapted yet to the UAAP, he really won it for us today."
Pingoy finished with 9 points, while Von Pessumal had 8.
Alolino led the Bulldogs with 19 points and 8 boards, but did have 6 turnovers, with the latter ones proving to be costly at the endgame.
Aroga finished with 14 points, 7 boards, and 4 turnovers. Kyle Neypes, who also fouled out in the fourth quarter, had 11 points.
NU had 30 turnovers as a team, while Ateneo shot 22-of-43 from the foul stripe and outrebounded their opponents, 57-46.
"I can sense in my players that they really wanted to win this one, especially Von and Kiefer," Perasol said.
Ateneo shot 30% from the field and 2-of-28 from downtown, but did have more bench points than NU, 37-25.
The Blue Eagles will be back in action on Saturday, September 19, when they face the currently 2-1 UE Red Warriors.
"We can't celebrate too much, but we have to let this win sink in to let us know we how to take big games, para in the future we'll be ready," Ravena said about his team's upcoming games.
NU will aim to get their first win on the same day against the currently undefeated UST Growling Tigers.
Scores:
ADMU (74): Ravena 21, Ikeh 14, Pingoy 9, Pessumal 8, Apacible 6, Tolentino A 6, Gotladera 4, Babilonia 2. Cani 2, Nieto Mt 2, Black 0, Nieto Mk 0, Tolentino V 0, Wong 0
NU (70): Alolino 19, Aroga 14, Neypes 11, Celda 6, Abatayo 5, Javelona 5, Tansingco 4, Alejandro 2, Diputado 2, Salim 2, Javillonar 0, Lastimosa 0, Rangel 0
Quarter scores: 13-11, 27-24, 42-43, 57-57, 62-62, 74-70
– Rappler.com