This is AI generated summarization, which may have errors. For context, always refer to the full article.
RR Garcia and Terrence Romeo team up for the last time to bring the elusive crown back to Morayta.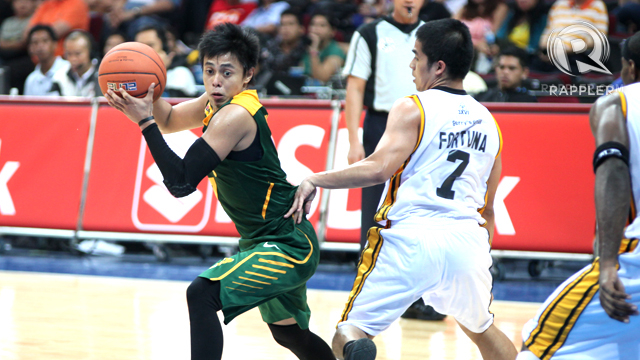 Projected First 5
G RR Garcia
G Terrence Romeo
F Roger Pogoy
F Carl Bryan Cruz
C Anthony Hargrove 
Key additions: Joshua Aguilon, Ron Dennison, Joel Lee Yu, Jovanie Luz
Key subtractions: Mark Bringas, Arvie Bringas, Russel Escoto
Looking back: After making the Finals for two straight years, the Tamaraws missed the Final 4 for the first time in a long while last season, no thanks to a run surrounded by drama and, well, saliva.
Romeo morphed into the scoring machine we all thought he would be, but his ball-hogging ways had pundits believing that he was the reason for former MVP Garcia's underwhelming year. 
The disappointing finish pushed coach Bert Flores to quit his post after the season.
Backcourt: On paper, FEU's backcourt is unarguably the most potent in the league, but the question has always been: Can both Garcia and Romeo learn how to play together?
We haven't seen a definitive yes so far and Season 76 would be another tournament where we will hope that the two will finally mesh and form that explosive tandem that everyone has been anticipating since Romeo broke into the league.
Don't sleep on Mike Tolomia, too, as he is a prime candidate for a breakout season after missing time last year due to recurring injuries.
Frontcourt: A preseason injury suffered by Russel Escoto compounded FEU's woes in the frontcourt.
Also gone for the Tamaraws are Arvie and Mark Bringas, leaving athletic forward Anthony Hargrove and Carl Bryan Cruz as the team's men in the middle. Roger Pogoy and Mac Belo will alternate in the 3-spot and Belo can even slide to the 4 if needed. 
After Hargrove, the only center that FEU has is Christian Sentcheu, who has proven that aside from height, he brings almost nothing to the table.
Coaching: A long-time assistant coach in the PBA, Racela is ready to immediately make his mark in the UAAP. However, he admitted that there is still a long way to go for this team.
Racela is reportedly not promising a Final Four appearance or a championship for the Morayta-based squad. Instead, he is preparing the team for something big.
"Right now, I'm just happy with our development," he said. "We are taking the right steps in the right direction."
X-factor: Romeo. He is a superstar in the making, but how much is Romeo willing to sacrifice for the good of his team? In Season 75, he averaged 17.8 points but took more than 17 shots per game (6 more than Garcia) to do it.
For FEU to be successful this year, he has to learn how to choose his shots and, yes, share the ball.
Looking forward: In a league where dominant big men are sprouting everywhere, it will be hard for the Tamaraws to keep pace with many teams. After Aldrech Ramos graduated in 2011, FEU has not had a reliable big.
Expect the Tamaraws to try to run teams to the ground with their speed and athleticism. The question is: Will it be enough to propel them to the championship? – Rappler.com