This is AI generated summarization, which may have errors. For context, always refer to the full article.
After tasting 3rd place, the NU Pep Squad believes it's their time to rise to the top.
Who will win the 2013 UAAP CDC?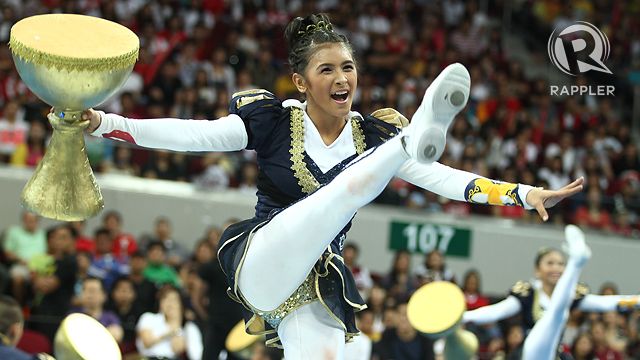 MANILA, Philippines — Not only is National University making waves in basketball and volleyball, the Bulldogs are also making their presence felt in the cheerdance and cheerleading scene.
The NU Pep Squad might not have the richest history in the UAAP Cheerdance Competition, but come the 2013 edition of the league's most awaited event on Sunday, September 15 at the Mall of Asia Arena, expect them to be one of the favorites to take the top spot.
They believe now is their time. 
Rising to the top
It took NU almost two decades to finally get a podium finish in the annual cheerdance event when they brought home the third prize in 2012. The team also earned the same rank in the group stunt category.
Sporting a fairy-tale theme, the crew whose members are mostly products of the Palarong Pamabansa surprised everybody and showed they are no longer cellar dwellers in the sport.
"Ibang iba na sila. Yung puso at eagerness namin, yun ang magpapanalo sa amin," said assistant coach Gabriel Bajacan.
Bajacan, who used to join cheering competitions back in college, shared how he himself saw the vast improvements the NU Pep Squad has undergone.
National champions
Aside from winning its first title in the UAAP, the NU Pep Squad also proved its mettle in cheerleading when they dethroned reigning champions and NCC authority, Central Colleges of the Philippines Bobcats in the National Cheerleading Championships in March this year.
The Sampaloc crew sees this as one huge advantage.
"We won the nationals. Yun ang pinakamalaki naming edge sa ibang team," said Bajacan.
However, there is also pressure that comes with the victories they have recently garnered.
"May pressure. Kahit nag second runner up kami last cheerdance tapos nasa amin ang title as national champion, may pressure kasi maraming taong nag eexpect sa amin," Team Captain Adrian Alban told Rappler.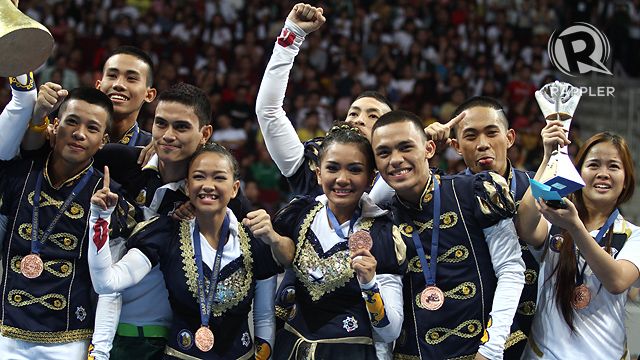 But according to Alban, that pressure propels them to be a better squad and to perform their best in the upcoming cheerdance competition.
Bajacan also shows confidence in winning first place in the group stunt category since the contest has more resemblance with cheerleading than the main event which focuses on cheerdancing.
"Mas sure shot ito. Amin talaga ito," he said.
From sweet to strong
"From last year's performance, it's so sweet and simple. For this year, it's fierce and strong," said head coach Ghicka Bernabe on their theme this season.
After showcasing a performance adorned with Disney references in 2012, NU Pep Squad wants to offer something that will show their maturity as a team as they take their routine to a higher notch this time.
"This year, ginawa naming stronger yung dance and the movements. Inupgrade namin yung level ng stunts and pyramids," added Bajacan. "Nag isip na kami kung anong magagandang stunts from the NCC routine. Inupgrade pa namin siya para mas maging difficult yung pyramids and stunts." He added.
Clearly, they have never been as determined as they are now.
"We're going to surprise the audience with new stunts, good costume and a lot of dance," Bernabe shared.
Aside from the achievements the NU Pep Squad has earned to improve their reputation, Coach Gabriel added their eagerness to win it all stands out and fuels them most.
"Ang tagal na. Panahon na eh. Yung puso talaga namin ang makakapagpa champion sa amin," he told Rappler.
Maybe they are not only meant to end the drought, maybe they are ripe enough to win the crown. And maybe, their time is now. – Rappler.com