In a battle of two champions, it was UAAP titlist La Salle University who came out with the 'w' over reigning FilOil champs University of the East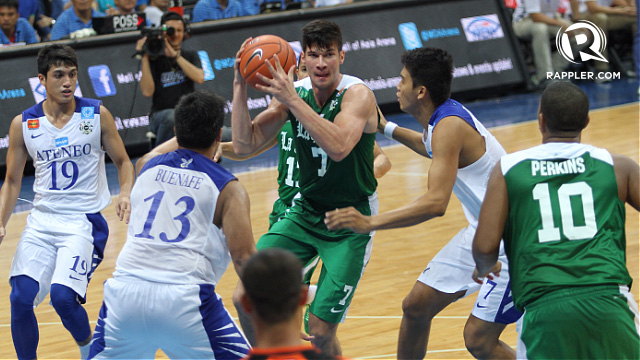 MANILA, Philippines – In a battle of two champions, it was the UAAP titlist who came out with the 'w.'
Defending UAAP titlist De La Salle University put the clamps on reigning FilOil champion University of the East in the payoff period to eke out a 69-62 victory in the 2014 FilOil Flying V Hanes Premier Cup on Saturday, April 26 at the FilOil Flying V Arena in San Juan City.
Reed-thin big man Arnold Van Opstal led the way for La Salle as he scored 16 points on top of 6 rebounds while Thomas Torres chipped in 12 markers for the Green Archers. 
Trailing by four points in the final canto, the Taft-based dribblers dropped a crippling 9-0 run in the fourth quarter to turn a four-point deficit, 49-53, into a 58-53 buffer behind the hot shooting hands of Mat Salem and shooter Almond Vosotros.
It was only in the 4:18 mark when the Red Warriors scored their first two points of the fourth quarter on Bong Galanza's five straight points punctuated by a corner three-pointer to tie the game for the Red Warriors, 58-58.
Swingman Jeron Teng scored on a short stab to shove La Salle to 63-60 but Moustapha Arafat answered back with a basket but failed to make his bonus free throw.
Van Opstal beat the shot clock off a pass from Vosotros to give La Salle a 65-62 lead but UE had one last chance to send the game into overtime. 
The Red Warriors, who are now under new head coach Derrick Pumaren, went to their heart and soul, Roi Sumang who drove hard to the basket only to be denied by the stone-wall defense of Van Opstal and Yutien Andrada.
Vosotrosthen converted 4 straight free throws inside the last 12 seconds to ice the game for the Green Archers. He finished with 10 markers.
Sumang led UE with 15 points and 6 rebounds while Arafat had 12.
Scores
La Salle (69): Van Opstal 16, Torres T., 12, Vostros 10, Teng 8, Salem 5, Andrada 4, Montalbo 4, Rivero 2, Torres N., 2, Tratter 2, Mustre 2, Dela Paz 2, Sargent 0.
UE (62): Sumang 15, Arafat 12, Galanza 7, Olayon 7, Palma 6, Javier 5, Varilla 3, Alberto 3, Caparida 2, Charcos 2, Jumao-as 0, De Leon 0, Hernandez 0.
Quarter scores: 20-10, 32-28, 49-53, 69-62. – Rappler.com