'When it's against La Salle and Ateneo, there's nothing we can do,' said Roi Sumang of the disparity of free throw attempts in games after UE lost to Ateneo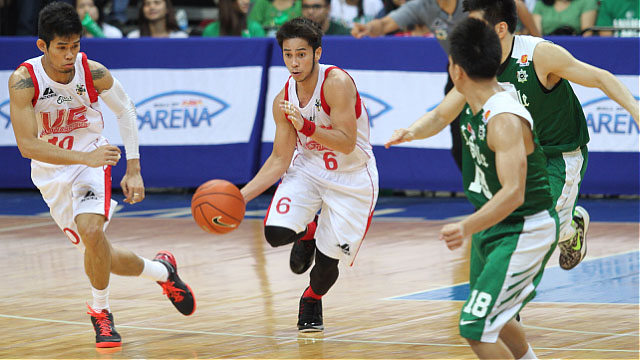 MANILA, Philippines – The UE Red Warriors suffered their second loss to the Ateneo Blue Eagles in Season 77 of the UAAP men's basketball tournament on Wednesday, August 20, 78-73.
In the victory, the Blue Eagles attempted 32 free throws – 21 by Chris Newsome, who finished with 23 points – while the Red Warriors shot 24. The last time both teams went head to head in the first round, Ateneo attempted 45 shots from the charity stripe – 25 by Ravena alone – while UE took 30.
According to University of the East star Roi Sumang, he and his club were not surprised by ADMU's advantage in taking foul shots on Wednesday at the Mall of Asia Arena.
As a matter of fact, they expected it, he said, while also mentioning another UAAP rival who gets similar treatment from UAAP referees.
"Wala. Automatic na yun eh," Sumang said about Ateneo getting more attempts at the foul line. "Pag La Salle at Ateneo, walang magagawa."
(That's automatic. When it's against La Salle and Ateneo, there's nothing we can do.)
"Wala, yun na talaga yung maasahan mo eh," (That's what we expect) added Sumang, who finished with 10 points on 3-of-10 shooting and attempted just four free throws – as much as Ravena did on Wednesday.
When asked to elaborate, Sumang suggested that the reason why the Green Archers and Blue Eagles get leeway from the referees is because the latter has a lot of "respect" for the aforementioned squads, while also mentioning that it's something that may not change.
"Sobra ang respect nila for La Salle at Ateneo," the UE point guard said about UAAP officials. "Siguro, ganun na talaga yun eh. Hindi na magbabago."
(Their respect for La Salle and Ateneo is high. Maybe that's just the way it is, and it won't change.)
When De La Salle and University of the East matched up in the first round on July 27, each club attempted 24 shots from the charity stripe.
UE managed to build a six-point lead in the second quarter while Sumang rested on the bench, and went ahead momentarily in the fourth quarter as well, before letting the Blue Eagles, spearheaded by Ravena's clutch 3-ball, run away with the victory.
Ravena finished with 16 points, 8 rebounds, and 7 assists.
"That was a tough shot by Kiefer," Red Warriors head coach Derrick Pumaren complimented the Ateneo star after the game. "The only thing that (Emil) Palma (who was guarding Ravena) made a mistake is that he did not put pressure on him. Because we have a rule there that on a one on one, we have to pressure him, make him commit."
He added: "I think we fell short again in tonight's game. We had a chance to win a ball game, but unfortunately we were not able to have that finishing kick."
When asked about his thoughts on the game's officiating, Pumaren did not give a direct response, but beckoned the media to give their two cents on the matter.
"I think you have to decide on that," Pumaren said. "You guys saw the game, right? I think you should say it."
When asked how his team was able to buck the calls they thought were unjust, Sumang indicated he and his boys just fought through the issue and let the referees be.
"Syempre, laban ka lang nang laban. Wala ka naman magagawa duon. Sa referee na yun eh. Referees' decision. Ganun, so, siguro, hindi din namin alam eh."
(Of course, we just kept on fighting. It's not like we could do anything about it. It's in the referees' hands. Referees' decision. That's how it is, so, I guess, we didn't know what to do as well.)
All throughout the contest, UE fans at the Mall of Asia Arena displayed signs and posters mocking Ravena and the Blue Eagles' alleged tendency to flop during games. Some read the words "One Big Flop," maligning the popular "One Big Fight!" chant of Blue Eagle fans. 
Some Red Warriors supporters, meanwhile, serenaded Ateneo's players and fans by chanting the words, which Ravena later on admitted played a motivating role in his 9-point outburst in the fourth quarter.
Sumang, though unhappy with the calls of the referees, did not condone the actions of his team's fans.
"Nakita ko na yan, siguro, bago palang eh," admitted Sumang, who mentioned he heard of the chants prior to Wednesday's game. "Bago palang Ateneo, yun na ginagawa nila sa school eh. Sabi ko nga ano ba yan, dapat nga walang ganun eh. Eh syempre, hindi mo naman mapigilan. Sa school yun eh."
(I saw that beforehand. Before the Ateneo game, they were already doing it at school. I even said they shouldn't be doing that. But, of course, it's not easy to stop such a thing.)
UE, now standing at 4-5, is two games behind the fourth seed NU Bulldogs, 6-3, in the loss column for the final spot in the UAAP Final Four round. The Red Warriors go up against the 0-9 Adamson Soaring Falcons next on Sunday, August 24, and Sumang says every matchup here on out for his club should be considered "do-or-die."
"Do or die talaga. Dapat nga nung last pa eh. Ito pang Ateneo. Wala eh, hindi namin nakuha, talo talaga."
(It's really do or die from now on. It was actually supposed to be our last game, and today against Ateneo. We didn't come out on top. We lost.)
– Rappler.com