FEU captures its first UAAP cheerdance title since 2009 - its third in competition history - with a Queen-inspired routine as perennial contenders Adamson and NU settle for runner-up finishes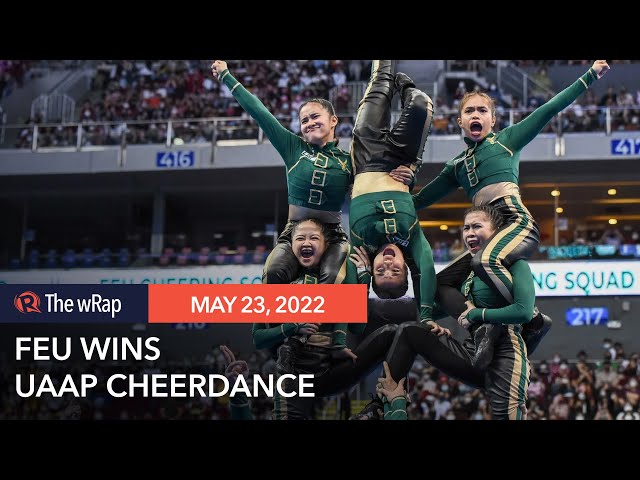 MANILA, Philippines – For the first time since 2009, the FEU Cheering Squad made a successful return to the top of the UAAP cheerdance world after winning the Season 84 championship on Sunday, May 22, at the Mall of Asia Arena.
Paying homage to the legendary British rock band Queen, FEU ascended to the cheerdance throne for the third time in competition history with a clean performance full of tightly-structured pyramids, and solid tosses and tumbles to garner 727.5 points.
"We've been runners-up for so many years now, and finally, we got one championship," said FEU head coach Randell San Gregorio in Filipino. "The preparation has been really different because first, there are only 15 people and a three-minute routine. We were already going over the old six-minute limit during preparations, so what more for three? We also did a lot with 25 people, and now we just had 15. So as they say, the struggle is real."
"But we're just so happy that we finally got over the hump. We are really going to treasure this first one for us," continued San Gregorio, who added one championship to his stack of three first runner-up finishes since he started in 2015.
Meanwhile, the Adamson Pep Squad continued to feed off momentum from its 2017 title as it earned 688.5 points for first runner-up honors – their fifth straight podium finish.
Heading to the wild, wild west with a country theme, Adamson raced to the finish line in second place with a solid routine full of nostalgic songs, solid pyramids, and synchronized tumbles.
The NU Pep Squad ended its three-peat title bid after settling for second runner-up with a score of 681 points.
Riding a nostalgia wave with '90s hits, the winner of six of the last eight cheerdance titles quickly energized the crowd after performing second, and immediately set the bar high with their dancers' usual high-risk, high-reward pyramids, tumbles, and tosses.
However, their errors proved too costly in the end as the winners ultimately completed cleaner routines overall.
The UST Salinggawi Dance Troupe finished fourth with 618 points, while the UE Pep Squad wound up fifth with 592.5 points.
But the podium dry spell continued for the UP Pep Squad – one of the winningest programs in competition history with eight titles before hitting a decade-long drought – as it settled for sixth with 582.5 points.
The DLSU Animo Squad (567.5 points) and the Ateneo Blue Eagles (488.5) rounded out the competition. – Rappler.com