An all-out war is shaping up for the right to claim the UAAP Season 85 men's basketball tournament's three remaining Final Four spots with seven teams still left in the heated race
Winston-less La Salle stuns healthy UP, boosts Final Four hopes
The La Salle Green Archers pulled off a stunning 82-80 win over the UP Fighting Maroons to boost their Final Four hopes with a 5-6 record.
Kevin Quiambao ruled in the clutch with 13 of his 18 points in the fourth quarter to go with 9 rebounds to help La Salle snap UP's seven-game winning streak.
Read the full story here.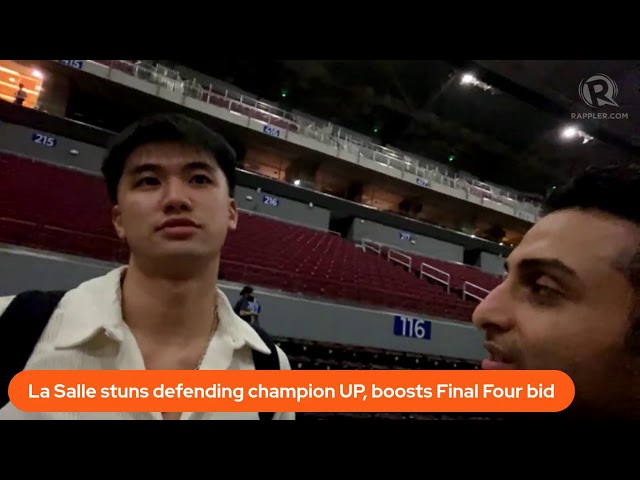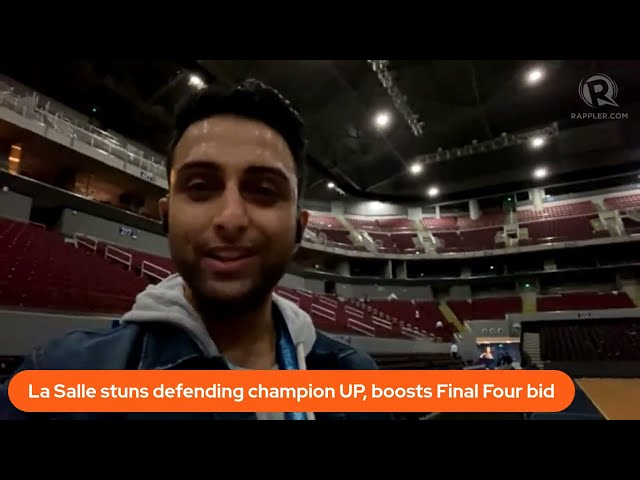 Injured Jerom Lastimosa makes shock appearance as Adamson denies UE comeback
The Adamson Soaring Falcons boosted their Final Four contention hopes with a huge 74-64 win over the reeling UE Red Warriors to rise to a 5-6 record amid a tight race for the last two playoff seeds.
Cedrick Manzano led the win with an 11-point, 12-rebound double-double, while injured star Jerom Lastimosa – who was initially ruled out of the elimination round with a dislocated right foot – scored the Falcons' last two points in a shocking 32-second appearance.
Read the full story here.
NU clinches first Final Four spot in 7 years, kicks UST off playoff race
The NU Bulldogs snapped a long seven-year drought out of UAAP Final Four contention with a playoff-clinching 67-57 win to eliminate the UST Growling Tigers at the Mall of Asia Arena on Sunday, November 20.
John Lloyd Clemente led NU's (9-3) return to the playoffs with 19 points on 4-of-7 three-point shooting with 4 rebounds as UST dropped its 10th straight game for a 1-10 slate.
Read the full story here.
Ateneo storms from 19 down, stuns FEU to clinch at least Final Four playoff
The Ateneo Blue Eagles recovered from an early 19-point deficit to stun the FEU Tamaraws with a 71-65 escape and clinch at least a playoff for a Final Four spot.
Reigning MVP Ange Kouame flexed his top two-way form in the second-half rally with 20 points, 14 rebounds, 3 assists, and 1 block to help Ateneo rise to an 8-3 record. FEU fell to a 4-8 slate in the loss.
Read the full story here.
Preview
The UAAP Season 85 men's basketball tournament heads to its home stretch with three Final Four berths still up for grabs while the defending champion UP Fighting Maroons patiently await their fellow contenders to catch up.
Although the second and third spots are firmly held by the NU Bulldogs (8-3) and Ateneo Blue Eagles (7-3), an all-out war is shaping up for the fourth seed as four teams are currently jockeying for its position with three game dates remaining in the elimination round.
Ateneo (7-3) vs FEU (4-7)
Kicking off the quadruple-header slate at 11 am is a classic showdown between longtime Final Four adversaries Ateneo Blue Eagles and FEU Tamaraws.
Seeking a pivotal twice-to-beat advantage, the Tab Baldwin-coached Eagles gun for their third straight win with a steady core of Ange Kouame, Dave Ildefonso, BJ Andrade, Forthsky Padrigao, and Kai Ballungay.
Looking to end a two-game skid and rise up from seventh place are the up-and-down Tamaraws, who are shaping up a capable supporting crew with the likes of Jorick Bautista, Patrick Sleat, and Royce Alforque.
NU (8-3) vs UST (1-9)
Two Final Four fates are on the line at 1 pm as the contending NU Bulldogs take on the free-falling UST Growling Tigers.
Needing just one win to clinch their first playoff berth in seven long years, the overachieving Jeff Napa-mentored Bulldogs are even on pace for a twice-to-beat advantage with a deep rotation led by Kean Baclaan, John Lloyd Clemente, and Omar John.
Meanwhile, the Bal David-coached Tigers desperately seek an end to their nine-game slide and avoid elimination as Nic Cabañero continues to carry the entire offense while hoping that others step up along with him.
Adamson (4-6) vs UE (4-7)
In one of the most crucial matches of the tournament so far that may determine the course of the fourth-seed race, the Adamson Soaring Falcons and UE Red Warriors are set for a 3 pm clash to determine which way their respective records will go.
Adamson, however, heads to the match with a huge handicap after lone star Jerom Lastimosa revealed that he could no longer suit up for the rest of the elimination round due to a dislocated right foot – which means more responsibilities for the likes of Joem Sabandal, Jed Colonia, and Joaquin Jaymalin.
On the other hand, UE looks to take advantage of its undermanned foe as the likes of Luis Villegas, Gani Stevens, CJ Payawal, and Nikko and Kyle Paranada hope to once again lead the Red Warrior wave.
UP (10-1) vs La Salle (4-6)
Tipping off the 6:30 pm main event is another potentially thrilling showdown between the cruising champion UP Fighting Maroons and the lagging La Salle Green Archers.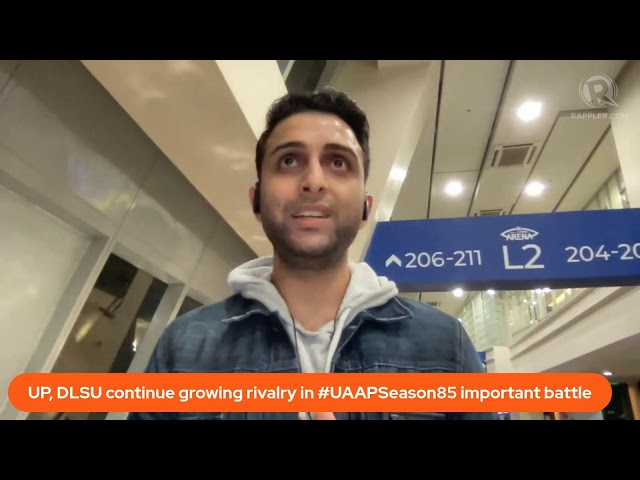 Currently enjoying a seven-game winning streak, the Final Four-bound Maroons gun for at least a playoff for the coveted twice-to-beat advantage under the leadership of core guys Carl Tamayo, Malick Diouf, JD Cagulangan, and James Spencer.
The Archers, on the other hand, have a huge MVP-sized question mark looming over their heads as the availability of star guard Schonny Winston continues to be a day-to-day puzzle to solve.
His absence translates to bigger workloads for Evan Nelle, Mark Nonoy, CJ Austria, and Penny Estacio as their Final Four hopes continue to hang by a flimsy thread.
Seven teams are left in the Final Four race with only three tickets left to book. Needless to say, the games' excitement factor will only heat up from here on out. – Rappler.com