The first round of the UAAP Season 85 men's basketball tournament ends with an intriguing double-header featuring the league's top two instigators of unpredictability: UE and NU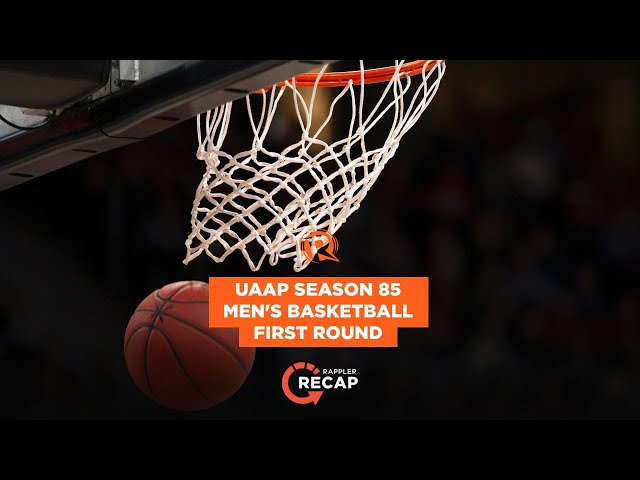 FEU grinds out low-scoring upset, sends NU down to third place
In a slugfest for the ages, the FEU Tamaraws grinded out a 47-44 decision against the NU Bulldogs to officially wrap up the first round of the UAAP Season 85 men's basketball tournament.
LJay Gonzales scored the deciding layup with 17.6 seconds left and helped FEU rise to a 2-5 record after five straight losses. NU, meanwhile, slipped to third place behind Ateneo with a 5-2 slate.
Read the full story here.
Ateneo piles on 17-0 third-quarter run, drubs UE for shot at second place
The Ateneo Blue Eagles unleashed a pivotal 17-0 third-quarter breakaway over the UE Red Warriors to run away with a 91-76 blowout at the end of their UAAP Season 85 men's basketball first round schedule.
Now standing at 5-2, the Season 84 runners-up have a shot to regain a hold on second place if the NU Bulldogs lose to the FEU Tamaraws in the second game at 4:30 pm.
Read the full story here.
Preview
The first round of a highly unpredictable UAAP Season 85 men's basketball tournament comes to a close at the Ynares Center in Antipolo City with one last intriguing double-header featuring two of of the league's Cinderella teams, NU and UE.
UE (3-3) vs Ateneo (4-2)
For their last game of the first round, the UE Red Warriors take a pivotal acid test in the form of the mighty Ateneo Blue Eagles at 1 pm.
After coming up short against the defending champion UP Fighting Maroons, the Jack Santiago-coached squad nonetheless squeezed out more production from its dangerous core of Luis Villegas, CJ Payawal, Gani Stevens, and the Paranada snipers, Nikko and Kyle.
Ateneo head coach Tab Baldwin noted how it has been a long time since the Red Warriors have had more than one legitimate go-to option, and he is now hoping his Blue Eagle supporting cast with the likes of Paul Garcia, Gab Gomez, Joshua Lazaro, and Geo Chiu step up to match well against UE's depth.
NU (5-1) vs FEU (1-5)
In a battle of two teams with opposite trajectories, the NU Bulldogs look to finish out their historically great first round – their best since their last title-winning Season 77 run – with one more win against the beaten-up FEU Tamaraws at 4:30 pm.
A guaranteed first round top seed with a win owing to their stunning conquest of UP (6-1), the Jeff Napa-mentored squad will once again lean on the balanced, scrappy efforts of Kean Baclaan, John Lloyd Clemente, Omar John, and many more productive rotation members.
Now on the opposite end of an upset bid, FEU is just looking to build on its first win of the season and get some semblance of consistency from its young studs like Chiolo Añonuevo, Xyrus Torres, and Royce Alforque.
Will UE and NU continue their stellar run through two more established teams, or will the league's longtime contenders Ateneo and FEU deliver doses of reality checks on their foes' inspired campaigns? Tune in to this page for key updates.
– Rappler.com