The friendship shared by Olympic gold medalist Hidilyn Diaz and fellow weightlifter and physical therapist Zeena Hernandez transcends sports
Soon after Hidilyn Diaz won her historic gold medal for weightlifting at the Tokyo Olympics, she sent a video message to 29-year old New York-based physical therapist Zeena Hernandez.
"Thank you sa pag-guide sa akin, sa sobrang pagka-perfectionist ko," a smiling Diaz told Zeena Hernandez, saying that guidance boosted her confidence going into the Olympics. (Thank you for guiding me, in my perfectionist ways.)
The bond between Diaz and Hernandez, who specializes in aiding weightlifters and other fitness enthusiasts, goes beyond physical therapy.
Since 2018, Hernandez and her wife, Lisa Yang, have worked with Diaz and strength and conditioning coach Julius Naranjo to provide shoes for other Filipino weightlifters.
The couple also practices Olympic weight-lifting. They became social media darlings in 2019 with their wedding photos – two petite women in full gowns – lifting a 253-pound barbell in a tandem deadlift mid-ceremony.
"Individually, we are strong capable women, but together we are stronger," Hernandez told reporters then. That line also explains her friendship with Diaz, with whom she shares a childhood experience of poverty and a track record for tenacity.
"We noticed that a lot of people here in the States just throw away their shoes. And we know back home shoes, especially weight-lifting shoes, are expensive and they're hard to come by," said Hernandez.
She reached out to Diaz. "I asked her if they would be kind enough, her and Julius, her coach, to be our partners in distribution of shoes in the Philippines. So together all four of us started Lifters for Lifters."
Two collection and fund-raising drives in 2018 and 2019 have sent around a hundred cleaned and repaired pre-loved shoes to Filipino weightlifters.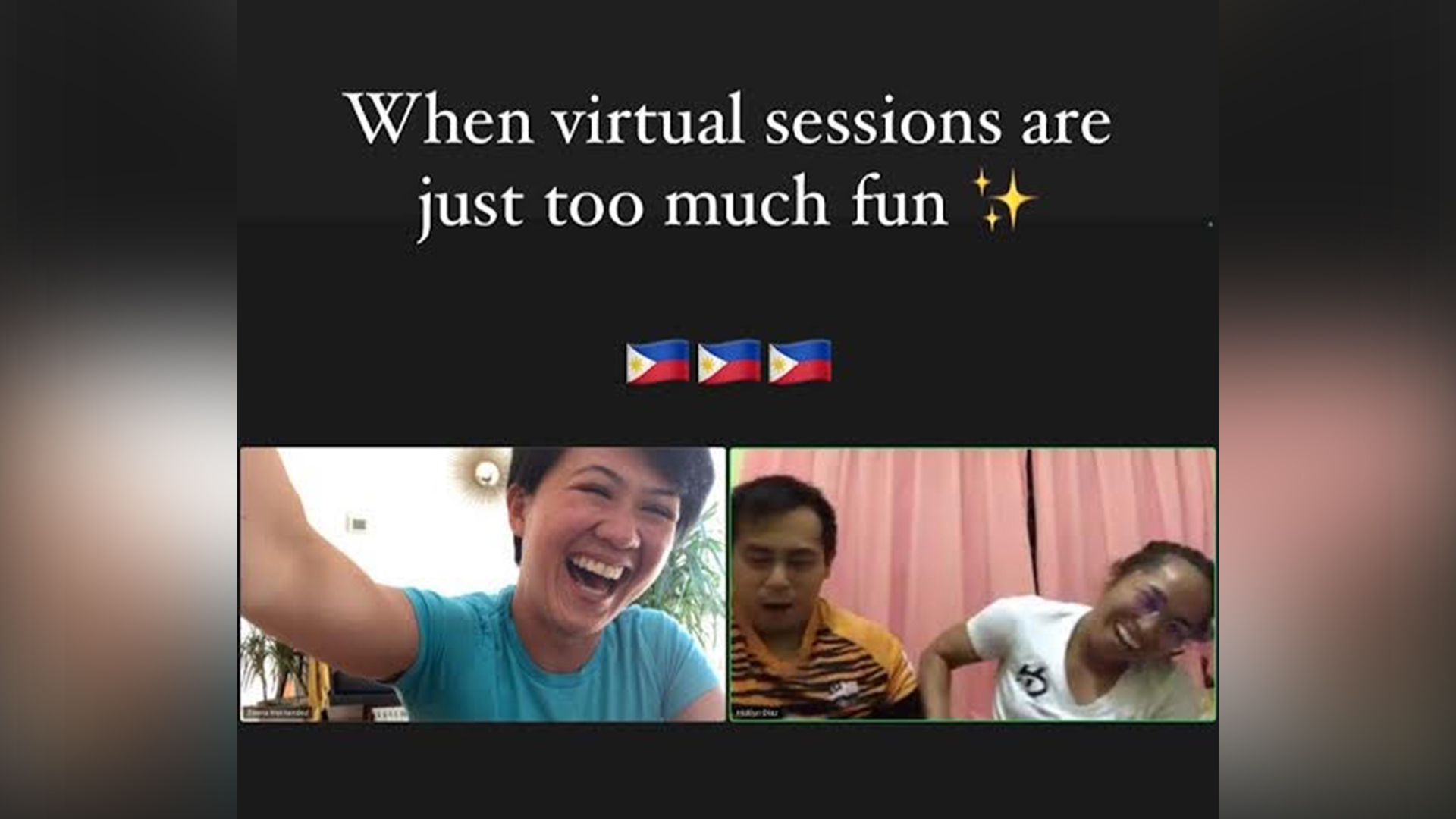 Remote sessions
Hernandez, who has a doctorate in physical therapy from Utica College in New York and owns the Brooklyn-based Good Reps Physical Therapy, was not physically with "Team HD" in this year's Olympics.
But since Diaz sought a consult early this year, Hernandez has regularly kept tabs with the Philippines' pride through video conferencing.
"I would never take credit for other people's work," Hernandez told Rappler. "With physical therapy, especially with this type of fitness, we're oftentimes consultants."
The Iloilo City native and Rehabilitative Science graduate of St. Paul's College in the Western Visayas city would not give details of Diaz's program, citing confidentiality requirements.
As a PT specializing in weightlifters and other fitness enthusiasts, Hernandez helps clients with tests for muscular and joint capacity and creates alternative exercise regimens to help them maintain form and strength during recovery.
Explaining a video session with Hidilyn, shared with permission from the champion, Hernandez noted that while weightlifters use both legs, they have to make sure both are equally strong and balanced.
Shared love
Like Diaz, Hernandez's life is a series of paying-forward gestures and assertion of rights. Her Facebook face shows donations to several causes and several posts on Pride advocacy.
"Obviously, we became friends because we share the same love for the sport," said the therapist, who competes locally in the 49 kg weight class.
Hernandez was born and grew up in Iloilo. She lived with her grandparents as mother Gene Rose, her idol, worked abroad to get the family out of poverty.
After graduating from college, she arrived in the United States in 2013. Initially, she struggled with the change in lifestyle and culture.
"I didn't have a big community. I was working. My friends were busy," Hernandez said. "In the Philippines, you know everyone. Here, it's just you."
Her training in PT did not involve sports. But she started a running and Crossfit regime to gain a community. Then after an injury and a recovery period that made her impatient with repetitive advice to just rest, Hernandez decided to focus on helping fellow athletes.
From Crossfit, she advanced to weightlifting. She works with national and local competition athletes and also continues to compete.
What makes Hidilyn tick?
Diaz's patriotism and empathy are her buffers against tough times, Hernandez said.
"If you watch Hidi's video of her winning, the first thing she said was, 'Mabuhay Pilipinas.' I think it's her deep love for the country that pushes her to do well in what she does."
The champion also likes focusing on the silver lining whenever faced with adversity.
Diaz's counterparts, her rivals, had so many resources – a lot of training, support, and staff.
"The Philippines, obviously, we're not a rich country. Even with what happened during the pandemic, she was still able to train and give it her best," the therapist added.
"It takes a certain grit, a certain commitment to excellence para mag pursigi. (to persist) It's not an easy feat to beat China."
Cheers around the US
When word of Hidilyn's gold spread, women weightlifters in the US cheered, Hernandez said.
"Everyone was so so so happy, not just Filipinos. Women in the 55 kg category of weightlifters here are just so, so happy," she said.
"Typically, it's a sport dominated by China… so this was amazing, so amazing."
Rena Eleazar has followed Diaz's journey "since 2016 after Rio, and around that time was when I started to focus more exclusively on weightlifting."
"As a Filipina-American, I can't find enough words to describe the pride I felt, seeing a strong Filipina, someone who looks like me, winning Olympic Gold. Thank you Hidi for representing Filipinas around the globe!"
Laura D said the Philippines' first Olympic gold is special because it is in her sport.
"I hope this inspires other Filipinas to get into weightlifting," she added.
Both athletes also work with Hernandez to send help to Filipino counterparts.
"I think you know, as a nation we're world-class," said the physical therapist.
"Our resources might be scarce. I think we do know that our athletes need the right equipment; athletes need the right support and we're not just talking about the coach. Hindi lang po ang stipend para sa pagkain. (It's not just a stipend for food expenses.) There's equipment, a full team. That's what will push us to be world-class."
Hernandez adds that national-level athletes and even athletes who compete locally in the United States, hire nutritionists.
"And the food you eat and the amount of food you have to eat is not (a) small (expense). You have to meet your macros, meaning you have to have an adequate amount of fat, carbs, and protein. And you have to count that and make sure you're meeting those nutrient requirements in order to build muscle and maintain performance," she noted.
Driven by gratitude
While not an Olympic athlete, Hernandez reflects the same drive that allowed Diaz to climb to the sports pinnacle.
It wasn't easy for an immigrant and a small Asian woman, to break into the male-dominated world of physical and sports therapy.
While her liberal Brooklyn community has spared her from the hate that other Asian-Americans feel, gender and sexual identity gave her some challenges.
"Obviously it's very male-dominated. There were definitely barriers that had to be broken there. You gotta be the best. Especially in New York City, where it's super competitive. So many talented people here are doing what I also do."
The grit is something she inherited from her mother. Past 50 years old, Gene Rose is also a fitness enthusiast who bonds with her family over weightlifting, Crossfit training, and a love for good food.
Captioning a photo of her mother skydiving with a wide smile and arms wide open, Hernandez calls Gene Rose "the bravest person I know."
"Did she tell you about how she migrated to New York, landing here with literally a dollar in her pocket? Initially, she had $20 but she spent most of it on phone calls and snacks on her layover in Hawaii. She hustled and hustled and she built a life for herself here while supporting our family back at home. She is my inspiration."
She describes her mother as "the epitome of hard work, resilience and unconditional love". That pride is returned tenfold. Gene Rose's Facebook page, a haven of positivity, calendars all her daughter's achievements.
"I think with every opportunity that I'm given here in the States, I try to make the most of it, just because I always think of all the sacrifices of my mother."
"Every opportunity to be the best of what I can be, not only for myself but also to represent the caliber of expertise we can have as Filipinos here in the States is very, very important to me," Hernandez stressed.
The least she can do, Hernandez said, is to help in any way to give back to Filipino athletes in the homeland. – Rappler.com