Olympic weightlifting champion Hidilyn Diaz looks to breathe new life into the Philippines' campaign in the SEA Games
VIETNAM BET STUNS OLYMPIAN PETECIO OUT OF GOLD SHOT, PIANAR ALSO NABS BRONZE
Vietnam home bet Tran Thi Linh stunned Filipina Olympic silver medalist Nesthy Petecio out of the 57-60kg women's boxing finals with a 4-1 semifinals decision for a bronze medal.
Marjon Pianar also suffered a 1-4 semis loss earlier in the day against Indonesia's Sarohatua Lumbantobing to also settle for bronze at the men's 63-69kg category.
(READ: Petecio out, Magno in as PH boxers deliver mixed results in semifinal matches)
SHUGEN NAKANO ADDS GOLD TO JUDO HAUL
Filipino-Japanese Shugen Nakano clinched another judo gold for the Philippines as he remained the king of the men's -66kg event.
Nakano defeated Vietnam's Hoang Phuc Truong in the finals.
(READ: Judo delivers anew for PH as Hidilyn Diaz, Sibol defend SEA Games golds)
BIADO, CHUA FACE OFF AGAIN FOR MEN'S 10-BALL GOLD
Filipino cue artists Carlo Biado and Johann Chua lock horns for the second time in Vietnam as they face off in the men's 10-ball finals.
The two also figured in the all-Filipino title showdown in the men's nine-ball competition, where Chua beat Biado for his first-ever SEA Games gold.
(READ: More billiards golds for PH as Filipinos face off in men's, women's 10-ball finals)
PH BEACH VOLLEYBALL WINS BRONZE
The women's and men's beach volleyball teams all copped bronze after Jude Garcia and Jaron Requinton survived host Vietnam in the men's golden match following a second match loss by Ranran Abdilla and Requinton.
In beach volleyball, both teams per division must win in order to get a medal. The duos of Sisi Rondina-Bernadeth Pons and Jovelyn Gonzaga-Dij Rodriguez both won on Friday, May 20, assuring the women's bronze.
Garcia and Krung Arbasto won their match, but Abdilla and Requinton did not, which meant Vietnam forced a golden match where any member from both teams may be used. Garcia and Requinton stepped up for the 21-15, 21-19 sweep, which then secured the men's bronze win.
AMIT, CENTENO CLASH FOR GOLD IN WOMEN'S 10-BALL
The Philippines is guaranteed of another billiards medal as compatriots Rubilen Amit and Chezka Centeno face off in the women's 10-ball singles finals.
Amit eyes her second gold in Vietnam after ruling the women's nine-ball, while Centeno looks to defend her women's 10-ball title.
(READ: More billiards golds for PH as Filipinos face off in men's, women's 10-ball finals)
ALEX EALA CRASHES IN WOMEN'S SINGLES TENNIS, SETTLES FOR THIRD BRONZE
Teenage tennis sensation Alex Eala crashed out of the women's singles event after falling to Thai veteran Luksika Kumkhum.
The 16-year-old SEA Games debutant settled for her third career bronze – the other two coming in mixed doubles with vet Treat Huey, and in women's team play.
(READ: PH tennis bets arrange all-Pinoy SEAG men's doubles final, Eala bags 3rd bronze)
MEN'S VOLLEYBALL LIMPS TO FIFTH AFTER FAILED 2019 SILVER DEFENSE
The men's national volleyball team wrapped up its 2021 SEA Games campaign with a five-set squeaker over Myanmar, 26-24, 22-25, 25-22, 27-29, 16-14.
The Filipinos failed to defend their 2019 silver after getting stunned by Cambodia and losing to Thailand in the group phase.
HIDILYN DIAZ DEFENDS SEA GAMES THRONE
Olympic weightlifting champion Hidilyn Diaz added to the Philippines' gold haul in Vietnam as she retained her throne in the women's 55kg division.
Diaz finished with a total lift of 206kg to edge Thailand's Sanikun Tanasan, who tallied a total lift of 203kg.
(READ: Hidilyn Diaz boosts PH bid with SEA Games weightlifting gold)
SIBOL DEFENDS MOBILE LEGENDS GOLD
The Philippines snagged its second esports gold as Sibol defended its crown in Mobile Legends with a 3-1 win over Indonesia in the best-of-five finals.
Johnmar Villaluna, Danerie James del Rosario, Salic Imam, Kyle Dominic Soto, and Lee Howard Gonzales represented the Philippines.
(READ: Sibol thwarts Indonesia in Mobile Legends finals to retain SEA Games gold)
PH VS INDONESIA FOR MOBILE LEGENDS GOLD
Sibol is on the cusp of defending its Mobile Legends gold and standing on its way is regional rival Indonesia as they tangle in a best-of-five finals.
Watch the finals here: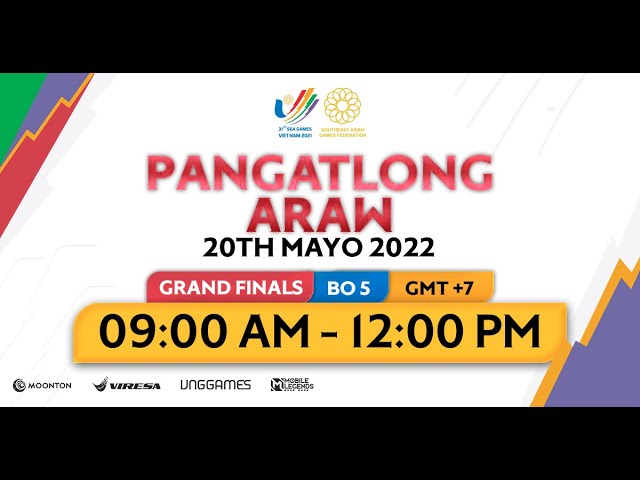 PREVIEW
The Philippines gets a shot in the arm in its bid to finish strong in the Southeast Asian Games in Vietnam as Olympic weightlifting champion Hidilyn Diaz takes center stage on Friday, May 20.
Diaz is heavily favored to defend her crown in the women's 55kg, the same weight class where she captured the Philippines' first-ever Olympic gold medal in Tokyo last year.
The Philippines' shot at a top-three finish in the medal table has hit a snag as the country slipped to fifth place after its gold production slowed down in the past two days.
But Diaz looks to breathe new life into the Philippines' campaign, just like she did in Tokyo when her historic golden feat inspired boxers Nesthy Petecio, Carlo Paalam, and Eumir Marcial to win medals.
Petecio (women's -60kg) also has her eyes set on the gold as she looks to advance to the finals together with fellow boxers Irish Magno (women's -51kg), Ian Clark Bautista (men's -57kg), and Marjon Pianar (men's -69kg).
Other Filipino pugs Eumir Marcial (men's -75kg) and Rogen Ladon (men's -52kg) have already qualified for the finals and are guaranteed of at least a silver.
Sibol targets its second esports gold in Vietnam as defending champion Philippines tangles with regional rival Indonesia in the Mobile Legends finals.
Led by the world champion trio of Johnmar Villaluna, Danerie James del Rosario, and Salic Imam of Blacklist International, Sibol eyes a sweep of the tournament by beating RRQ-reinforced Indonesia.
Over in tennis, Alex Eala resumes her gold quest in the women's singles semifinals.
The Philippines hopes for more medals from beach volleyball, karate, and judo.
– Rappler.com