This is AI generated summarization, which may have errors. For context, always refer to the full article.
Volleyball shines bright in the hottest place in the Philippines: Tuguegarao City. Find out why.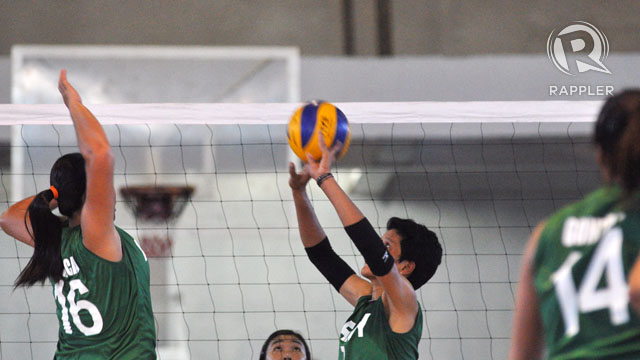 TUGUEGARAO CITY, Philippines — For this far-flung city 12 hours from Manila, it is not an everyday scene to see the likes of Fille Cainglet, Charo Soriano, Jang Bualee, Aiza Maizo, Maika Ortiz, and a boatload of others playing at the very same court its locals would regularly play in.
And to see them—the biggest stars in Philippine volleyball today—wearing uniforms with the name of their hometown emblazoned in front, what could be better than that?
When volleyball is being written or talked about, topics would stray no further beyond the arenas of San Juan and Mall of Asia—pretty much all about the V-League, UAAP, or NCAA. Mysteriously, a platoon of volleyball big-names journey to this northern city every year (for five years now) with a mission: to spread the love of the game, one spike at a time.
The provincial government of Cagayan, together with die-hard volleyball lovers like Alcala mayor-elect Criselda Antonio, was responsible for putting up an event this big. As a part of the Aggao nac Cagayan (Araw ng Cagayan) festivities, 21 teams from all over the country were brought together in a week-long showcase of what could be the best volleyball action you could get outside the Big City.
Promoting unity and camaraderie
"Sports is one of our programs which aim to promote unity and camaraderie," Governor Antonio said during the Games' opening ceremonies.
"We wanted to inspire our youth, to give them the chance to see their idols personally, and in a way, make them better citizens of Cagayan," the Friendship Games event organizer Rachel Caranguian told Rappler in an interview.
The Friendship Games was definitely a hit among the locals, with the People's Gymnasium here packed to the rafters regardless of which team is playing. Apparently, volleyball is big and we have people like the Antonios to thank for.
Among the teams competing for the total pot of Php 2-million is Tuguegarao, backstopped by former UAAP megastars in Cainglet and Soriano, among others.
"I commend the government of Cagayan for making this event possible. Their undertaking is really helping not only the sport but also the young people who dream of playing someday with big teams," former Ateneo star Soriano, who is playing in front of her kababayans here for Team Tuguegarao, said.
Grassroots program
"What we should aim is to get more children playing volleyball and discover talents even in the provinces through grassroots program."
Soriano, whose father is the incoming Tuguegarao City mayor, added that seeing the players not just on TV but in the flesh, means so much to the locals, especially to aspiring volleyball players.
Another crowd darling here, Cainglet echoes Soriano, saying that being chosen to become an inspiration to the people here—both old and young—is a great feeling and she hopes that other provinces or cities would emulate what Cagayan is doing for years now.
"We want to inspire more people. Volleyball should not be exclusive in Manila. It feels good when we bring volleyball to far-away places, who knows, after watching us, their schools might build its own team. Their students might even get discovered. Dreams do come true," Cainglet said.
The former Ateneo spiker also urged LGUs to create more programs promoting grassroots development to raise the level of volleyball in the country notches higher.
"Right now, we get help from foreign players. We learn a lot from them, yes but I hope someday, we will be the ones sending players to our neighbors in Asia," she added.
Even coach Roger Gorayeb was effusive in his praise.
"I thank the good governor for inviting us here. He really is a keen supporter of sports and at the end of the day, it will be the youth of this place who will be benefitting from this," Gorayeb told Rappler.
"The team is grateful for the chance to mingle with and become inspirations to the people here. This is where volleyball players start, eventually sa high school, kaya we are there on the lookout para sa mga potential talents we could discover." – Rappler.com